Taking care of your garden doesn't only involve the planting of different flowers, herbs, and veggies. It also requires the maintenance of these plants and maintenance of the soil and environment around them.
The results of an all-encompassing nurturing process will be a great-looking, healthy garden – your favorite place to spend your Sunday morning.
Although there are many types of weed killers available, we'd definitely recommend using an organic option, since that's the only way to get the best results and not harm the environment, the produce or yourself in the process.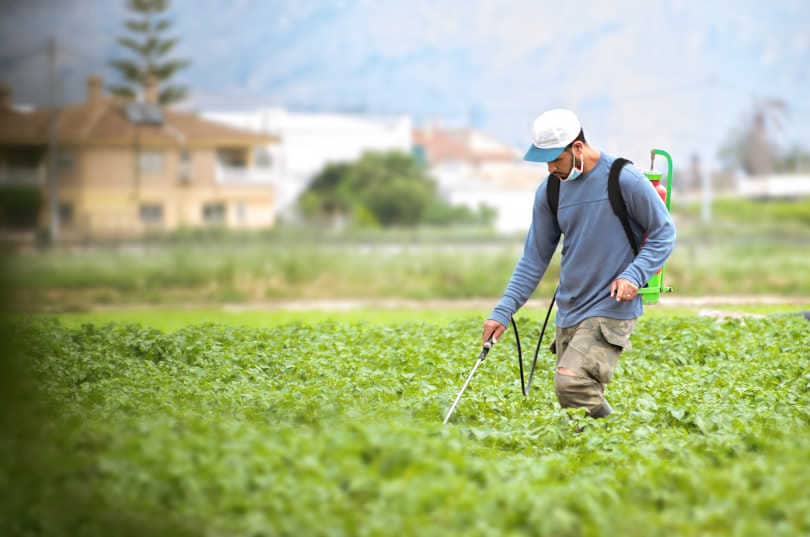 Below, you can take a look at our short-listed choice of the best organic weed killer that can help you keep your garden in good shape.
Top Pick
Our first choice is the Green Gobbler Vinegar Organic Weed Killer. As a naturally derived corn product, it's safe and loved by experienced gardeners.
The formula is pure and highly concentrated but it doesn't contain any toxic ingredients. As with other concentrated products it should be handled with care.
Using this organic product will keep the environment safe and improve the overall garden condition.
Budget Pick
The least expensive and yet great option on our list is the organic weed killer by Energen Carolina LLC.
It's made of 20 % vinegar and doesn't contain any toxic glyphosate which can have detrimental effects on your other plants and if used for a longer period even on your health.
Always make sure you follow the product description and instruction manual when applying this product – this will ensure the best results and safe use.
What's an Organic Weed Killer?
Organic weed killers or herbicides can break down faster without leaving any leftover toxic materials.
They are becoming more and more popular since they're eco-friendly and don't harm people's health and well-being. They're not the cheapest option on the market but are worth the investment due to the benefits they provide.
Organic herbicides are non-selective and cannot differentiate between the grass and other plants and that's why you need to be careful when applying.
What's the Difference Between Organic & Chemical Weed Killers?
One of the main differences between organic and chemical weed killers is the glyphosate ingredient.
Unlike chemical weed killers, the organic ones don't contain this and are safer to be used for your vegetable and fruit produce, around your children and animals. Plus, when using organic products, you don't have to put your yard off limits – you can use it immediately.
The glyphosate works in a way that it builds up and lingers in the soil for a long period and if there's too much exposure the plants can genetically mutate or worst-case scenarios cause cancer.
On the other hand, organic weed killers function differently and they don't have an overwhelming smell that can overtake your lawn.
Most of the organic products are made with essential oils and what's more, they can even have a pleasant smell.
How Do Natural Weed Killers Work?
The manner in which organic herbicides work mainly depends on the type of active ingredients they're made of. Most of the products we presented in our article are based on vinegar however, they're other options and you can check them out below:
Vinegar or acetic acid
The acid that's present in the acetic acid is the same as in white vinegar however it's much more concentrated. This means that they work in the same manner but white vinegar needs more time to show the effects.
Moreover, these weed killers usually cause the leaves to turn brown in 24 hours. Younger plants can be treated with vinegar and more established plants react better to the stronger acetic acid.
Furthermore, you might need to apply the vinegar weed killer more than once to get the best results and to remove weeds and grass from your porch or patio.
Saltwater or salt
Salt and saltwater kill grass in the same way as the ocean. The reason why plants don't grow in the sand is the continuous saltwater explosion. It helps remove all the basic nutrients and moisture. This lack of nutrients is what kills the grass.
If you decide to use a salt-based organic product for weed removal, have in mind that over-application can cause damage and completely eliminate the grass from some areas so you need to be careful when handling this product.
Saltwater and salt are ideal for use on paved areas such as walkways, roads and sidewalks because you can apply them locally without worrying about causing damage to surrounding plants.
Eugonol
This compound is usually found in essential oils from cloves which are commonly used in weed killer products.
It has the same way of functioning as acetic acid – it kills the leaves on the outside which leads to cell leakage and eventually death.
Although it works on destroying the top parts of the weed it's not recommended for use on weeds with large root systems or tubules, rhizomes and bulbs.
In any case, this type of product is effective in killing any grass on walkways and building edges and it's great for destroying young weeds.
Flame weeder
This is another option for burning the weeds in your yard. It's propane-based and it literally burns the weed.
However, this is a product that must be used with the utmost care since it's dangerous and it might be a fire hazard.
How Effective Are the Organic Weed Killers?
You might ask yourself whether organic weed killers are effective. Most of them require to be sprayed on the plant and their effectiveness depends on the type and size of grass you want to treat, as well as the weather conditions.
Most commonly, organic weed killers work well with weeds shorter than 4 inches while perennial weeds need to be treated with more doses.
To get the best results apply the product to young weeds on a dry, sunny day.
Organic Weed Killer Reviews
1. Green Gobbler Vinegar Organic Weed Killer
Highlighted Features
Kills weed & grass
24-hours desiccation
Safe organic product
Strong formula
Money-back guarantee
Taking care of stubborn grass and weed in your garden doesn't have to be an annoying process when you have the right tools.
The Green Gobbler vinegar solution is one of the best and fastest products to remove grass and weeds. This product has been OMRI approved for organic use and you can take care of the annoying grass without the use of toxic chemicals that are a danger to you and the environment.
When applying the product, you have to be extremely careful because it can't choose what to kill and it can damage the other plants if you apply it wrongly.
The main ingredient is 20% vinegar which compared to home vinegar is much stronger and you can expect the grass to be destroyed in 24 hours.
Finally, the product doesn't need to be diluted and can be filled in a spraying can and applied to the nuisance in your backyard.
One useful tip is not to use the solution on a rainy day because only sunshine can provide the best results. Lastly, don't expose any healthy plants to this herbicide.
2. Natural Weed Killer by Doctor Kirchner
Highlighted Features
Organic weed killer
Ready to use
Practical packaging
No harmful chemicals
Eco-friendly
Doctor Kirchner's organic weed killer is the only product you need to eradicate the annoying weeds in your garden and make it look better than ever.
It's made with a really simple recipe with ocean water, soap, vinegar, and strength food and it can do wonders for your garden.
Moreover, it doesn't require any pre-mixing and with the easy pour bag, it's ready to use immediately – just spray it and see it work in front of you.
Within 24 hours the grass should've already changed its color and turned brown. What's more, the product has a long period of use and it won't go bad soon. Its long shelf life will allow you to use it even after years have passed.
Last but not least, this product is eco-friendly and it won't harm your kids, pets, or your garden in any way.
3. HARRIS Pure Vinegar 30%
Highlighted Features
30 % strong liquid
Pure vinegar
Guaranteed satisfaction
USA product
Multifunctional
First things first. When handling products like this always ensure you have protective equipment on. Your rubber gloves and eyewear protection are essential when applying this concentrated liquid.
Furthermore, don't ignore the instruction manual before applying this product to your garden and make sure you use a plastic or stainless steel 316 spray nozzle. Otherwise, strong liquid can cause corrosion.
Don't overuse or spray the product on other plants and flowers since it might affect the vegetation in an unplanned manner.
As soon as you start using it, you'll never go back to pulling weed with your hands and you won't have to worry about using toxic materials.
Lastly, this product can be also used for cleaning your home and clothes – you'll be getting a great product with multiple functions for an affordable price.
4. Calyptus Pure Vinegar 1-Gallon
Highlighted Features
Powerful formula
100 % pure
Multi-purpose
Calyptus promise guarantee
45 % vinegar
The Calyptus is a USA product made with strong vinegar of 45 % and it's completely organic and recyclable.
The manufacturer confirms this product is free of dangerous chemicals such as phosphates, fluorine, sulfates, dye and bleach – it contains water and 45 % vinegar plus, it's a certified organic product.
It's made with USA corn that has been distilled, fermented, and then filtered in this entirely natural concentrated vinegar, and even with this simple recipe, it's much stronger than other available options.
Purchasing this product can help around your garden as well as clean outdoors and indoors as well as in the automotive and marine industry.
5. Natural Armor Weed Killer
Highlighted Features
No Glyphosate
Easy application
Multi-use
Fast results
Money-back guarantee
Natural Armor's all-natural, organic weed killer can help you remove the annoying weed in your garden.
It's all-natural and it can kill over 250 different types of grass and weed without the help of dangerous chemicals.
This product is ready to use immediately – no need to mix and prepare. As soon as you apply the product, you can see the results in the next 24 hours since this is a fast-acting product that kills weeds instantly.
No need to waste your time with synthetic herbicides that will only waste your time. Plus, the packaging comes with an included trigger sprayer which is easy to set up and use.
Always use this product with care according to the provided directions and try to avoid using it during rainy days and seasons.
6. 1-Gallon 40% Vinegar Concentrate by FDC
Highlighted Features
Highly-concentrated
Great for garden use
Easy to use
30-day money back
Eco-conscious
Improve your gardening game with the amazing vinegar by FDC. It's a highly concentrated vinegar for multiple uses and it's ideal for killing the annoying weeds and grass in your garden.
The manufacturer's recommended dosage for garden use is 1:2 vinegar to the water. This 40% of vinegar is a great solution to avoid the use of dangerous chemicals, as well as store-bought cleaners.
It's completely safe to be used around your family, kids and pets and because it's completely natural and eco-friendly it can be used for your edible gardening produce.
Satisfied customers confirm that it's a strong product that's easy to use and they advise using it with some protective equipment because it has a strong smell and it might not be pleasant if you need to spend more time around it.
7. Green Gobbler Vinegar Weed Killer
Highlighted Features
OMRI certified
Fast results
Strong formula
Safe & easy use
No toxic materials
The stubborn weeds in your garden and patio will be history as soon as you start applying this amazing 20 % vinegar solution by Green Gobbler.
However, you need to be very careful when handling this product. Try to apply it only to the weeds and grass you want to go – it's not a selective concentrate and can kill other plants if not used properly.
Moreover, the product is OMRI listed for safe organic use so you'll never have to apply glyphosate or some other harmful chemicals. Plus, you don't need to ban your kids and pets from the yard since it isn't harmful to their health and well-being.
You can use the product close to your fence, on pathways, on pavers, close to foundations and anywhere else you need.
Green Gobbler will give you a full refund 30 days after purchase if you're not satisfied with the product – no questions or explanations are needed.
8. Natural Weed Killer Spray by Organic Matters
Highlighted Features
Organic weed killer
24-hours results
Safe use
30-days refund
No toxic ingredients
This natural grass and weed killer by OrganicMatters can instantly help your garden. It doesn't contain any harmful ingredients such as glyphosate and the concentrated formula can kill the grass and weed in 24 hours.
Moreover, this product dries fast and is ready to use immediately – what's more, the package contains a sprayer for easy application.
You can safely use it anywhere in your garden and apply it around flower beds, trees, shrubs, driveways, fences, parking areas, patios, etc.
Satisfied users say that they use this product on the weeds on their sidewalks and it works like a charm. Don't worry about this product if you have pets and your kids running around the yard since it's completely safe and eco-friendly.
9. Energen Carolina Vinegar Weed Killer
Highlighted Features
Fast-acting formula
Non-selective
Highly concentrated
Natural
Easy to use
The Energen Carolina LLC is a solution made with 20 % vinegar and it's free of dangerous chemicals; thus, you can use it in your vegetable garden, around your pets and children.
It works on various types of weeds such as clover, crabgrass, ground ivy, and dandelions and it dries them out in just one day.
If you have annoying weeds coming out of your driveway this is the right product to help you get rid of them and have a spotless look in no time.
Moreover, the manufacturer doesn't promise anything they can't deliver so you can be certain this product works just as advertised – with quality and speed.
Final Thoughts
You need to act smart and careful when choosing the right organic weed killer for your garden. There are a lot of options available on Amazon and we've tried to compile the best ones to make your decision process easier.
Among our selection of the best organic weed killer, we're sure you can find one that's good for your garden.
Although we stand by our selection, we'd like to present you with our top pick and that's the Green Gobbler Vinegar Organic Weed Killer.
Make sure you use it with care and your garden and patio can look amazing in just a matter of one day.
Nonetheless, if you're looking for a more affordable option you can try the Energen Carolina's weed killer.
The price is affordable and you'll be getting a great product to help you tame the weeds in your garden.
Last but not least, it goes without saying that you have to use the instruction manual when applying any weed killer product.
Stay safe and happy gardening!