If you're not satisfied with using a regular garden trowel for your gardening activities such as soil turning, digging, or transplanting plants then you can check the available options on Amazon and become the owner of one of the best garden trowels.
Although it might seem that the garden trowel isn't a necessary tool, below you can read about all the benefits it offers and how it can help you with your daily gardening activities.
As we mentioned, there are different brands that sell quality garden trowels made from various materials such as steel, carbon steel, hard plastic, and fiber composite. These different materials promote different properties in the tool, but they all offer great durability and efficiency.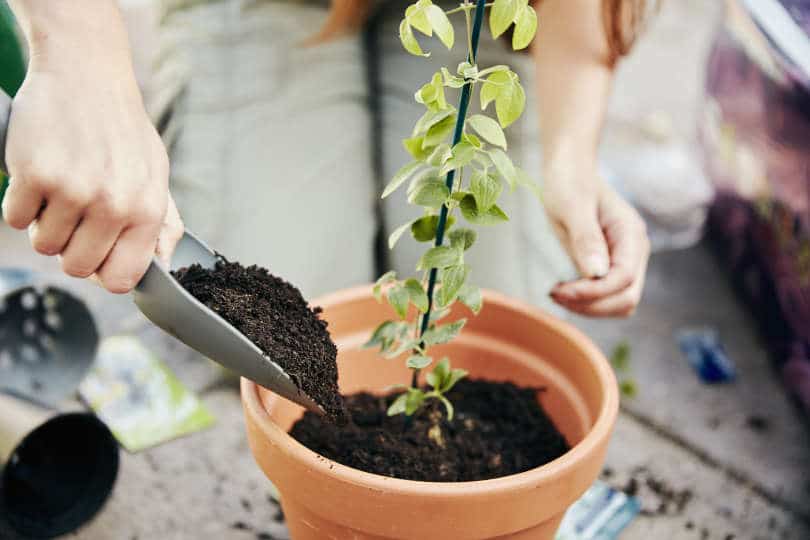 Below, you can review some of the best-of-breed brands that create tools having in mind the needs of all gardeners – both professional and newbies.
Read on to get the best information for your next gardening purchase.
Top Pick
When it comes to garden trowels, our top pick product is the Edward Tools bend-proof trowel. This tool is made for heavy-duty work and you can be certain it will last for years and help you with your gardening activities.
It's made with stainless steel which guarantees long-term durability while the oversized handle made with rubber offers a comfortable grip and no straining even after hours of work.
You simply can't go wrong if you choose this amazing product with a lifetime warranty.
Budget Pick
For our readers with a more limited budget, we definitely recommend the Corona comfort trowel which has a 3-inch blade.
It's lightweight and it's the perfect tool for beginner gardeners.
Moreover, it's made with a one-piece aluminum alloy and the seller offers a limited lifetime warranty – this is a great deal and quality for a meager price.
Things to Consider Before Buying
There are different models and types of gardening trowels available online and in shops. To make your life easier our review features the 10 best garden trowels you can find on Amazon. Nevertheless, before deciding you must read through certain product specifications and understand what type of tool fits you.
Below, you can review some of the characteristics you can look for when purchasing your garden trowel. Moreover, you can also take a look at our top and budget pick to get a precise suggestion and get the best tool – based on your needs and budget.
What's a Garden Trowel?
Seasoned gardeners are well aware of what a garden trowel is, however, for those that don't the best way to explain is the resemblance to the shovel, but with smaller dimensions.
These are usually comfortable and ergonomic tools that offer a steady grip, and the handle is usually made of aluminum, rubber, hardwood, or plastic.
In regards to the features we review below, one of the most important things to consider is the durability and sturdiness of the design otherwise you might be at risk of damaging the tool after the first try and even hurt yourself.
The garden trowel is a rather versatile tool, that can help you dig, move plants, you can use it for potting plants, weeding, and even cut grass or tree bars if needed.
When working with a garden trowel, never forget to use safety gloves and goggles as well as to hold the tool in the proper position while keeping your work area clean – this way you avoid getting injured.
What Material to Choose for Garden Trowel?
A garden trowel is a tool used for heavy-duty work and it's essential that it's made with high-quality materials. One of the best materials that guarantee resistance and durability is steel with an anti-rust layer. On the other hand, when it comes to the blade you can always opt for stainless steel or boron steel which won't rust at the first drop of rain.
On the other hand, besides the blade, you must take into consideration the handle which has to be ergonomic. Although a nice-looking design is great, ultimately you need to choose a product with a user-friendly and comfortable grip that allows easy handling. The most common material for a good handle is solid wood, rubber, or reinforced plastic ideally with a non-slip finish.
How to Pick the Right Size Garden Trowel?
The usual size of a garden trowel doesn't go over 3.5-inches in width and 15-inches in length. If you require a smaller hand trowel, then you can choose a model which is between 12 to 14 inches in length and as wide as 3-inches. These models are ideal for weeding, transplanting, and hard digging.
However, if you need a garden trowel for aerating and loosening soil it's better to use a tool that has 4-inches of blade width.
When it comes to digging, you have to make sure the material of the blade is sturdy enough and can handle this activity – the best option, in this case, is a wider model of the trowel with a blade made of baron steel or cast aluminum.
It might seem logical, but stainless-steel blades aren't the right solution for this task, so choose carefully.
How Important Is Branding for Garden Trowel?
As you already saw in our review section, there are multiple brands and models sold on Amazon and that's why we always advise purchasing products from reliable brands that are approved by experienced gardeners. You can be certain the items we provided fall into this category.
One additional piece you need to consider is the warranty. A garden trowel is a heavy-duty tool made to last through years of use, however; a nice warranty option should never be dismissed.
When purchasing the item, you can check whether the seller offers a lifetime warranty, a 10-year warranty, or nothing at all.
Also, you need to think of the budget before buying – the price will depend mainly on whether you need a heavy-duty trowel that can last longer and cost more or get a cheaper option that might not be as durable.
What Other Things Can I Focus On?
Some additional features you can consider are listed below:
Product weight is always an important feature since this can give you an idea of how comfortable and durable the product is. More so, always opt for a lightweight variant since this will cause less straining on your wrists.
Sharpness of the blade

can be of different types and it mainly depends on the material which is used for construction. For instance, stainless steel is great for cleaning and can cut through soil fast and easily. The different materials combined in steel improve the overall quality of the tool and what's more, they can be easily found in online stores. If you decide to use a carbon steel trowel, you'll get a resistant and durable tool with a long life. However, this material is not resistant to rust which might be a downside. Plastic is a lightweight and really solid material and it's also cheaper when compared to the other options. Aluminum can be cheap, but lightweight and soft.
The material of the handle

is also important, and it can vary between wood, steel, fiberglass, cushioned and padded handles.
Best Garden Trowel Reviews
1. Bend-Proof Garden Trowel by Edward Tools
Highlighted Features
Heavy-duty tool
Stainless steel construction
Oversized head
Ergonomic grip
Lifetime warranty
This Edward Tools product is one of the favorite garden trowels sold on the market and a favorite of gardening enthusiasts. It comes in a pack of two which is a great value for the price. Moreover, the blade of the trowel is made with stainless steel, so you can be certain it won't bend after just a few uses.
Also, you'll be able to work faster with heavy and rocky clay soil since you can move a greater volume of the soil faster and thanks to the ergonomic rubber grip, your hand will always be positioned ideally and you won't feel any wrist straining – even after longer use.
Satisfied customers claim that this product is so well made they can't imagine using the warranty option.
Nevertheless, you can be assured of its durability and quality thanks to the lifetime warranty that offers a "no questions asked" return policy.
2. Fiskars Ergo Garden Hand Trowel
Highlighted Features
Ideal for digging
Ergonomic handle
Reduced wrist fatigue
Lifetime warranty
Aluminum head
If you're looking for a digging trowel, then this Ergo tool is the perfect solution to help you plant, remove plants, turn up the soil, and perform other gardening activities. Thanks to the great materials it's built from, you won't have any issues cutting through tough turf.
More so, the tool can be used for hours and it won't cause any straining on your hands and wrists thanks to the smart and comfortable handle design.
When it comes to the head part of the trowel, it's worth mentioning that it's made with polished aluminum which is rust-resistant and can guarantee a longer life of the tool.
Finally, as one of the best brands on the market, Ergo offers a lifetime warranty for this amazing, lightweight, and sturdy tool.
3. Bend-Proof Small Trowel by Homes Garden
Highlighted Features
Lightweight & durable
High-quality material
Rust resistant
Easy to use
Lifetime guarantee
Garden enthusiasts love this trowel by Homes Garden because it's rust-resistant, doesn't bend, it's lightweight and incredibly sturdy. As soon as you start working with it, you'll notice the handle is soft on your hands and doesn't cause any pain during work and it can't slip and cause unwanted injuries.
You will enjoy gardening work, even more, thanks to this high-quality trowel made with a lightweight aluminum head that is strong, and it won't break even if you come across a hard rock while working.
Additionally, the trowel head is polished and easy to clean which gives it a nice shiny look. This trowel is great for reaching those tight areas of your garden, but it's not too narrow so you can scoop up just the right amount of soil.
4. Zuzuan Garden Tool Set
Highlighted Features
3-in-1 set
Ergonomic design
Large trowel head
Durable material
Non-slip
The ZUZUAN garden trowel set includes 3 tools – a trowel, a cultivator hand rake, and a transplanting trowel. The price is a great bargain since you get a combination of tools and amazing value with a single purchase.
These tools have been designed with the user experience in mind and that's why the handle on all three is ergonomic – made with a high-quality rubber that doesn't slip and it's contoured to fit your hand and reduce fatigue at the same time.
The hand trowel has a large head that allows you to scoop more soil and since it doesn't have a sharp edge and it works great for planting, transplanting, soil tilting, etc.
The transplanting trowel, on the other hand, comes with a measuring scale in inches and centimeters and can help you remove and measure the needed depth when planting.
5. ESOW Heavy-Duty Garden Tool Set
Highlighted Features
Traditional 3-piece set
Comfortable design
Heavy-duty material
1-year warranty
Easy to use
ESOW's garden toolset is just what you need to get started with your gardening projects. This is an amazing set of 3 different tools – a hand and transplant trowel and a cultivator hand rake.
All three tools feature a handle made with non-slippery rubber which offers great comfort and stable grip while working.
Moreover, the heads of the tools are made with durable cast aluminum which provides durability and doesn't rust even in the worst weather conditions.
Lastly, this product comes with a 1-year guarantee that offers reliability to the user and since it comes in a gift box paper packaging you can also use it as a gift to your green-thumb friend.
6. Homes Garden Carbon Steel Trowel
Highlighted Features
13-inches long
High quality
Ergonomic grip
Easy to use
10-years warranty
For those looking for a combination of great design and functionality, this modern trowel by Hand Garden is a perfect choice.
The trowel will be a great addition to any gardener's toolset since it's resistant to rust, doesn't bend easily and the amazing green color goes well with the greenery in your garden.
Further, the blade is made with durable and lightweight coated carbon steel which is resistant to any rocky soils and stones you might find in your way while working.
This trowel has multiple uses hence, you can dig up your plants, cultivate and pot without a problem – plus, thanks to the ergonomic handle design your hands and wrists won't feel any straining.
7. CFCT Bend-Proof Garden Trowel Tools
Highlighted Features
Sturdy construction
Handy & easy to use
Great for plant transplant
Radian blade design
Indoor & outdoor
What more can you ask – amazing quality materials, ergonomic design, sturdiness, and functionality! All of these are contained in this great garden trowel by CFCT.
It's a heavy-duty tool designed in one piece so you can be certain it won't loosen or break and since it's made with aluminum it's extra light and it doesn't rust.
Moreover, the trowel features a thumb pad to avoid slips as well as provide better comfort and grip during digging and the handle is made to fit your hand perfectly.
This tool can be used for transplanting flowers and smaller plants and it can cut through hard soil with no problem – plus, thanks to the radian blade you can use it both as a scooper and transplanter.
8. Tierra Garden Forged Hand Trowel
Highlighted Features
Quality construction
Lifetime durability
Sustainable product
Multi-use
User-friendly
This DeWit forged garden trowel is a favorite among gardeners due to its quality, sharp edges, and boron steelhead – it's an advanced version of the simple garden trowel and can help you make your work more efficient and enjoyable.
The blade is made from hardened boron steel which guarantees long-term use without any issues. The Dutch manufacturer goes even a step further, by creating a sustainable and environmentally friendly tool which are safe for the plants.
The handle is made with ash hardwood from certified FSC forests and can be used for cultivating, weeding, and planting, and cutting roots will be easier than ever with the help of this trowel.
9. Fiskars' 2-Pack 11-Inches Trowel
Highlighted Features
2 pack trowels
Oversized head
FiberComp design
Lightweight
Easy to use
This great Fiskars' offer includes a pack of 2 11-inch trowels that can be used for digging and breaking up soil and dirt clods.
Since it features an oversized head, you can be certain to expedite your work and move more soil than with a regular trowel.
Moreover, since it's a one-piece trowel you can avoid any loosening or break during work, and the lightweight and comfortable design allows better performance as well as more value which is topped of with the lifetime warranty.
10. CT 3010I Trowel by Corona
Highlighted Features
Comfort trowel
Lightweight design
3-inch wide blade
Professional application
Limited lifetime warranty
The Corona trowel has a wide, 3-inches blade that provides great comfort during use. Although lightweight, this product is extremely durable, and you can rest assured you'll be using it for years.
Moreover, this garden trowel can help you reduce the time you spend on gardening activities and make them more efficient.
Although the trowel is a bit on the expensive end, it's well worth the investment – if you're new to gardening it's smart to get a tool that guarantees durability and comfort.
Once you start using this Corona garden trowel, you won't want to switch to anything else, because it will make you happy and help you reach your gardening goals.
Final Thoughts
Finally, we think by now you have a great overview of the garden hand trowel, what to use it for and how to choose the right material.
There are multiple brands available in stores and online shops and that's why we picked the 10 best hand trowels in our review section. This can offer you a direct idea and suggestions on quality tools.
Our number one garden trowel is the bend-proof trowel by Edward Tools that's made with durable materials and provides great comfort even after hours of use – it's ideal for people who spend long hours caring for their garden.
Additionally, for all those newbies in the gardening world, we recommend a more affordable variant that offers great quality – the Corona garden trowel. It features a 3-inches long blade and its lightweight makes it perfect for inexperienced gardeners.
Plus, the manufacturer offers a limited lifetime warranty for this amazing, affordable, and durable tool.
Happy Gardening!