Depending on the area you live in and the different seasons, there are various rates of leaf foliage from trees or flowerbeds in your home garden.
Any enthusiastic and organized gardener wants to keep their garden pristine and crisp, and this means you must invest some time into gathering all the piles of leaves that build up every day.
Some of the most common tools used by gardeners are leaf grabbers and leaf blowers.
In our article, we'll show you some of the best leaf grabbers you can find on Amazon. These tools are handy and easy to use – they can help you pick up large piles of leaves and refuse and dispose of them in trash bins.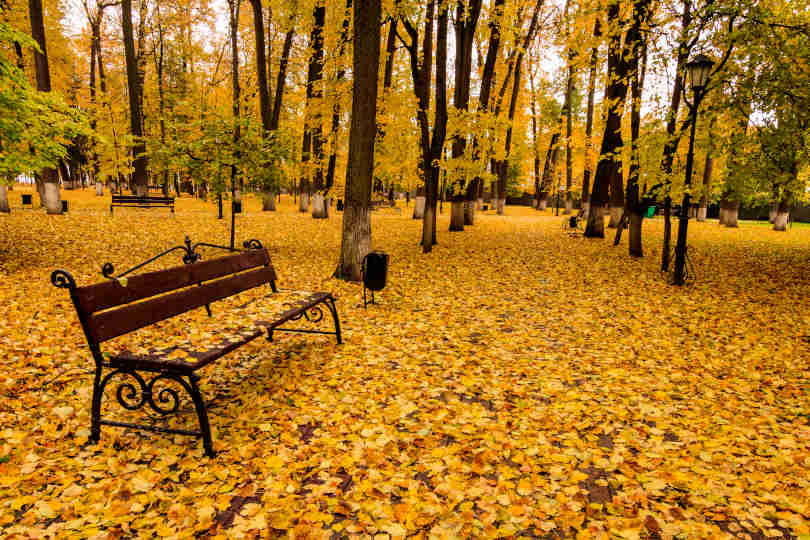 What's great about them is they're manual, fast, practical, and inexpensive tools, so you don't need to set aside an extra budget or invest too much.
Plus, thanks to their "one size fits all" feature anyone from your family can use them without the risk of getting hurt – you'll enjoy your cleaning chores more with this great tool.
Read on!
Top Pick
Our top pick leaf grabber is GARDEASE's ergonomic tool which comes with a lifetime guarantee that's free of any return hassles.
These oversized claws ensure you get the most leaves away very quickly, without any fuss or spill and the built-in barrier protects you from insects or plant injuries.
This product has a great ergonomic design, with holes on the top that allow you to hang them in your shed when not in use.
Budget Pick
Nevertheless, if you're looking for something cheaper try out the large scoops by GardenHOME. These leaf grabbers are oversized and multifunctional, so you'll be able to transfer very easily any type of debris, sharp items, trash, and foliage from your garden.
They're adjustable and will protect your hands from dirt, sharp twigs, and insect bites, and thanks to the lightweight material you won't even notice you're wearing something on your hands.
Designed with durable material, they're resistant to corrosion and can last for years if properly used and stored in idle season.
What is a Leaf Grabber?
If you're new to gardening, or just recently heard about leaf grabbers don't worry – we got you covered. A leaf grabber is one of the handiest tools you can have in your gardening toolkit. It helps you save time on garden upkeep and lowers the time you spend on gardening chores.
Our article has presented some of the best leaf grabbers varying in price and size, but all with great quality and durability to last for years.
Obviously, you'll need to think about your priorities and understand whether you need something practical or something fun-looking since these features might influence the actual pricing of the item.
Why do I Need a Leaf Grabber?
If you leave in a wooded area, as soon as autumn knocks on the door, you'll see all the beautiful greenery starting to fall and pile up on the lawn.
At first, it might seem like a picturesque fairytale painting however, as soon as big hills of leaves start to form the time for cleaning has come. Let's face it, no one likes spending time cleaning a messy garden and this is where the leaf grabbers come into play.
They're a great solution that saves time and won't cause any back problems – you'll be able to pick up large piles of leaves and the task will be fun and easy. Thanks to the design, you will not only protect your back and hands from straining but also from torn, debris, insects, and other sharp objects that might be found in a pile of leaves.
Additionally, leaf grabbers are not an exclusive tool used only for picking up leaves. As you've seen in our reviews, many of the options can be used for other gardening activities such as picking up stubborn shrubs thorny branches which can't be taken out with simple gardening gloves.
More so, you can use them to clean up general waste or just as an extension to help you reach or move something around.
What Types of Leaf Grabbers Are There?
Essentially, there are 2 types of leaf grabbers that you can find in stores and online and we've presented both options in our article.
Mitt-shaped leaf grabbers that are great for scooping large overflowing piles of leaves
Long-handle leaf grabbers that are ideal for people with back problems
What are the Most Important Features to Look For?
Material
As with any other gardening tool, it's important to get a tool that's made of quality materials that can last longer. It's a no-brainer that they must be resistant to cracks since you'll be handling gardening waste and you might come across some hard materials that can damage the claw.
Usually, the leaf grabbers can be made of plastic, metal, or a combination of both. Regardless of this, they must be rustproof and weatherproof as well as lightweight to give the best results.
On the other hand, when it comes to the material of the grabber's frame you have the option of going for plastic or metal.
Ease of use
This is an important feature to consider when buying any tool for your gardening activities. You need to be smart and always purchase tools that are practical and easy to use.
Practical means that the leaf grabbers need to be lightweight, have enough capacity to collect the piles of leaves in your garden, and help you clean fast and easy.
The bottom line, you must choose user-friendly tools, with claws that don't slip and triggers that are easy to use.
Capacity
Aside from the ease of use, you must consider the capacity of the grabbers because that'll ensure you spend less time picking up leaves and finishing your gardening tasks. Bigger capacity means you'll be able to collect more leaves and debris from your backyard faster.
Safety
As with any gardening tool, safety is an important priority. Some heavy-duty gardening tools require the use of full safety equipment such as goggles, gloves, special boots, and even special bodysuits.
All these items are intended to protect you from injuries and allow the most efficient use of the tool at hand. The same goes for leaf grabbers – although, they are constructed as simple tools you mustn't forget to protect your hands when using them and to be careful not to misuse them.
If you're not careful and not using the tool as intended, you might end up injuring yourself. Luckily, the leaf grabbers usually have a barrier made to protect from insect bites and sharp objects that might be found in the leaf piles.
Length & weight of the grabber
As far as the length of the leaf grabber is concerned have in mind that short handles require a lot of bending and back exhaustion. Always choose a long-handled grabber since you'll have the chance to pick the leaves and debris from a position that's convenient for you.
Additionally, you need to consider the weight of the grabbers as well. You don't want to get a tool that is extremely heavy since you won't be able to use it efficiently and this is especially important when using glove-like leaf grabbers.
Storage
If your garage or shed is overflowing with different tools, the next tool you purchase has to offer good storage options; and this is why all of the claws we reviewed are easy to store when not in use and won't take up too much space. You can either hang them on the wall or tuck them in a corner in your garage until the next use.
Where to Use a Leaf Graber?
As you've seen until now, the leaf grabbers are a handy multifunctional tool to have around your garden. It comes in hand for small outdoor places where there's no need to use the big leaf blowers and you can finish the job manually.
Best Leaf Grabbers
1. Ergonomic Leaf Scoops by GARDEASE
Highlighted Features
Lifetime quality
Oversized claws
Smart storage
Multifunctional
Quality material
Why choose Gardease's leaf grabber? It's easy to use, offers practical storage, and its robust design guarantees long-term, damage-free use.
Moreover, the grabber has great precision and it's an excellent tool for spreading mulch and compost.
Additionally, the size is ideal for various trash cans and yard bags and the smart design with a closed scoop ensures there aren't any small items falling out.
Anyone can use this leaf grabber since it fits different hand sizes – so, anyone in your family can wear these awesome green claws and feel motivated and confident while cleaning out your yard!
Additionally, this isn't only a leaf grabber – it's multifunctional and can be used for picking up fruit, feeding your leaf shredders, spreading mulch, and even clean up your pet's poop.
It's a fun and practical tool to help you with the upkeep of your yard.
2. Gardzen Large Leaf Scoop Hand
Highlighted Features
Huge size
Multi-use
Ergonomic design
Reusable bag included
Excellent customer support
The Gardzen leaf grabber is a great value package – you get 4 practical items for the price of 1 – you get a pair of protective garden gloves, a 72-gallons waste bag, protective paddings, and of course the large size leaf scoop.
Thanks to the large size of the leaf grabber you won't have to bend around your garden to pick up the leaves and you'll save your lower back from too much straining plus, the ergonomic design allows for different people to use the tool regardless of their hand size.
Also, the cut time can be lowered for as much as a half since you're able to pick up more material due to the large capacity of the tool.
Finally, Gardzen is a company created by gardeners for gardeners and the products they make are of great quality and smart design to satisfy any gardening needs – they pride themselves on quality and service and you won't be disappointed.
3. Yellow PPLS1012 Leaf Scooper by Rugg
Highlighted Features
Adjustable handle straps
Multi-functional
Non-rusting
Easy to clean
Firm grab
If you live in an area where the leaf falling season is extreme, you need this leaf scoop by Rugg.
It has adjustable handle straps and it's great to use for picking up leaves, grass, and all the debris from your back yard and according to experienced gardeners they only grip what you decide to grab.
Since it's made with plastic it won't rust and it's easy to clean with a wipe or with your gardening hose plus, they're so basic, yet so practical and obvious and work much better than some other complicated tools.
When it comes to garden upkeep and picking up leaves, simple is better and this is one of the best tools that can ease up your gardening activities.
4. Pure Garden Gorilla Hand Leaf Grabber
Highlighted Features
Convenient design
Saves time
Durable material
Set of 2
Great for all ages
Pure Garden offers this durable gorilla hand leaf grabber that can save your gardening time and effort when picking up the leaves in your garden.
The product is ergonomically designed and features a wrist guard that can help reduce the strain on your hands, thus allowing you to work faster and more efficiently.
Also, the product has slots on the handle, which are ideal for storage and you can hang the tool anywhere in your garage or shed while the claws are lightweight and easy to move around which in turn improves the yard cleaning and makes it faster and more enjoyable.
Lastly, Pure Garden is dedicated to satisfaction of its customers and they try to offer a combination of great prices and quality – you can be certain to get an awesome value deal and a durable product.
5. GardenHome Leaf Scooper
Highlighted Features
Large size
Multifunctional
Ergonomic design
Lightweight
Easy to store
Cleaning up the leaves from your garden can be fun and easy with the help of this amazing leaf grabber by GardenHome.
The scooper is oversized which is useful when picking up large piles of leaves, lawn debris, trash, and grass clippings around your garden.
The ergonomic adjustable handles can fit any hand size, so your family members can also use this great product without a problem.
Safety is a must and with this tool, your hands will be protected from dirt, pesky bugs, and any sharp yard trash that can cause injuries. Moreover, the tool is made with lightweight durable plastic that ensures long-term and comfortable use.
6. Easy Pick Up Leaf Grabbers by GardenHOME
Highlighted Features
Large size
Multifunctional
Ergonomic & adjustable design
Lightweight
Easy to use
What's great about these GardenHOME leaf grabbers is their multifunctionality. You can practically use them to pick up large leaf piles, grass clippings, mulch, plant trimmings as well as other lawn debris, sharp items, and trash – plus, you can easily transfer the piles into a bag, wheelbarrow, or bins.
The adjustable and ergonomic design offers full child and user protection from different insects, sharp twigs, and dirt and these grabbers can fit over your garden mittens and gloves
Another awesome feature is their large size, allowing you to pick up more and save time on gardening activities. Regardless of the size, these scoops are made of durable plastic that's lightweight and resistant to corrosion.
Lastly, the leaf grabbers feature two holes on the top which allow easy storage on your garage or shed walls.
7. TABOR TOOLS Leaf Grabbers
Highlighted Features
Heavy duty
Body protection
Easy to store
Durable materials
Great customer support
These leaf grabbers from TABOR TOOLS are made of heavy-duty plastic which is flexible and easy to use. They're made to pick up large amounts of debris, leaves, or any yard waste. What's more, they're great when it comes to picking up clippings to shred, mulch, or bag.
Moreover, the scoop features ridged edges that offer a firm grip making sure no leaves escape the claws while working.
Thanks to their smart design, you can rest assured you're protected and not at risk of being injured from any stinging nettles, weeds, or rosebushes. Plus, since they're huge you don't need to bend when working which can, in the end, save your lower back.
Additionally, these claws are easy to store away neatly and you can hang them in your garage when not in use. As far as cleaning is concerned, you just need to rinse them with water after use and they're ready for the next challenge.
Finally, you can be certain these leaf grabbers will last longer because they're made with top-quality materials that are UV-resistant and save from cracks.
8. iRunning Large Leaf Grabber
Highlighted Features
Oversized leaf grabber
Easy to store
Comfortable grip
Ergonomic design
Durable materials
Another great and inexpensive option is the durable leaf grabbers by iRunning. They're made with durable plastic as an oversized claw that can help you finish your job fast and easy with no extra effort needed.
Thanks to the comfortable grip design the product is easy to use. it's lightweight and you won't feel and hand or back strain while using it. Since it's big, you'll be able to pick up large piles of debris and leaves and dispose of them in a bag easily.
According to satisfied users, this is one of the best tools you can have in your garage – they can help you clean your garden in no time.
Unlike some other options, these claws aren't expensive but can successfully do the dirty work for you.
9. Large Leaf Ergonomic Scoops by the Eastrans
Highlighted Features
Durable hand rakes
Lightweight
Oversized
Easy to use
UV-resistant
These are one of the best, durable leaf grabbers you can find on Amazon. They're lightweight, easy to use, and have a strong grip that decreases the cleaning time and makes your gardening work efficient.
Thanks to the smart design, you can keep a strong grip at any time and not feel any straining on your wrists and back plus, they're crack and UV-resistant, so they can last for years if used properly.
Since they're oversized and have a longer design, you won't need to bend as much to collect all of those piles of leaves smoothly and easily.
With these leaf grabbers, you'll be able to pick up pine needles, twigs, dry leaves, and wet debris away from your garden and make it look crisp and pristine as it should.
10. Patriot Products Gator Grabber
Highlighted Features
No-bending
Heavy-duty
Tough & durable
Poly-fiber
Easy to use
This heavy-duty leaf grabber is the best when it comes to picking up loads of leaves from your garden. Thanks to the long handles, you won't need to bend and won't feel any strain in your back even after hours of use.
Furthermore, the shafts are coated in a heavy-duty steel powder which ensures durability and when combined with the poly-fiber jaws, you can be certain to have a product that will last for years.
With this amazing tool, you can pick up anything from litter to leaves, you need to grab the load and drop it in a bag. Even the most difficult garden cleaning tasks will be easy with this handy tool.
Before using, you'll need to attach the top half of the handles to the lower handles and then use them without a problem and the full length you'll get is 29 inches.
Final Thoughts
In the end, we'd like to emphasize that choosing the perfect tool is possible if you're aware of your needs and the gardening activities you need to cover.
Purchasing one of these items can make your gardening life easier and you'll be wondering how you lived without it before, however, the choice comes down to budget.
If you're looking for something bold you can choose our top pick GARDEASE's leaf grabber that has an ergonomic design, can last for years, and decrease the time you spend on cleaning your garden.
Thanks to their size, you'll be able to pick up the piles of leaves in your garden without any trouble.
On the other hand, if you're not ready to invest more in this tool, check out the GardenHOMEclaws.
This is a multifunctional tool with a great capacity that will protect your hands from any debris, insets, and sharp objects during use. They fit perfectly, so you won't feel any strain on your hands ever.
Happy Gardening!