The upkeep of a healthy garden doesn't only include watering, fertilizing, and trimming your plants, flower, and trees. It's a much more complex task that relates to all of the garden equipment you have.
It goes without saying that to take care of your garden you need all sorts of equipment to work with – such as backpack sprayers, regular sprayers, various tools, and of course lawn mowers to take care of your turfgrass.
Lawn mowers are one of the most valuable tools a gardener can have in his garden and it's essential to keep them in good condition and have them work properly for a longer period of time.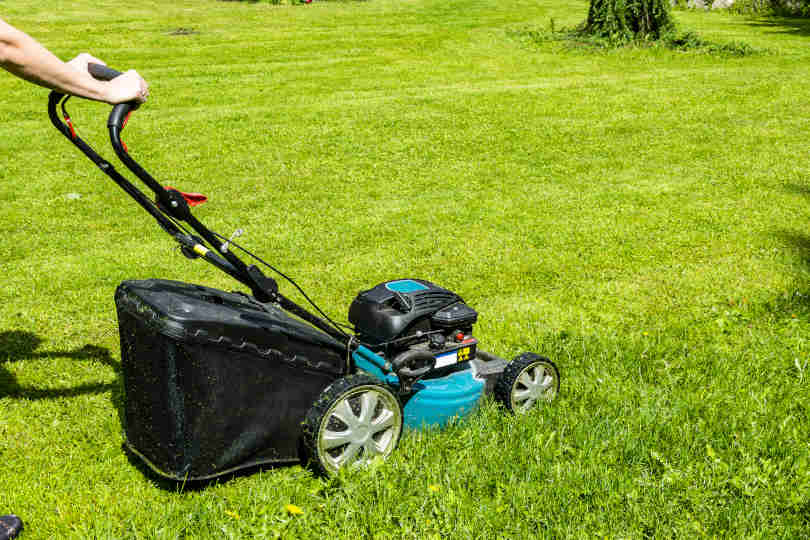 This involves proper use, cleaning and storage. Although the first two can easily be done by following the provided instructions when it comes to the storage we'd like to present to you some of the best lawn mower covers that are available.
On our list below you can review all of the details and choose one that fits your needs the best.
Read on!
Top Pick
Our top pick product is the waterproof lawn mower cover by Family Accessories. It's a 100 % waterproof cover made with sturdy and durable materials that can last for years.
It's really easy to use and it can provide great protection for your precious lawn mower.
The manufacturer offers great warranty options such as a 1-month full refund return policy and a 12-month repair warranty which increases the product's value even more.
Budget Pick
Of course, if you need a cheaper option, feel free to check out Formosa's lawn mower cover.
This is a great cover that can protect your machine from different weather conditions such as sunlight, dirt, dust, strong wind or small animals that can damage the mower's delicate parts.
Thanks to the elastic band, the cover won't fly away during windy weather and your mower will stay covered from top to bottom safely tucked in under this cover.
Features of a Lawn Mower Cover to Consider?
When purchasing items for your garden you have to ensure you get the right ones – with great quality, a reasonable price and maximum effectiveness.
It goes without saying that there are some basics that your lawn mower cover has to check out to provide maximum protection and you can take a look at those later:
Does the mower cover have air vents?
If you don't have experience with lawn mower covers you might end up buying a product that doesn't give you what you need.
One of the first things you need to consider is the necessary air vents which can provide the needed air circulation and hinder any mold and mildew creating. Proper air circulation can keep the motor's temperature regulated and in good condition.
What materials are the best for the mower cover?
If you're one of those people that think you can protect your mower with a simple old cotton cover then you're greatly mistaken. But, since you're already checking out our article you are a gardener who cares enough to use practical products that protect your equipment.
When it comes to the materials, make sure you choose a cover made with quality 600D marine-grade fabric which is waterproof, windproof and can protect against UV rays and if you're willing to invest more you can get a PU coating to provide maximum protection.
What kind of warranty is the best?
As far as the warranty is concerned, you can always check the specific offer from the manufacturer. If the warranty is great and you like the features, then you've got yourself a winner.
How do I get the right size for my lawn mower?
It's very important to get a lawn mower cover of the right size. For instance, there are different types of mowers such as push or riding mowers and the covers for these can vary in size.
There are adjustable options, but it's always good to plan and choose the right size which will ensure full protection. Our advice is to measure before purchasing to get the ideal fit.
What Can The Lawn Mower Cover Help With?
One of the main reasons for purchasing a lawn mower cover is to protect your valuable equipment and this is one of the things you can do to help this.
By using a cover you'll be certain your machine is protected from rust. Most of the covers we featured in our article are waterproof and can keep the mower dry at all times even during heavy rainfall. The exterior and interior parts will be safe with the help of the cover. If the machine starts rusting this can be the end of it and you have to protect it from any rain or water.
Since you might need to keep your mower in your backyard in the open, you also have to make sure it's protected from any animals such as little rodents or cats which can chew out all of the wires and damage the machine.
Lawn Mower Cover Reviews
1. Waterproof Lawn Mower Cover by Family Accessories
Highlighted Features
100 % waterproof
Heavy-duty materials
Easy to use
Great protection
Great warranty options
The Family Accessories waterproof lawn mower can help you cover and protect your lawn mower during the whole year. The manufacturer claims that this is a 100 % waterproof product unlike some others on the market which only offer partial protection and the mower's engine can be damaged.
Moreover, the cover's inside is layered with a PU rubber coating and the seam sealing can protect the mower even during heavy rainfall. Plus, you don't have to worry about condensation since the two air vents prevent water condensation at any time.
Also, you'll be happy to hear that all the materials used in the creating of this cover are heavy-duty and guarantee 2 times longer use. They're made with marine grade 600 D fabric that has great UV protection and double stitching which ensures long-term durability.
There's no complicated setup involved and the elastic hem makes sure the cover is tightly secured around the device without the risk of flying off when there's a strong wind.
Additionally, the product has a 1-month guarantee and the manufacturer will refund you in full, plus the 12-month warranty for manufacturing defects makes it even more worthwhile.
2. Himal Outdoors Lawn Mower Cover
Highlighted Features
Universal cover
Waterproof nylon
Easy to use
Great warranty options
Durable materials
Himal Outdoors has dedicated its business model to produce the most affordable and reliable covers that can make your gardening life easier. Also, they always make sure their materials are high-quality and they have a strictly followed manufacturing process – they're set on creating value for all their customers.
This lawn mower cover is ideal for outdoor use and it can cover up to 54 inches of storage. The heavy-duty material is a 210D polyester that offers great UV protection and can fit most machines such as Toro, Honda, Craftsman, Husqvarna, Greenworks, Law Boy and Troy Bilt.
You'll never have to worry about your machine being damaged since this cover can provide great protection and keep everything dry.
The product features a cord on the bottom which serves to tighten the cover around the device and make sure it isn't blown away by the wind.
Finally, if you're interested in the warranty options make sure to check out Himal Care and even get an extension on the warranty.
3. Universal Fit Mower Cover by Tough Cover
Highlighted Features
Heavy-duty materials
Ultimate protection
Universal fit
Easy to store
12-months warranty
As we said in the beginning, you have to protect the machines you have in your garden to ensure they last long and work properly.
One of the ways you can protect your lawn mower is this amazing cover by Tough Cover. It's made with heavy-duty materials and double-stitching provides even better protection.
This product can provide the ultimate protection since it's made with high-quality material which is waterproof and can keep your device safe from the rain.
Moreover, the design is modern and practical and the fabric can fit the most common-size mowers plus, it's really easy to set up and you can store it away in your garage when not in use.
The manufacturer pays a lot of attention to satisfying their customers and that's why they offer a 12-month warranty and a full refund in the first 30 days of the purchase. The combination of all the features we mentioned can put your mind at ease.
4. The Riding Lawn Mower Cover by Eventronic
Highlighted Features
Universal size
Polyester lightweight material
Waterproof
Great protection
Elastic hem
Eventronic's lawn mower cover is made to last. The construction materials are thick and they ensure the product's durability. Moreover, the inside coating also provides extra protection for the machine from different external factors.
The coating is made with polyurethane and when combined with the seamless stitching it provides maximum water protection.
Furthermore, the cover has an elastic hem on the bottom which ensures the cover is securely fixed and doesn't fly away in case of strong wind.
Rest assured that this is the right product to keep your machine safe from snow, rain, wind, dust, UV, dirt and other extreme elements.
Your garden will look tidier than ever and your device will be protected at the same time.
5. Zero Turn Lawn Mower by Toro
Highlighted Features
Durable materials
Sturdy construction
Easy to use
Great protection
Inexpensive
According to satisfied customers, this is a really well-made lawn mower cover. It's made with heavy and durable material that fits various types of machines and can cover it all the way to the ground.
The construction material is polyester which has a laminated coating on its inside and it ensures your machine is protected from water. The seams of the product are double stitched which also increases the water protection feature and the nice hemming on the bottom makes sure it fits perfectly.
Additionally, this cover can help protect the mower from dust, dirt, foliage or even animals that might damage it in some way.
Since it's quite inexpensive this is a great mower cover if you're looking for both quality and affordable options. It's the perfect product in this design range.
6. NASUM Outdoor Lawn Mower Cover
Highlighted Features
Universal size
Lightweight material
Waterproof & windproof
Easy to use
Great customer service
The NASUM lawn mower cover is one of the best in its category. It works great with different types of machines regardless of whether they're electric or gas-powered – this cover can protect from dirt, dust, sunlight, rain, snow, bird droppings, foliage and water.
It's made with a heavy-duty 210D nylon oxford material with high density and the black and silver color looks great in any environment.
Some of the special features this cover provides are wind protection, UV protection as well as heat protection.
NASUM always works on improving their products to satisfy their customers' needs and that's why they try to implement the best features. Hence, you'll never have to worry about the product ripping since the hydrophobic material give is it full protection.
Last but not least, the product is easy to clean with only water and can be dried out in the sun.
7. Tough Cover Premium Lawn Mower Cover
Highlighted Features
Heavy-duty materials
600D marine grade fabric
Ultimate protection
Compatible size
Easy to store away
Tough Cover's got you covered! If you need a high-quality cover for your precious lawn mower – then, you've found the right one.
Protecting your equipment is an essential part of garden maintenance and that's why you have to ensure you use quality products that can protect and last long. Cheap and flimsy materials are not the way to go when it comes to garden upkeep.
That's why you can try out the ultimate fabric cover which is made with heavy-duty materials i.e. a 600D marine grade tear-resistant fabric.
Additionally, this cover offers a universal fit and can easily fit a variety of lawnmowers plus you when not in use, you can easily store the product in the included storage bag.
8. Deluxe Lawn Mower Cover by Formosa Covers
Highlighted Features
Different elements protection
Easy to set up
Elastic hem
Weather protection
Stable in windy weather
The deluxe lawn mower cover from Formosa Covers is the ideal investment for your garden maintenance. It can protect your expensive mower and ensure it stays dry and clean at all times. It can protect from wind, snow, dirt, dust, tree sap and different animals that might destroy your lawn mower.
This cover is really easy to put on since it features an elastic ham that snaps just right on the mower providing a secure and snug fit.
Also, your machine will be protected by different weather conditions and the UV rays can't do any damage. The materials are lightweight and breathable but won't fly away during strong wind since the dual vents stop any ballooning.
The breathable material provides a constant airflow which in turn ensures there's not molding. The dimensions of the cover can fit decks of up to 54-inches without any problems.
9. Lawn Mower Cover by STARTWO
Highlighted Features
Universal fit
Durable materials
Super waterproof
Easy to use
60-days money back
STARTWO's lawn mower cover is a universal fitting cover that fits decks of up to 54-inches and it works great with different mowers such as Toro, Honda, Craftsman, Husqvarna, Greenworks, Law Boy and Troy Bilt.
Although lightweight the construction materials are quite durable and can provide great protection to your machinery. The fabric is waterproof and made with double stitching that protects from the typical wear and tear thus, you can use the product both indoors and outdoors.
On the inside, the cover features a double waterproof coating that protects the mower from external elements especially when you need to store it away for a longer time – for instance, during long winter days.
There are no complicated instructions on how to use the product – it's really easy to set up. Finally, the manufacturer offers a 60-day money-back guarantee and you can always reach out to the customer care agents if you need any help.
As a bonus, you'll receive a storage bag to help you carry and store safely the cover.
10. John Deere Original Mower Cover
Highlighted Features
Dual air vents
Elastic cord
Water protection
Storage pocket
Easy to use
The original mower cover by John Deere provides amazing protection for your valuable lawn mower. This product has dual air vents which ensure there's air circulation and can help prevent the cover from flying off in windy weather.
Furthermore, the elastic cord fixed at the bottom hem allows a fast and custom fitting in a matter of minutes.
The materials are durable, sturdy and additionally coated to provide optimum water protection. You'll be happy to hear that the storage pocket easily changes into a practical storage case for when you don't use the cover.
Satisfied customers emphasize that this is one of the best lawn mower covers they've used since made with quality materials and protects the lawn tractor by keeping it covered and dry when needed.
Final Thoughts
If you've reached this part of the article, you must have an idea of what kind of cover you need to get. We presented the 10 best lawn mower cover options that are available on Amazon and we're certain you can find one that works for you.
As we stated in the beginning, maintaining a garden doesn't only relate to good plant and lawn care – you also must treat your machines and tools properly so they can last longer and help with your gardening activities.
If you're still not able to choose one, then check out our top pick option – the sturdy cover by Family Accessories. This amazing product can make your life easier because it's 100 % waterproof and can ensure your machine is safe from rust and other elements that can influence its functioning and damage the motor.
Thanks to the heavy-duty materials this product can last for years to come, surviving difficult weather conditions without a problem.
On the other hand, due to tight budgets, some gardeners might want to opt for a more affordable variant and that's where Formosa's lawn mower comes into play. Although on the cheaper end, this is still a top-quality product that can maintain your device in pristine condition during the entire year.
This cover features an elastic band on the bottom edge which can ensure the cover doesn't fly off during windy weather.
We're certain that you'll make the right purchase to protect your valuable lawn mower. As long as you understand the importance of healthy machinery, you're on the track to proper garden maintenance.
Happy mowing!