One of the great advantages of having a lawn roller is the maintenance of a big, beautiful lawn that can make every gardener proud.
It's a well-known fact that to have a healthy and good-looking lawn, one must make sure that edging, fertilizing, and mowing is done properly and on time.
Of course, one of the tools that can help you do this is the lawn roller which is often overlooked when it comes to garden upkeep. This amazing tool can help you distinguish your garden lawn as one of the best in the neighborhood.
In our article below, you can review all the necessary information on this tool and find the most suitable one for your gardening needs.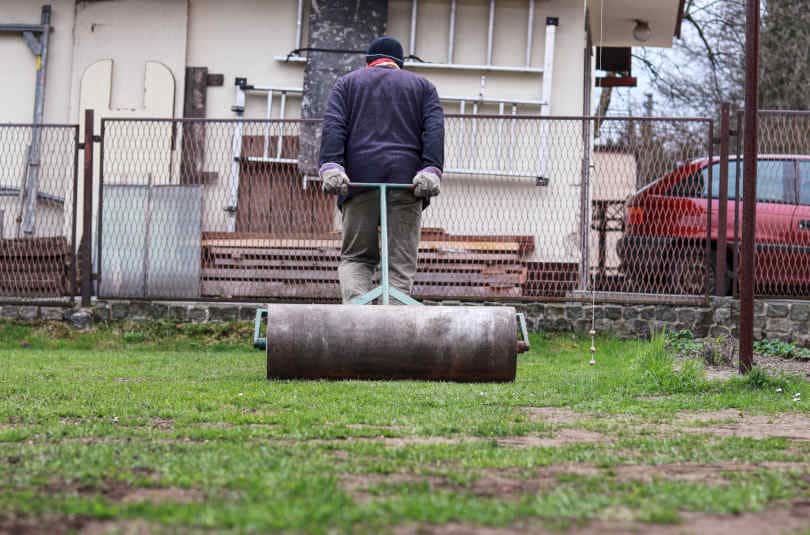 Although large lawn rollers are usually used commercially to flatten baseball fields, golf courses and other types of sport pitches the smaller versions are a great option to have around for your home lawn.
There are some affordable options of the best lawn rollers available on Amazon and below you can review some of the great options we selected.
Top Pick
Our top pick lawn roller is Brinly's PRC roller, which is easy to set up and fill, and doesn't cause any lawn damage.
On the contrary, you'll be able to repair all those annoying molehills that destroy the look of your garden.
Budget Pick
On the other hand, if you don't have enough budget to invest in a more expensive option, the more affordable choice is the lawn roller by TACKLIFE.
It offers a wide application and it's made with sturdy steel material that doesn't leak and will last for seasons.
Why do I need a Lawn Roller?
Most commonly, lawn rollers are used in spring when the time for garden maintenance comes. The lawn roller has the shape of a cylinder that is connected to an axle and can be used by hand or pulled with a tractor.
You can use it when you need to seed a new low and press the seeds to encourage the germination process or to flatten lumpy soil.
Using a lawn roller should be taken with caution because you might end up overworking your soil and remove all the necessary nutrients and water.
It's good to know that lumpy soil can be found in clay-heavy soil when the winter freeze starts to catch up. As soon as spring comes, you will notice various bulges and bumps on the lawn. Also, different domestic animals and pests can cause some areas of your lawn to become bumpy and dogs are famous for digging their treasure.
What size Lawn Roller do I need?
The size of the lawn roller you need depends on the size of your lawn. For instance, larger lawns require a big lawn roller because it can be more efficient and help you finish the job faster.
However, if you have a smaller sized lawn that features corners that are difficult to reach, you might be better off with a small-size roller.
How Important is Weight?
Additionally, you must think twice before choosing the weight since this affects greatly the smoothness of the turf grass. The heavier the lawn roller, the smoother your lawn will be. Of course, the material is another great feature to consider since it's crucial to the durability and sturdiness of the product.
Most commonly, there are 2 types of materials that are used i.e. polyethylene and steel. If you prefer to have a long-lasting product that brings more weight, then you should consider the steel roller.
However, have in mind that unlike the plastic option, which is lighter in weight and costs less, this one can rust if exposed to moisture and air.
Weight is tightly connected to the capacity of the lawn mower and this feature can be quite different in different options. There are some rollers that don't weigh more than 50 pounds and others that are heavier than 100 pounds.
Some of the options that are sold offer a smaller capacity of 250 lbs. and others can even come to a weight of 10,000 lbs. and these are commonly paired with a tractor to pull them.
How about the Cost?
In the end, all these features come down to cost. It's important to understand your budget and decide how much you're willing to spend on this type of tool.
If you're looking for a home gardening tool you can always opt between cheaper plastic variants.
Nevertheless, if you need a stronger and more durable option for commercial use, the smart choice would be a steel option that might cost more but can provide you with quality results.
What to Choose – Water or Sand?
As we mentioned previously, one of the first features to consider in a lawn roller is its weight. The two options which are used to make the rollers heavier are either sand or water and the cheaper option is water.
The second option is sand which might be a bit more expensive, but it doesn't require draining after each use and it can give you a long-lasting solution for your lawn flattening activities. If you decide to use sand, make sure you use kiln dried sand which is dry and easy to fill up.
How often should I Use the Lawn Rollers?
A lawn roller is an inexpensive tool that provides a lot of value. Ideally, they should be used once every year, because a more frequent usage might cause distress to the grass and damage it. If you overuse the lawn roller, you might start seeing dead patches and no growth on certain areas of the lawn.
Additionally, the best way to use the lawn mower is to ensure the lawn is moist, but not soaking wet because this could again damage the grass by reducing aeration – ideally, try to use the roller during springtime and avoid any damages that might happen during wintertime.
We also recommend that you aerate the lawn grass after using the lawn roller to ensure the grass isn't too compressed and minimize damages.
What's Pulling Style?
The pulling style of the lawn roller varies between different designs. There are some options with a pull and push handle that work great with hand use, and there are some that feature a hitch and can be towed with your tractor or mower.
For those that prefer multifunctioning tools, there are options that feature both operation styles. Our advice is to consider your gardening needs before deciding on the most convenient pulling style – there's no point in paying more for features that you won't be using.
Lawn Roller Reviews
1. Brinly PRC Lawn Roller
Highlighted Features
Faster filling
Easy to store
No lawn damages
Durable construction
28-gallons
Upgrading your tool shed is easy when there are amazing products such as this New Easy-Turn plug by Brinly.
One of the great features of this product is the new design on the drum plug that makes the roller emptying and filling fast and easy as never before.
Additionally, you'll be pleasantly surprised by the convenience and advanced tow-behind features that provide great versatility when it comes to working on areas that are hard to reach. More so, this amazing tool can assist you in repairing the damage caused by those annoying small animals such as moles.
The capacity of this lawn roller comes to 28-gallons which is a good number for creating weight with either water or sand. Furthermore, thanks to the sturdy design and material this product are strong enough to be towed with a tractor.
As soon as you're done working with this product, you can easily store it away in your tool shed or garage where it won't take up too much space – plus, when empty it's conveniently lightweight and easy to move around.
2. Agri-Fab Lawn Roller
Highlighted Features
Durable construction
Easy to store
3-year consumer warranty
USA product
Removable drain plug
This Agri-Fab lawn roller is one of the best USA products made in the USA. Some of its greatest features include the large capacity, lightweight, easy to store and to move around.
Although this product requires a bit of installation and setting up, before getting it ready for use, this can easily be done by following some basic instructions.
Furthermore, this product contains a drainage hole which is used also for filling and it combines well with your garden hose. It's good to know that the maximum capacity of the roller, when you fill it up with water, goes up to 400 lbs.
Moreover, this product also features a universal hitch that can be attached to any type of tractor brand – if you want to use the roller in this manner and you can be certain there will be no residue build-up thanks to the scraper bar.
3. Brinly's PRT Lawn Roller
Highlighted Features
Easy-Turn Plug
Mid to large yards
42-gallons
Sturdy
Easy storage
Another great lawn roller option by Brinly, but this one has a bigger capacity and can fit up to 390 lbs. of sand or water – plus, you can use it towed on a tractor.
It offers the same features as the large variant and it also features the new design of the drum plug which will make your life easier. This feature will enable you to empty the roller faster than ever and improve the time you spend on additional gardening activities.
As mentioned in the beginning, this roller is suitable for any mid or large size yards and if your lawn has sustained damage from annoying moles of frost then you'll be able to cover these damages without any problems.
Thanks to the modern design and quality materials, this lawn roller is both sturdy and lightweight – you can be certain it won't rust or be damaged even after seasons of use.
4. TACKLIFE Lawn Roller 16×20-Inches
Highlighted Features
60 liters capacity
Wide application
Durable construction
User-friendly design
Comfortable grip
If you're looking for a sturdy tool that will last for years, then you'll be happy to hear that this lawn roller by Tacklife offers both great capacity and durability. You can be certain to use this tool for many seasons to come.
One of the greatest things about this roller is its multifunctionality – it can be used for a variety of tasks starting from air pocket removal, rolling the soil after seeding, and eliminating the lawn damage caused by difficult weather conditions and pests.
When it comes to the construction materials used in this product we can confirm it's made with steel and since its surface is treated with a special spray, there's no risk of leakage and it also protects the roller from rusting and physical damage.
Lastly, the design is user-friendly and offers a comfortable handle that features a sponge to reduce hand strain and ease up your work.
5. Agri-Fab Poly Push Lawn Roller
Highlighted Features
400 lbs. capacity
Lightweight
Easy to set up
3-year limited warranty
Durable
An amazing 400 lbs capacity lawn roller that offers great durability which isn't easy to find on the market. Thanks to the modern and durable materials, this product is lightweight when emptied which makes it easy to store and move from one place to another.
As far as the assembly is concerned, this product does require some work however it's easy to do if you follow the available video instructions. Additionally, the lawn roller features a push/tow option, and thanks to the wide drain hole, you'll find it easy to fill up even with your regular gardening hose.
As the manufacturer and experienced users recommend, ideally you should use water to fill up this roller. As soon as the season of rolling is finished, you can easily drain the water and store the product.
However, if you prefer doing this with sand, then the recommended amount of product to be filled is half of its capacity.
6. Goplus Lawn Roller
Highlighted Features
U-shaped handle
Removable drain plug
Easy to transport
Fast assembly
Convenient and versatile
The Goplus lawn roller is yet another great option to choose from because it offers amazing features at a very affordable price.
When it comes to the design of this product, you'll be happy to hear it's made with the user in mind and the U-handle offers great push and pulls use and it won't cause strain on your hands while working. It's also rather simple, easy to detach, and can be stored and transported fast and easy.
Moreover, the surface of the roller has been treated with a protective coating and you won't notice any rust, dents, or other damages.
One of the best features that this lawn roller offers is the versatility of using it in both open and tight spaces thanks to its transforming capabilities.
Satisfied users confirm that this is a great product that only requires 15 minutes of work for the assembly, it provides great value, it's easy to maneuver, and a great value for money.
7. Toro Lawn Striping System
Highlighted Features
Easy storage
Easy to set up
Sturdy and reliable
Great design
Dry sand not included
If you're ready to spend more on a lawn roller tool, then this option from Toro might be just right for you. Although it comes at a higher price than the other available options, it does work great and even better than expected – according to customer testimonials.
Furthermore, this roller offers amazing results even after a few passes. The difference on your lawn will be drastic.
As far as the setup goes, you might have to spend a bit more time on setting it up, but once you do it'll be up and running for seasons – be careful when adding sand in the hole on the side.
To have an easy and fast installation, have your screwdriver prepared and a bag of 20 lbs. of dry sand – have in mind that the sand isn't included in the purchase.
Finally, this product can be a great gift for all your green thumb friends and can be a great addition to those who own a Toro Lawn mower, because it's easy to attach and will do wonders for your lawn.
8. Kapler Lawn Roller Tow
Highlighted Features
Push/pull feature
Practical design
Adjustable weight
Great for small gardens
Durable construction
You'll be amazed at how easy and user-friendly this Kapler lawn roller is. The U-handle provides comfortable use, especially in the push and pull, and it can also help remove loose dirt and give your lawn an upgraded and perfect look.
Also, the handle design allows easy storage and ensures that no debris is stuck and left on the lawn. The roller is made with a sturdy and durable material, and it can be filled with water to provide the necessary weight for a smooth looking lawn.
Both the inside and the outside of the lawn won't rust, and they're made to endure difficult weather conditions for many seasons in a row.
The overall capacity of the lawn roller is 13-gallons, and you can fill it with either sand or water – make sure you follow the provided instructions.
This is a versatile product, and it works ideally in backyard upkeep – you can use it to smooth the soil after planting, after the first seasonal trim of the turf grass.
9. Agri-Fab Ply Roller 550 Pounds Capacity
Highlighted Features
Good product
Great value
Easy to assemble
Durable
Easy to use
This is a large 550 lbs. capacity poly roller – it's a great tool to have in your collection. It works best for commercial gardening, especially because of the price -but, if you're enthusiastic about your garden and have enough budget to spend then this will be a great addition to your home gardening set.
The manufacturer pays great attention to the quality of materials used in preparing their products and they guarantee that this lawn roller will last for years and you won't notice any rust or damages from work.
As soon as you start using this product and see the results it provides you will continue using it even more. Your lawn will be one of the best looking in the neighborhood. Also, if you want to store away the tool, you can empty it and keep it safely in your garage or tool shed.
One of the best features is the attached scraper bar which ensures there's no dirt left on the wheel hence, it doesn't require any cleaning after use.
10. 390-Pound Tow Lawn Roller by Brinly
Highlighted Features
Easy-turn plug
Mid to large gardens
42-gallons capacity
Sturdy construction
Faster filling
Last but not least, we want to review this new and updated lawn roller by Brinly – it has a new design of the drum plug which allows you to fill up and drain the drum fast and easy.
Ideally, you can use this product even in large size yards, because with the capacity of 390 lbs. it can help you cover more surface. Besides the durable construction, it's good to know that the manufacturers have been in business for 180 years and they understand gardening needs completely.
Although the process has changed since their beginning, they've remained committed to providing top quality products for garden care and this roller is just one example of this. It is easy to install, use, and will help you remove all those annoying molehills leaving you with a great looking lawn.
This lawn roller features rounded drum ends that guarantee smooth turns that don't cause any damage to your turf grass.
Final Thoughts
Finding the best lawn roller for your garden is not that easy. It's essential to know the exact results you want to achieve with the lawn roller and how much budget you have to spend.
If you want the best product, we recommend the PRC lawn roller by Brinly which is durable, precise, and lightweight to use.
However, for a more affordable option, you can always pick the TACKLIFE lawn roller as a multifunctional tool that won't disappoint and can help you maintain a great looking garden.
Happy Gardening!