There are some essentials you need to have in order to build a beautiful succulent garden.
Hence, attractive planting pots are a must when it comes to upgrading your little piece of heaven.
Succulent pots are made of various materials, sizes, with or without drainage holes and you need to be smart and choose the right one for your plants in terms of functionality and design.
On the other hand, succulent plants also come in amazing varieties of fun shapes and textures which'll never cease to amaze you.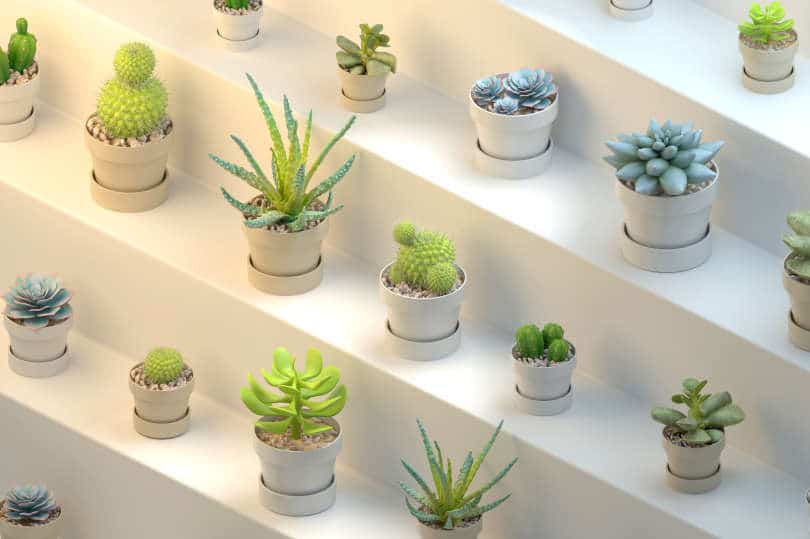 Combining the right succulent and planting pot is a masterful task and you can do it with ease as soon as you consult with our article.
There are thousands of beautiful pots sold on Amazon, hence we've made this detailed list of the 10 best pots for succulents to make your choice easier.
Read below to get all the info you need.
Top Pick
All of the products described on our list are the best ones in terms of design and quality.
However, if we have to choose our favorite it has to be the Sun-E ceramic owl pot.
These ceramic planters are fun to look at and they're made of top quality material. Also, you'll be getting not one, but six different pots with a fun contemporary design.
They're handmade and ideal for smaller succulent plants.
Budget Pick
If you love the fictional character Groot, our budget pick will definitely melt your heart.
When deciding on the perfect pot, you should have in mind that this is not just a pretty item, but it's quite functional too.
For an affordable price, you'll be getting a good product made from top quality material.
It's ideal for decorating your office desk or your kid's room.
How Important are Drainage Holes in Succulent Pot?
One of the "must-haves" for planting pots is drainage holes!
If you love your plants and want to make your gardening life easier, you need to make sure you provide them with enough water.
Drainage holes will make this possible because they'll optimize the amount of water your succulents receive.
What's more, if you're a newbie when it comes to potting succulents, this feature will be essential in your gardening activities.
You'll be happy to hear that most of the products we featured in our article all come with a drainage hole and a saucer included, so whichever you choose it'll be both pretty and practical.
What about Succulent Pot Material?
As you've read through our list, succulent pots are made of different materials.
The type of material you choose really depends on where you plan to place the pot as well as the type of plants you want to use.
Below, you can review some of the most commonly used materials for succulent plants with all their pros and cons.
Ceramic or Terra Cotta
Both ceramic and terra cotta are breathable materials which makes them perfect for areas where there are not a lot of airflows.
They're good for both indoor and outdoor plants.
When using a combination of succulents and ceramic make sure you don't expose the pot to direct sunlight since this might dry out the soil and create an inhospitable environment for your plants.
They can be quite fragile, so make sure you're careful not to drop them when moving around.
Plastic
Although plastic is lighter and not as fragile as ceramic, it's not a breathable material that makes it hard for water to evaporate.
Consequently, this might cause your succulents to rot and if we know anything about these plants is – they don't like water that much!
When considering a pot for your succulents, take into account that plastic might not be the ideal solution.
Wood
Using wooden pots is an interesting option to use for planting your plants.
Plus, when exposed to sun wood stays cool and retains water which is an ideal environment for your succulents.
Nevertheless, if you place your wooden pots in a place where there's less sun they might rot and keep your soil wet for too long which is bad for the plants.
Metal
Metal pots aren't a good long-term choice when it comes to potting succulents.
This is mainly because they can change their temperature quickly thus, the soil can heat up excessively which might result in plant damage.
Plus, the metal containers can also rust if you're not using one specially designed for planting.
Glass
Although glass is a really nice option for planting your succulents, it might not be the first choice because most of them don't have drainage holes which is not ideal for your plants.
Additionally, glass is not a breathable material that will keep the soil wet and there'll be no air circulation.
What about Succulent Pot Design?
Once you decide on the material you want to use, you can have some fun and choose any design you like.
Our article features the best pots for succulent plants that have a great design and can fit anyone's taste.
When choosing the design, you can go two ways.
First, you can mix and match your pot with succulents or optionally choose the design based on your interior or exterior décor.
Choosing the right design might become overwhelming since there are so many different options available on the market.
Nevertheless, as you'll see on our list you can always opt for a classical white ceramic design which is ideal for any type of succulent and style.
We've presented multiple different sizes and shapes, so we're sure you'll find something to satisfy your needs.
How Big Should the Succulent Pots Be?
This really depends on the size of succulents you want to plant.
It's advised not to fill the pot to the top with soil and leave at least an inch of space which'll allow the plant to grow properly.
For instance, if you purchase a 2-inch succulent it's ideal to plant it in a 2.5-inch pot.
Further, if you decide to combine more succulents in one pot, you should leave some space between them so they can have enough room to spread out.
Moreover, if you want your succulents to grow large and spread out, you need to give them breathing room.
If you see they've outgrown their pot, then it's time to move them to something bigger.
Pots for Succulent Plants
1. Sun-E 2.5-Inch Ceramic Owl Pot
Highlighted Features
Top-quality ceramic
6 pcs package
Contemporary design
Handmade
The Sun-E brand is devoted to innovation and product development and they constantly strive to provide their customers with good quality and low prices.
Their newest owl collection will fit nicely in your contemporary home, apartment or balcony plus, they look great both outside and inside.
What's more, the packaging includes 6 owl succulent flower pots that are handmade with top quality ceramic.
They've been baked in high temperatures, have a smooth surface and lovely, vibrant colors and we can say confidently that they're one of the best pots for succulents.
The classical look and size are ideal for smaller plants and you can display them either individually or as a collection.
Your family will enjoy the beauty of these pots and they'll be a great gift for birthdays and other celebrations.
2. ZOUTOG Succulent White Mini Pots
Highlighted Features
Free bamboo trey
Stylish look
Drainage hole
Package of 6
If you're a fan of succulent plants, you'll absolutely love these ZOUTOG white mini pots.
One of the most essential things when taking care of succulents is making sure you don't overwater them or use too much fertilizer.
This product comes in a package of six with practical bamboo treys included, so they're ideal to be used as a collection.
Furthermore, they're round and have a drainage hole on the bottom to help avoid overwatering.
Their size will work great with mini cacti and small succulents such as Tillandsias or air plants.
The pots have a modern design and they'll fit perfectly anywhere you wish to place them.
Plus, you'll be able to play with different plant colors and brighten up your garden with vivacious succulents contrasted with white ceramic.
3. T4U Small Ceramic Planter Pots
Highlighted Features
Glazed porcelain
Tasteful decoration
Drainage holes
6 different pcs
The succulent pots by T4U are made of top-quality clay and have wonderful glazing and rich colors.
They'll compliment your interior modern look and are easy to mix and match with different types of succulents.
Moreover, they can be the perfect addition to your garden porch or home office decoration and a great birthday gift for your friends and family.
The manufacturer is dedicated to providing its customers with multiple options of gardening products with a good designs and affordable prices.
Since they come in a package of 6, you can use them individually or as a collection. Either way, whoever visits your home will fall in love with these pots.
4. Flowerpot Treeman Groot Pot by Lucklook
Highlighted Features
100% high quality
Ideal for Groot fans
Hidden drainage hole
ABS material
This is an adorable product design by Lucklook. If you're a fan of the animated character Groot, then you'll certainly enjoy this item once it's on your desk.
Groot's hands form a heart shape which adds even more to its overall charm and what's more it can be a great gift for your sweet Valentine.
Further, this pot is not just pretty but it has functional drainage holes which run through the body, so you can't see them.
Also, the pot is able to hold a small plastic planter inside, so you can avoid transplanting any baby plants.
It's made of a durable, environment-friendly and low-cost resin material used in many other items and toys.
5. Long Rectangle Ceramic Succulent Pot
Highlighted Features
Draining hole included
Ideal for any succulents
Saucer included
Ceramic
If you're looking for a bigger planter where you can fit more succulents, then this rectangular pot might be just what you need.
It's made of white ceramic, it has an included drainage hole and a bamboo saucer.
Moreover, it'll work perfectly in displaying your collection of plants and you can mix and match different colors to make a more vibrant arrangement.
Your home, office or balcony will get a contemporary feel as soon as you display this product and you'll appreciate its minimalistic beauty.
The item is durable and lightweight so you won't run into problems when moving it around your home.
6. Dsben Mandala Style Succulent Plant Pots
Highlighted Features
Cylinder shape
Mandala décor
Bamboo trey included
Durable ceramic
This mandala decorated planter pot by Dsben will make you fall in love immediately.
The vibrant colored ceramic will improve your living space, office or balcony.
They're ideal for displaying small plants such as cacti, aloe vera, herbs and other artificial plants.
Each garden pot has a built-in drainage hole and a round bamboo trey for a better drainage system that'll keep your plants happy and healthy.
As you know, it's essential that you don't overwater your succulents and this drainage hole will definitely help out.
The ceramic material is sturdy and decorated with Mandala patterns which'll make them the centerpiece of your working station.
What's more, they come in sets of three and can be the perfect present for your friend's birthday
7. Succulent Plant Pots by OAMCEG
Highlighted Features
Minimalistic design
Durable ceramic
Ideal for mini succulents
Hexagonal shape
You'll love the modern, minimalist design of these hexagonal pots because they can be displayed in any type of interior or exterior.
Their delicate geometric design makes them perfect for any house décor plus they're a great centerpiece for wedding tables.
The Kaolin clay provides a long-lasting, durable product that is prepared with expert manufacturing methodologies.
You can be certain to use these pots for years to come. They have an included drainage hole and a bamboo tree for proper draining.
Moreover, your green thumb friend will simply adore this as a gift for any occasion.
Before purchasing, have in mind that these pots are small and best suited for mini succulent plants.
8. Ceramic Succulent Planter Pot by Brajttt
Highlighted Features
Fun design
Drainage hole & bamboo trey
High-quality ceramic
Pack of 6
These fun mini flower pots with different sizes will give you the vibrant expression you've been looking for.
With this purchase, you'll be getting a package of 6 mini flowerpots with different styles.
Although they might vary a bit in size, they're all approximately 2,5-inches.
Moreover, the manufacturer uses top-quality clay and a beautiful transmutation glaze with attractive color.
It's good to know that 3 of the pots have a flat base while the other three have a stand base, but they all have drainage treys and holes.
They'll look adorable when combined with smaller succulents and their versatile design will fit any interior style.
9. Homenote White Succulent Pots
Highlighted Features
Large capacity
Drainage hole
Bamboo trey included
Sleek design
You'll be immediately drawn to these minimalist and stylish ceramic pots by HOMENOTE!
They'll fit nicely by your window and can accommodate more of your favorite succulent plants.
This order comes with 3 different pot sizes – the large pot has a diameter of 6 inches and you'll be able to fit up to 6 different kinds of succulents in it.
Further, the medium size pot is just an inch smaller and you'll be able to fit 4 succulents and the small pot is 3.8 inches in diameter and it can fit up to 3 small succulents.
They all have drainage holes and the combination of white ceramic and bamboo trey makes them a great decorating item for your home, office, or balcony.
10. Segreto Creative Succulent Pots
Highlighted Features
Nice design
Durable resin material
Perfect decoration
Good warranty options
The Segreto brand is known for its creativity and product quality. Their product will bring joy to any customer and if you're looking for an unusual design, then you've come to the right manufacturer.
Moreover, their fun hedgehog design will be a perfect addition to your bedroom or balcony design.
The item is made from a durable resin material and because they can hold water it's recommended not to use an excessive amount of it especially if you plant succulents.
What's more, the manufacturer offers a great warranty service and you can get a full refund or replacement if you're not satisfied with the product.
Lastly, have in mind that this is a small size planter, thus it'll go best with smaller plants.
Final Thoughts
If you've reached this part of our post, then you already have an idea of which succulent pot to order.
We've presented some of the best pots for succulent plants that are sold on Amazon and we're sure you'll find exactly what you need.
However, if you're struggling to make a decision we have some first-hand recommendations for you.
Our top pick Sun-E ceramic owl pot is made of durable material and has a contemporary design that'll fit in any décor.
It's both fun and practical and a great choice for displaying your lovely succulents.
However, if you're looking for something less expensive you can opt for Lucklook's Groot Treeman design.
This is a top-quality product with an interesting design which'll look great in your office or kid's room.
In the end, whichever product you decide to buy, you'll be making a good decision.
Happy potting!