If you own a vegetable garden, or you want to build one, then you definitely need the best potato grow bags.
These bags will help you build your garden and provide fresh produce during harvesting season.
Potatoes provide great amounts of fiber, vitamins, phytochemicals, and minerals and improve our health.
They are easy to cultivate and you can grow them in your home garden with the help of potato grow bags.
Using a vegetable grow bag for harvesting potatoes is easy. One of the advantages of growing potatoes in this manner is that the tubers are confined to the bag.
You'll be able to harvest your fresh produce from the soil once it's ready and ripe.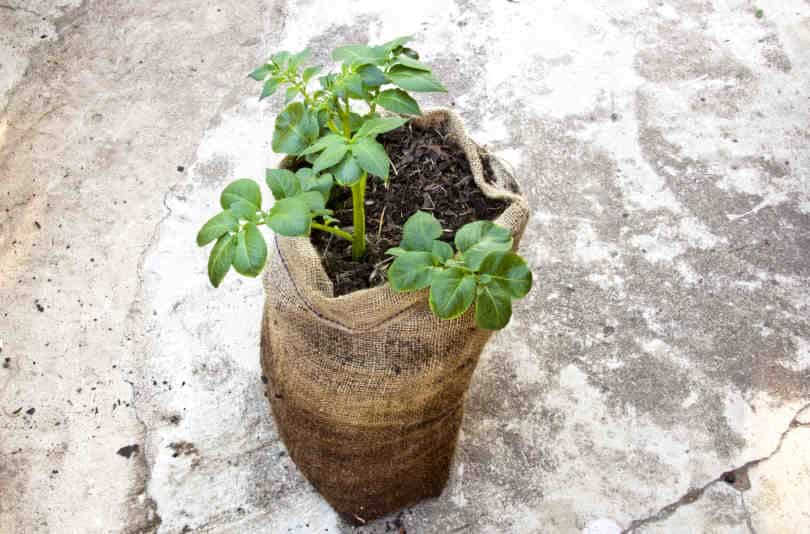 Nowadays, there are plenty of potato bags available in stores and online, so it can become confusing when trying to decide on the best one.
Below you will read about our 10 favorite potato grow bags which you can purchase on Amazon, as well as some extra tips on how to use them and why they're a great choice for you.
Let's do this!
Top Pick
The 10-gallon garden potato grow bag with flap and handles by ANPHSIN is our best pick as it's made of sturdy material and equipped with Velcro window plackets.
These window plackets allow you to harvest your ready spuds easily.
The ventilation holes at the bottom of the bag guarantee healthy spud growth and lower the risk of plant disease due to oxygen limitation.
Budget Pick
For a budget-friendly price, you can purchase the amazing AYUQI potato grow bag which helps you grow your fresh produce in the comfort of your garden.
Our budget pick is a great value for money as you get three pieces of bags in three different colors.
They'll fit in just fine in your backyard or small balcony!
Why Should I Use Potato Grow Bags?
Potato grow bags are essential in providing you with a healthy root system and produce growth. The fabric of the bags provides enough sunlight for the roots, which ensures that they prune, rather than a circle.
Because of the way they're made, the bags will provide enough oxygen as well, which in the long run guarantees a healthy veggie full of nutrients.
Due to the fabric, the bags are made of, you can be sure that your potatoes will receive just enough water since the excess one will leak through the holes of the material.
The perfect watering ratio will protect your plants from developing fungus or mold.
What Size of Potato Grow Bag to Choose?
If you're seriously considering using potato grow bags, it's essential you pick the right size, which will satisfy your needs.
Grow bags vary in size, but the most popular ones are the 10-gallon bags. Online stores offer potato bags even up to 1000 gallons, however, for maximum potato yield, we recommend the 10-gallon potato grow bag.
Choosing the appropriate size will improve your harvest, so you need to make sure you pick the right one for the best results.
What Material is Best for Potato Grow Bag?
Potato grow bags are made of different materials. These materials include polyethylene, plastic, felt and fabric.
Our research suggests that the best one, for getting maximum potato yield, should be durable and eco-friendly fabric.
These kinds of bags are the perfect choice for growing potatoes because they allow proper air circulation and promote healthy crop growth.
What Color to Choose?
Our article features a wide variety of bags in different colors, so depending on how you want to decorate your balcony, yard or patio you are free to choose any color.
This comes down to your preference, so switch on your creativity and choose either one.
Regardless of the color you choose, all presented bags will give you premium quality.
What are the Advantages of Potato Grow Bags?
Using grow bags will provide healthy root growth and just the right amount of air and water for your spuds.
Because of the material they are made of, potato grow bags are able to keep the right temperature for your plants. You can rest assured that your veggies won't be dried out by the summer heat.
All of the bags we featured in our article come with sturdy handles which make it easier to move them from one corner of your garden to the other. They're maneuverable, durable and won't break.
You can use them for more than one season. Once you're done, all you need to do is wash them and store them away.
Most of the potato bags have an easy access flap which allows you to check on the progress of your plants and harvest them without having to spill the soil.
They are multifunctional, so you can use them to grow fruits, other veggies, and even flowers.
If you introduce growing bags to your garden, you'll no longer have to worry about the unfit soil in your backyard. The bag allows you to choose the soil you want to use to grow your veggies.
A lot of people are trying to improve their lifestyle by eating healthy. The only way to do this is by knowing where your food comes from. Grow bags are the ideal solution if you are set on growing your own food.
And last but not least, you should start using potato grow bags because they simply work!
What Do I Need to Start My Potato Home Garden?
Regardless of your experience with growing potatoes, there are some tips and tricks which are always useful in getting the best out of your gardening.
Make sure you always choose the right seeds. For a beginner gardener, the best choice would be the early variety such as Orla, Duke of York or Homeguard.
These seeds can be harvested earlier in the season and you'll avoid the dangerous blight.
Whatever seeds you choose the grow bag will be able to accommodate its growth.
Where to Place My Potato Grow Bags?
First of all, once you start using potato grow bags, make sure you choose a light, sunny spot where you'll place them.
Your potato bag needs to get at least 6 hours of sunlight every day.
As soon as you decide to build your private potato garden, plant the seeds from mid-March until late April because these months will guarantee the optimum amount of sunlight.
The type of compost you use is essential! Make sure you purchase good multi-purpose compost and never forget to use potato fertilizer for maximum produce harvest.
Where to Store My Potato Grow Bags in Idle Season?
Once you've harvested all your ripe produce, you'll want to store away the empty grow bags until next season.
All of the bags we listed above are easy to clean and come with the easy-fold option. When storing, you need to make sure you fold them carefully so they don't break.
Once the new planting season arrives, your bags will be ready for a new adventure.
Who Can Use Potato Grow Bags?
Anyone can use potato grow bags! Whether you're new to gardening or you have a lifetime of experience, any of the above potato grow bags can serve to your advantage.
If you're just starting to build your vegetable garden, these bags will make your gardening experience enjoyable and stress-free.
What else can I Grow in Potato Grow Bags?
The best thing about potato grow bags is that you can grow almost any type of vegetable.
Veggies with shallow roots are the best and here's a short list of some to consider for your garden:
Tomatoes
Chili peppers
Eggplants
Cucumbers
Basils and other herbs
Lettuce
Zucchini
How to grow potatoes in potato grow bags?
As soon as you purchase your preferred bag for growing potatoes, you need to use a small amount of soil to fill the bottom of the bag and then add your potato seeds.
Once your bag is ready and you've filled the bottom, use some medium soil to cover the tops of the tubers.
Always make sure your soil mix is evenly moist and cover the sprouted greens with the compost mix as soon as they grow.
Keep the bags covered, and as you add more soil, make sure you unroll the bag.
Once your soil has reached the top of the bag, let the plants grow their flowers and wither. As soon as this process is finished you can dump out the contents and get your fresh spuds.
Keep your bags in a sunny place and watch out for any pests and insects.
Check your spuds from time to time and use clean compost soil and you'll have no problems.
You can always use the easy-access flap window of your bag to follow the growth of your produce or take them out in harvest season!
Potato Grow Bag Reviews
1. ANPHSIN 10 Gallon Garden Potato Grow Bags
Highlighted Features
Durable
Easy to maneuver
Sturdy
Good value for money
The ANPHSIN Potato Grow Bags are a great choice for growing any type of potato.
Their sturdy material gives them longevity and makes them a smart investment. The windows on the bottom allow for the spuds to grow healthy and thick.
Their strong handles make them easy to maneuver and will fit perfectly in your home garden, between your other plants and flowers.
Because of their size, they can be used as a growing environment for both veggies and flowers.
You can use them for several seasons in a row and if you need to store them away during the idle season, they won't take up any of your space!
2. HYRIXDIRECT Potato Grow Bags
Highlighted Features
Large-volume
Durable material
Breathable
Access flap for easy harvest
This large volume of potato grow bag will give you enough space to grow different types of vegetables and it's great for growing potatoes.
Moreover, because of the waterproof fabric, it's made of, you can be sure that your plants will get the needed amount of liquid and the soil will be perfectly moist and never soggy.
The access flap allows you to easily check the growth progress of your produce and to effortlessly harvest your spuds during harvest season.
The strong side handles of the bag promise easy movement, without having to worry about breakage or spilling your fresh produce.
3. Potato Planter Bags by Upstreet
Highlighted Features
Lightweight
Sturdy fabric
Eco-friendly
Multifunctional
This lightweight potato bag is a perfect choice for your homegrown potatoes.
It eases harvesting a lot as you don't need to remove all the plant and soil to get to the fresh produce- you can get everything through the easy access flap.
The bag is made of sturdy fabric, will last longer and fulfill all your gardening needs.
This potato grow bag is decomposable and non-toxic as the manufacturing company complies with international environmental standards.
Whether you have a small garden, patio garden, or you want to plant your potatoes on your balcony, this bag will fit anywhere and you can use it with any type of vegetable.
4. TQQFUN Potato Grow Bag
Highlighted Features
Reusable
Double-layered and breathable design
Easy to use
Environment friendly
This unique design potato bag is equipped with an easy-view window which makes your gardening process smoother. You don't have to think twice about whether to place the bag inside or outside, it looks great anywhere.
Its breathable design and double layers protect the roots and lower the risk of transplant shock, as well as remove any excess water.
Even if you are not an experienced gardener, this bag will make it really easy for you to grow your garden of vegetables like a true professional.
Because of the biodegradable material they are made of, the bags are eco-friendly.
So, rest assured that you won't be hurting the environment and that they're a much better choice than regular plastic pots.
5. GEMGO Potato Grow Bags
Highlighted Features
Long-lasting material
Harvesting window
Enable healthy produce growth
BPA free
The GEMGO potato grow bags are the perfect choice for growing your private potato garden.
Their quality, non-woven material provides good air circulation and delivers more oxygen to your planted tubers, which is essential for a healthy vegetable.
Any recipe you decide to prepare with your homegrown potatoes will taste amazing because of this!
The Velcro Window allows you to follow the growth of your produce and harvest your spuds once they are ready.
These bags are eco-friendly and safe for growing the best food for you and your family. Once you stop using them, feel free to store them away and take them out next season.
6. Tvird Potato Grow Bag
Highlighted Features
1-year warranty
Eco-friendly
Durable fabric
Easy to maneuver
Gardeners who have used the Tvird Potato Bags say that they are amazing and can help you grow, not only potatoes but different vegetables such as carrots, onions, and radishes.
The durable fabric of the bag allows you to use it for a long period of time and once the season is over, store it away. Because of their easy folding feature, the bags won't take too much space.
Its sturdy handles allow you to maneuver the bag easily and position it wherever you desire.
Moreover, this isn't just a practical bag, it also looks nice and fits well in your garden!
7. YOQXHY Potato Grow Bags
Highlighted Features
Easy planting
Robust
Eco-friendly
Multi-functional
These bags are ideal for growing different types of vegetables and you can plant either deep roots or shallow roots-both will grow healthy and happy.
If you live in a place where there are a lot of rodents that damage your plants, you can sleep tight knowing that these bags will keep your mini garden safe and that you'll be the only one eating your potatoes.
The bag has a robust structure and strong handles.
You can move your plants from one corner of your garden to the other, without worrying that it'll break apart.
8. CicoYinG Potato Grow Bags
Highlighted Features
Functional and large volume
Reusable
Durable
Air-drainage holes
With three ventilated holes on the sides and bottom, this bag will allow you to grow the perfect plants, remove excess moisture and ensure full ventilation and airflow.
Proper airflow will eventually result in nutrient-packed produce which will improve your diet.
These bags are reusable, non-toxic and biodegradable. You will have the finest produce to prepare the best healthy meals and support your healthy lifestyle.
Once you are done with the bags, you can store them away for your next season of planting and harvesting.
9. Potato Grow Bags by Connie Heard
Highlighted Features
Full-package with tools
Easy planting
Durable fabric
100 % refund
The Connie Heard potato grow bags are perfect for satisfying your garden needs.
Because they're made of durable fabric you'll never see them tear apart, or get damaged. Customers confirm that they're more durable than the regular grow bags.
This particular bag comes together with a three-piece shovel, u-shaped scissors, small scissors, and tweezers to meet all your gardening needs.
You can easily access your homegrown, fresh produce through the access flap window and follow the growth of your spuds when needed.
If you're not satisfied with the product, the manufacturer will give you a full refund or replacement.
10. AYUQI Potato Grow Bag
Highlighted Features
Easily maneuverable
Long-lasting material
Provides healthy plant growth
Big capacity
The AYUQI potato grow bag is the perfect choice if you're looking for a growing bag with a big capacity.
This bag will allow you to plant the wanted amount of seeds and get just the right amount of product to satisfy your needs.
It's made of long-lasting material so you can be sure that it won't rip after the first use. You can easily move it around your yard, patio or balcony.
The three vents on the bag allow optimal airflow and give your produce enough space to breathe and grow healthy.
Once you've harvested all your produce, you can fold and store them away for next season.
Final Thoughts
The different potato grow bags we featured in this article will exceed all your expectations. We can confirm that they are all sturdy, made of durable material and worth your money.
We made a careful selection and assure you that they're the best on the market and you won't make a mistake purchasing either one.
However, if you can't make a decision on which one to pick, then we highly recommend the 10-gallon ANPHSIN grow bag.
It's durable, sturdy, easy to maneuver and worth every penny! Its modern design is practical and will also look good in your urban garden.
On the other hand, if you are working with a tight budget, consider the awesome, budget-friendly potato grow bag.
Its Velcro window will give you easy access to your ripe produce and the good thing is that the 7 Gallon Three Pack will not be a burden for your budget.
Don't dwell too much on your decision to start a home garden. The growing bag will be your perfect ally and you'll have good results from the very beginning.
Always remember to water your plants!