If you're planning to build your home garden or you already have one, then you must be thinking about whether to use vertical or horizontal gardening.
They both are good options, however, if you don't have too much landscape space, then you'll better off using hanging planters for your vertical gardening.
Summertime is just around the corner and these planters are a great accessory since they can tune up your garden and make it both pretty and functional.
There are different types of outdoor hanging planters. Since your personal garden is an opportunity to nurture your creativity and express your personality it's essential to pick the right outdoor hanging planters.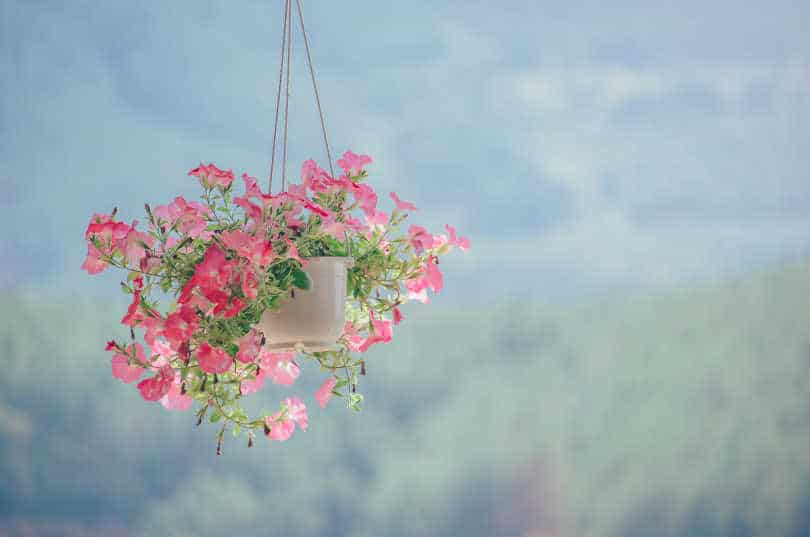 Because they're modern and loved by enthusiastic gardeners, I'm sure they will fulfill your decorating needs. You can use a single type, mix & match as well as combine different flowers and plants.
It shouldn't be difficult to choose the right planters for your garden. To make your gardening life easier, we'll present you with the 10 best outdoor hanging planters.
Keep on reading!
Top Pick
Our top pick hanging flower planter is definitely the one from La Jolie Muse.
It's easy to assemble, resistant to different weather conditions and it has a great adjustable plastic hanger which allows you to place it anywhere you desire.
You will also fall in love with its modern industrial design which will give your garden a nice look and a pleasant atmosphere.
The hanging pot comes with 4 different drainage holes which optimize the growing environment and soil for healthy plant growth.
Budget Pick
If you're looking for a more affordable option, we also have something ready for you.
The Tosnail metal pot is a great product that comes at a reasonable price.
It has a great drainage system and will provide your plants with the optimal amount of water.
You can use these pots to plant grass, flowers, and succulents for either your garden or office.
What Type of Pots are There?
Different plants require different pots. Whether you're an experienced gardener or you are just thinking of how to decorate your garden this spring, you'll definitely need a guide for your plant pots.
We are here to help you through this.
In order to understand what kind of pot your plant needs, we suggest that you go over our explanation below.
These are the 3 different types of plant containers:
Pots are usually smaller, round and can only fit one plant.
Planters are a bit bigger and can fit more than one plant at a time.
Baskets come in different sizes and you can use them to place either pots and plants in them.
What Material is Best?
It is essential to be aware of the different types of pots materials before making your purchase.
Once you learn about the advantages and disadvantages of different materials, you will be able to make the best choice.
Plastic
You can use them both indoor and outdoor. Make sure you keep the plastic pots away from direct sunlight since their color can fade after a few seasons.
All of the products we featured in the article are made of durable plastic, manufactured to withstand the harshest conditions for the longest period of time.
The plastic pots are usually lightweight and they offer a good value for money.
Metal
Metal pots can be used in your garden or home office. If you decide to place them outside, you can be sure that they will withstand harsh winter conditions and won't dry out during the summer season.
They have a modern, industrial look and won't break easily.
Wood
Wood is always a good choice when decorating your garden. Make sure the wooden pots you purchase are treated with a protective layer since they might rot.
The wooden pots are great for planting vegetables. You can also make them your DIY project since they can be painted on, so you'll have a chance to express your artistic personality.
Ceramic
We love terracotta and clay pots because they are perfect for your garden, patio, and balcony!
Your plants and flowers which don't require too much watering are the perfect choices for this kind of pot. You can plant lavender herb, lantana, and succulents.
Clay is a long-lasting material, so you can be certain to use the pots for more than one season.
What About Style?
Before buying your planting pots, planters or baskets consider the décor of the place you want to place them.
There are a lot of options featured in our article, so depending on your styling preference you can choose either one.
The macramé baskets will definitely complement a vintage-styled garden while a metal, minimalistic pot will look great in an industrial balcony design.
Where to Place the Planting Pots?
Think smart when it comes to positioning your planting pots.
While all of the products presented in our article are confirmed by users as durable and able to withstand different weather, in order to keep them pretty and functional for a longer period of time, you have to be smart about where you place them.
It's essential that you don't expose your dark-colored pots to direct sunlight since after a few seasons this might cause the color to fade.
Moreover, one of the greatest benefits of hanging plant pots is the fact that they don't take up too much space.
If you don't have too much yard space and want to decorate your small balcony, the hanging planters are a perfect choice.
They will give your balcony a cozy atmosphere and you'll be happy to enjoy it daily.
When it comes to decorating, you can be as creative as you want. Upgrade your garden by creating the perfect flower arrangement.
Don't be afraid to express your artistic self.
You can arrange your different size planters in different shapes which will for sure catch the eye of any passerby.
Arranging and decorating your vertical garden will give you great satisfaction and you can show off your green thumb passion.
What About Size?
Getting the right pot size is essential for the best plant growth. When it comes to sizing, don't think that bigger is better. Take into consideration what your plants need and how you'll encourage healthy growth.
If you place your plant in a pot that is too big, you're risking plant rot.
Using a too-small pot might cause your plant to become root-bound and thus its growth will be hindered.
The size of the pot is also related to the watering of the plants, so it's essential to get it right and build your garden.
Decorative Outdoor Hanging Planters Review
1. La Jolie Muse Hanging Planters Set
Highlighted Features
Water resistant
Adjustable hanger
Modern style
Light-weight
Easy to assemble
If you are looking for the perfect outdoor hanging pot for your garden, you are at the right place.
The La Jolie Muse pot is resistant to harsh weather conditions and is able to survive different seasons. It doesn't matter if it's freezing cold or scorching hot- your pots will withstand any conditions.
Furthermore, they're made of durable and sturdy material called polypropylene, so you can rest assured that they'll last longer and you can use them for more than one season.
Their modern design allows you to use them anywhere on your balcony, patio or home garden.
Moreover, customers highly recommend this product as a great purchase and an amazing garden accessory.
2. Foraineam 2-Pack Dual Pots
Highlighted Features
Heavy duty hanger
Classic design
Good value for money
Durable material
Drainage plug
These pots come with a modern design and long-lasting durability. Their removable chains will allow you to do your replanting easy and if needed you can even remove the inner pot.
The chain hangers are made of strong material, so no need to worry about breakage and damaging your wall and ceiling.
What's great about them is that they come in 2 different sizes.
The inner pot has a netting drainer that allows the excess water to leak out and this provides the optimum watering for your plants.
This is considered to be one of the best outdoor hanging planters because it's made of top quality polypropylene plastic and has proven longevity.
Last but not least, the pots have a classical design and brown color which will make your plants pop and will look good anywhere.
3. Mkono Ceramic Hanging Planters
Highlighted Features
Minimalistic design
Featured drill holes
Good quality ceramic
Indoor or outdoor use
Sturdy
These pots are made of strong and durable ceramic in white color which will boost both your indoor and outdoor space.
Moreover, it can be used for planting different types of flowers, so you'll enjoy displaying your arrangements of philodendrons, succulents and herbs.
Each pot comes with drainage holes that hinder any water accumulation. This way your plants will be safe from rotting.
Regardless of the weather conditions, they are built to withstand and last thus, keep your garden pretty at all times. Customers confirm they are a great value for money and you'll use it for years.
4. Keter Resin Hanging Planter Baskets
Highlighted Features
Durable polypropylene design
Woven stylish look
Sturdy chain
Affordable
Large capacity
This amazing 2 piece set of plant pots will be a great addition to your home garden, both indoor or outdoor.
They're made of durable polypropylene construction which is easy to maintain and won't be damaged. You don't have to worry that they will rust, lose their shape or peel their color.
Moreover, the nice woven, stylish design can fit in any type of exterior. Whether you place them on your balcony, garden or patio they will look nice.
They are not only pretty but also functional. The sturdy chain and drainage plug will make your gardening tasks easier.
Also, because of their large capacity, you'll be able to make the voluminous floral arrangements you've always wanted.
5. Tosnail 2-Pack Metal Planter Basket
Highlighted Features
2 spheres of planters
Strong metal construction
Suitable for different plants
Good drainage
Good value for money
You will enjoy these Tosnail 2 Metal baskets. What's great about them is they come in packs of two and are built of strong metal construction.
This allows you to use them in your garden for a long time without worrying that they will rust.
Moreover, these planters can be used for any type of flower, succulent and you can even plant fake plants. Their stylish design makes them suitable for both outdoor and indoor decoration.
In addition, this is a great product that comes at an affordable price and the coco fiber liner has a good drainage system that will ensure you don't overwater your plants.
6. Hanging Outdoor Planters by Jolie Muse
Highlighted Features
Suitable for outdoor and indoor
Water reservoir system
Light-weight
Unique, speckled-black design
Durable materials
This is yet another great product by Jolie Muse. They're extremely functional and have a self-watering system that provides your plants with enough water and gives them a breathable growing environment.
Furthermore, the adjustable hanger is made of durable material that won't break even if you decide to use heavier soil and plants. The planters are lightweight, so you won't be adding too much strain to your walls or ceiling.
Their concrete, stone look will fit your home décor amazingly and you can use them all year round.
Users recommend them for outdoor use, because of their durable materials, however, you can also use them for your indoor plants or floral arrangements.
7. Amagabeli 4-Pack Metal Basket
Highlighted Features
Stylish metal design
Strong steel construction
Rustproof
Pre-formed coco liner
Multi-functional
we absolutely love these amazing baskets. They're both decorative and functional. Because of their stylish metal design, you can be certain that they will make your exterior nice and cozy.
They come with an included sturdy hanger and a thick natural coir liner. The hooks and chains are made of quality steel, so different weather conditions won't damage them.
You can use them with different types of flowers and they will look great with both natural and artificial ones.
The coco liner provides a great drainage system, so you don't have to worry about over-watering your precious plants.
8. Mkono 2 Pieces Ceramic Planter
Highlighted Features
Suitable for different types of plants
Drainage holes
Easy to install
Sturdy
Quality materials
This amazing ceramic planter comes with a ceramic pot and a cotton, macramé rope. It'll fit really nice in your vintage-inspired garden, balcony or porch.
The good thing about this one, and all other hanging planters for that matter, is the fact that they are great space savers and you won't need to worry about your pets tripping over your plants because they hang high in the air.
Moreover, this is a multi-functional planter so you can use it to plant different types of plants such as cactus, herbs and succulents.
They are easy to install and can be used both outdoor and indoor. According to users, they are a great value for money and can also be a great gift for your friends.
The incorporated drainage holes allow for excess water to drain out which will give your plants the necessary amount of water.
9. Iron Heart Shape Planter Basket by Firlar
Highlighted Features
Ideal for succulents
Looks good on balcony, patio or garden
Lightweight
Durable
Good drainage
An amazing moon-shaped iron planter that will fit perfectly in your contemporary home and garden design. It looks great when paired with plants succulents which will look great when intertwined with the wire.
Vertical hanging is a great space saver. These planters will look good anywhere you place them and they will elevate the room ambient and highlight the beauty of your surroundings.
Moreover, you can use them during the Christmas season, because they're an ideal base for any artificial, dried or fresh wreath.
Although they are lightweight these planters are sturdy and durable. The manufacturer guarantees lifelong use.
10. Carlton Lane Bonn Ceramic Pots
Highlighted Features
Protective rope design
High-end ceramic
Good drainage holes
Durable
Easy to install
Another user favorite is this amazing ceramic pot which comes with a unique design and can be placed literally anywhere.
It's made of top quality materials which are the pride of the manufacturer and you can be certain that they'll last longer and you'll be able to use them for multiple seasons in a row.
They have ideal size holes for the water drain plug and will accommodate any plant and its watering needs.
The pot comes with a great feature of a protective rope design which serves to protect the rope from rotting and breakage.
Last but not least, this pot is made of a high-end ceramic material that has a smooth glossy finish and will brighten up any room, balcony, or garden.
Final Thoughts
All the best outdoor hanging planters we've presented in our article will definitely meet your expectations. According to reviews of satisfied customers, they will all withstand different weather conditions, are a good investment and will improve the look of your garden.
We've presented several different designs, materials and specific characteristics that will make your choice easier and you can be sure that you'll make the right purchase.
Nevertheless, if you are unable to make a decision on your own we recommend you go for our top pick Hanging Flower Pot by Jolie Muse which is resistant to any weather conditions, easy to assemble and comes with an adjustable hanger to make your gardening easier.
Its modern industrial design makes it even more appealing and a great buy.
Working with a tight budget shouldn't stop you from getting a great offer. The Tosnail 2 pack metal pot is the right purchase if you want to make a smart investment and get your money's value.
This pot comes with a functional drainage system and will give your plants the needed amount of water. They go well with any type of plant you choose and you can place them either indoors or outdoors.
Happy gardening!