Maintaining a healthy garden and plants is a task that requires a lot of care and effort. There are many tips and tricks that can make your gardening life easier. A balanced pH level is just one of many.
Although there are different natural methods to check soil acidity, we strongly recommend that you use one of the best soil pH testers from them.
To make it easier, we prepared a detailed list of the 10 pH meters we consider to be of top quality and worth your attention.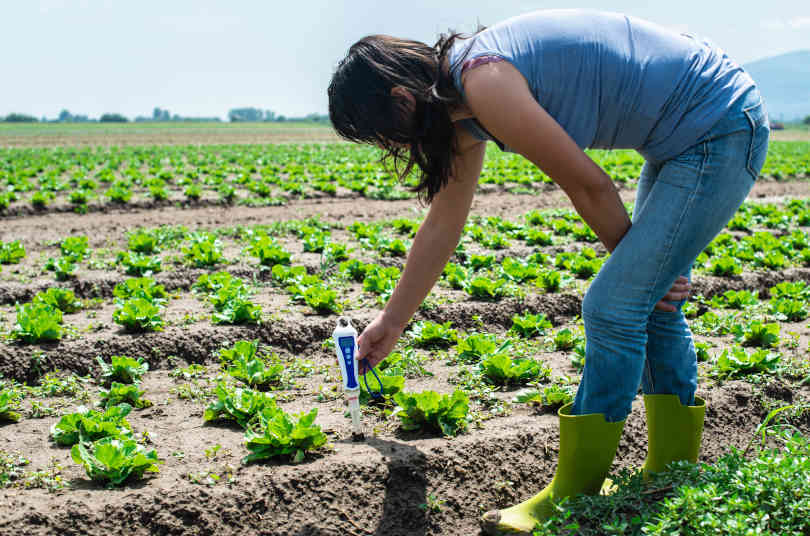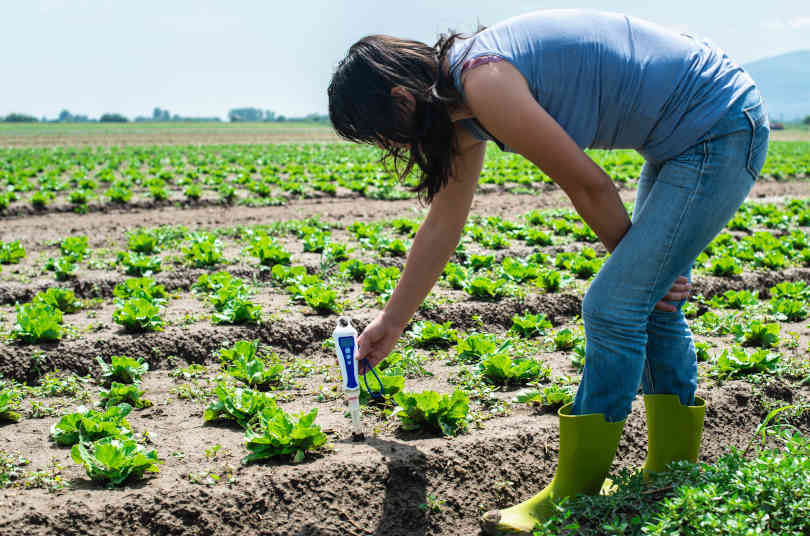 Healthy soil means a healthy harvest so keep reading to get the info you need.
Top Pick
Don't worry because we got you covered! If you're struggling to choose the right product, then we recommend the PentaBeauty 3 in 1 Soil Test Kit.
It's ready to use right out the bag and can provide precise readings in a matter of minutes.
What's pH?
Understanding pH is really easy. Just think about it as a degree of acidity that can have any value between 0 and 14.
If the value is lower than 7, then the soil is acidic and if it's higher than 7 the soil is considered alkaline. Additionally, a value of precisely 7 represents a neutral soil type.
This value can help you modify the soil in your garden based on the plant's needs. Some require a more acidic and others a more alkaline environment to thrive.
Finally, this is the reason many expert gardeners advise testing the soil before planting.
What are the Key Features of a pH Tester?
Precision
Your pH tester has to be precise to provide the best measurements. Most of the testers can measure between 3.5 -8 however, there are some whose range can differ in 1-2 points.
Never ignore the instruction manual because it can contain valuable information that you need to get the best readings. Sometimes you'll have to keep the meter in the ground during a certain time frame and other times you'd have to shake the probes a bit to get them going.
For optimum results, make sure to place the meter close to the plant's roots so you can get a deeper reading and not just the surface of the soil.
Depth or Length
There are 2 types of probes in terms of design. They can either be with one or two metal probes. The metal can be copper, silver, aluminum or a particular metal mixture.
Unlike the construction metal, the length of the probe is an important feature when it comes to choosing the right option. A longer meter can help you reach the deeper layers of the soil where you can get more accurate readings of its condition.
By following the instructions, you can get the most accurate readings and prepare your soil for any endeavor.
More Functions Available
Some meters are specifically made to test the pH value of the soil and others can test additional conditions – these are called multi-functional devices.
They can measure the level of moisture and light your plants receive. This type of device can bring more value since you'll be getting more functions for an affordable price.
Compactness
A lightweight probe is a good probe! It can be used both indoors and outdoors without additional effort and preparation. Additionally, remember to get one that's made of durable materials and can last for more years.
Power Source
Most of the options we presented in our article don't require a battery and they're easy to use. However, other variants require batteries or another type of power source.
It's really up to personal preference what kind you want to use. Our detailed list examines the best options so whichever you choose is acceptable.
What about Accuracy?
We mentioned previously that precision is one of the key features to look for when purchasing a pH meter.
But, how precise are they? Every professional gardener or expert advises pH soil tests before planting.
You can do the testing in a laboratory setting or with a testing device like the ones we're discussing.
Although lab testing is for sure the most precise option, it's also more expensive and not as convenient. That's why practical gardeners use pH meters that can give instant results with a high level of accuracy.
To get the most precise readings, make sure your soil is not too dry and consider adding some distilled water before measuring.
If possible, try using a meter with an accuracy of ±0.2 to get the best results.
How to Test the Soil?
First, make sure you turn on the probe and clean it with distilled water. Use a clean towel to dab any leftover water drops, but never rub the probes because you can damage them.
Furthermore, ensure that the soil is not too dry and if it is adding some water will help soften it a bit. Inserting the probe in hard soil can cause physical damage.
It's essential to calibrate the meter. Some devices are pre-calibrated and for other meters consult the instruction manual.
As soon as the probe is deep in the soil, you have to wait for a while to get an accurate reading. The time frame usually depends on the type of probe, so double-check the instructions.
Finally, if you decide to use testing strips instead of a meter always follow the instructions to the smallest detail and consult with the color chart to get a precise reading.
After each use, clean the meter thoroughly and have it ready for the next use.
What can Influence Soil Acidity?
Many factors can affect the acidity of the soil and some of the most common ones are:
Rain can influence the soil to become more acidic due to chemical processes that happen when rain mixes with the soil.
The plants such as alfalfa, soybeans and clover can also decrease the soil's acidity since they consume more cations compared to anions and this process encourages the release of H ions which cause the acidity.
Topsoil

can be more acidic than the lower layers and that's why it's important to measure lower in the soil to get accurate info.
How to Adjust the pH Level?
Depending on the results of the measuring you might need to adjust the soil pH. There are a few ingredients that can help you do this however, whichever you use depends on how the soil needs to be modified.
If you need to lower the pH value you can add sphagnum peat, granular sulfur, fertilizer, aluminum and iron sulfate. These are all good options if your plants thrive in a more acidic environment.
On the other hand, if you need to make the soil alkaline you can use limestone or potassium carbonate to get the best results.
Soil pH Testers Reviews
1. PentaBeauty 3 in 1 Soil Test Kit
Highlighted Features
3 in 1 soil kit
Precise measurements
Easy to use
Fast 10 sec. results
Multi-functional use
This multi-functional soil kit by PentaBeauty can make your gardening life easier and you'll simply love working with it.
The tester works with electrodes that detect pH value and soil moisture plus, it doesn't require any batteries which makes it even more convenient and the perfect tool for avid gardeners.
Moreover, with the help of 2 probes, the device is able to provide precise and scientifically proven readings. The left collects humidity data and the right pH and they don't affect each other's readings.
Also, the modern display can give you information on the soil acidity, light and moisture all for optimum plant care and increased vegetation.
2. Kenizer Soil 3 in 1 Tester Meter
Highlighted Features
Quick soil insert
Battery not required
Handy & light-weight
Guaranteed quality
3 in 1 option
You won't need any batteries for the Kenizer 3in 1 soil tester. It's ready to use immediately – you only need to insert it in the soil and read your results.
Moreover, it offers to test for multiple soil conditions such as moisture, pH and sunlight level. The manufacturer provides great customer service, so feel free to contact them if you have any issues or you need assistance with their product.
Further, the tool features 2 probes that provide precise readings and you can use it both indoor and outdoor.
To provide long-term and functional usage, ensure you don't measure in hard soil that might cause damage. This product is soil exclusive, thus avoid using it with other liquid substances.
After each use, thoroughly clean the tool and if the soil is too dry just add some water before measuring.
3. Sonkir Soil pH Meter
Highlighted Features
3 in 1 test kit
Precise & trustworthy
Doesn't require batteries
Outdoor & indoor application
Light-weight
This soil pH meter by Sonkir can improve your gardening skills and make you a better gardener.
It offers a multi-functional design that can help you understand 3 different soil conditions. You can get info on the moisture level, soil pH as well as sunlight level the plants receive.
Moreover, with the help of scientific data monitoring, you can track and get info on all the changes the plants go through. This data will, in turn, help with maintaining a healthy garden.
To make things more straightforward, the manufacturer emphasizes that this tool can only be used for soil testing and is not suitable for other liquids.
To keep it active for longer make sure you don't use it with hard soil or leave it in for too long.
Ensure proper cleaning after each use and if the soil is too dry add some water before inserting the meter.
4. VIVOSUN Meter Combo 3 in 1
Highlighted Features
Home & laboratory use
3 in 1
Protective case included
Light-weight
Pre-calibrated
This 3 in 1 combo tester unit is the ideal solution for all your gardening needs. It's extremely precise, durable and made of high-quality materials that can last for years if properly used.
Furthermore, you can use it to measure in different settings such as water and soil. Because it's pre-calibrated you don't need the additional 1413 solution.
Satisfied customers confirm that the product works great and helps them with any gardening activities, especially when it comes to monitoring conditions in exotic gardening.
You get a great product for a very reasonable price. It's easy to use and it comes with separate casings for each pen.
Moreover, you can see the benefit of using this tool in the increased yield. When it comes to gardening, small details are key and the VIVOSUN will help you keep everything in line.
5. Gain Express Moisture & pH Meter
Highlighted Features
Easy pH control
Plug & use
Accurate & durable
295 mm length
Waterproof
We mentioned in the beginning that healthy produce growth requires quality soil. You can't rely only on luck and you have to incorporate the use of tools in your everyday gardening.
The Gain Express soil test probe can help you measure the soil's moisture and pH balance.
Moreover, proper pH values help your plants get the needed nutrients and with this tool, you'll always know what modifications are needed.
This is an extra-long 295 mm electrode made of durable metal that measures in the range between 3 to 8 pH.
Besides, it can help you examine the soil moisture level with decent accuracy. It's a functional and affordable product that doesn't require any batteries and can provide you with precise results.
6. Garden Tutor pH Test Kit
Highlighted Features
pH calibrated
Precise testing
100 soil strip tests
Handbook included
Easy to use
Any gardening troubles will be long gone as soon as you start using the premium quality Garden Tutor soil strips.
They've been especially standardized for soil testing and can provide quick and precise results in no time. Additionally, this practical packaging offers 100 test strips – for 100 tests.
Unlike the regular pH strip tests which don't provide precise measurements, the Garden Tutor ones are without a doubt a good option to get correct readings.
As soon as you know the pH level of the soil you can act accordingly and do any modifications to increase or decrease the level of certain nutrients in the soil-depending on the plants you grow.
Finally, the packaging includes a testing handbook with descriptive charts to help you work out your measurements with pleasure.
7. Sonkir Soil Meter 3 in 1
Highlighted Features
Soil specific
3 in 1
Upgraded detection
Outdoor & indoor use
Great for home plants
Once you start using this soil tester, you can see the benefits of having regulated and balanced soil conditions.
Your plants and entire garden will be thriving in no time with this smart tool. Have in mind, that this tester is suitable only for the soil so using it with other substances or liquids might cause damage.
What's more, it doesn't only measure the pH level but also soil moisture and sunlight level.
Additionally, you can read all results on the elegant display and the light sensor is improved to face the sun directly thus, providing the most accurate results.
Any experienced gardener knows that if the soil is too hard you need to water before use and not leave the tester in for too long.
8. Soil Testing Tool by Bearbro
Highlighted Features
Light-weight
Precise measurement
Indoor & outdoor
No batteries
3 in 1 functions
The Bearbro testing tool is created to make your gardening easier! It's extremely easy to use and although it's a favorite of professionals, it can help amateur gardeners as well.
Knowing your soil can help you grow amazing plants and have a good harvesting season. This helpful tool informs you when to water your plants since it measures the moisture level.
The pH test can tell you if the soil is too alkaline or acidic and whether it's suitable for your plants. As you know, different plants require different soil conditions and this tool will come in handy for your diverse garden.
Gardeners know that proper sunlight is a must when it comes to growing a healthy garden. With this simple probe, you'll never have to guess whether your plants need more or less light.
9. Kelway Soil Meter for pH & Moisture
Highlighted Features
Conditioning film provided
Self-powered
High sensitivity
Durable
Easy to use
The Kelway tool is a highly sensitive electrode that can help you manage soil conditions at any time.
Although it's not produced by a popular manufacturer, this tool offers premium quality and is worth every penny.
Moreover, it can be used anywhere you please and it's suitable for farms, container plants and even commercial use.
It provides precise results in a manner of minutes and it's not only a simple pH testing tool but can help measure the moisture as well.
Finally, it comes with an included conditioning film, a storage case as well as a detailed instruction manual.
You simply can't go wrong!
10. Alotpower 3 in 1 Soil Tester
Highlighted Features
Easy to use & read
Precise & reliable
Portable design
Suitable for indoor & outdoor
3 in 1 functions
Gardening has never been easier with the help of this awesome product by Alotpower. You'll be happy to hear it measures 3 different conditions to provide optimum plant growth.
Further, it's a precise and reliable tool that's easy to read and can give you all the necessary in a few minutes.
It doesn't require any electricity or batteries, and you only need to insert it and voila, your results are ready to use.
Having scientifically correct information on moisture, light and pH levels can help you improve plant health and allow a more balanced nurturing,
To get the best out of this tool, make sure to clean it regularly and not use it in hard, stone-like soil since it can be damaged.
Final Thoughts
To sum up, we'd like to emphasize that proper soil testing is a must for any garden. Testing the pH value of the soil can help you improve your plant health and increase the yield during harvesting season.
Choosing the best soil pH testers doesn't have to be difficult and as soon as you read through our article we can proudly say you are ready for any gardening challenges.
The Kenizor 3 in 1 pH meter can be your best buddy when it comes to reading pH value, and the levels of moisture and light your plants receive. What more can you ask!
Nevertheless, if you need a cheaper variant you can pick the Bearbro meter. It provides accurate readings in just a few minutes and you'll get your money's worth.
Finally, we're sure that whichever option you choose, it can only benefit your garden.
Happy measuring!