Any orchid fan can confirm that orchids are one of the prettiest flowers you can have in your home and garden.
They're not difficult to find in stores or gardening centers however, their upkeep is a bit delicate and not as straightforward as with other types of flowers.
Additionally, it's essential to provide the orchids with proper care and maintain their roots healthy through proper watering, lighting and the right potting mix.
One of the rules that you have to remember about orchids is to never plant them in regular potting soil because this can kill them instantly.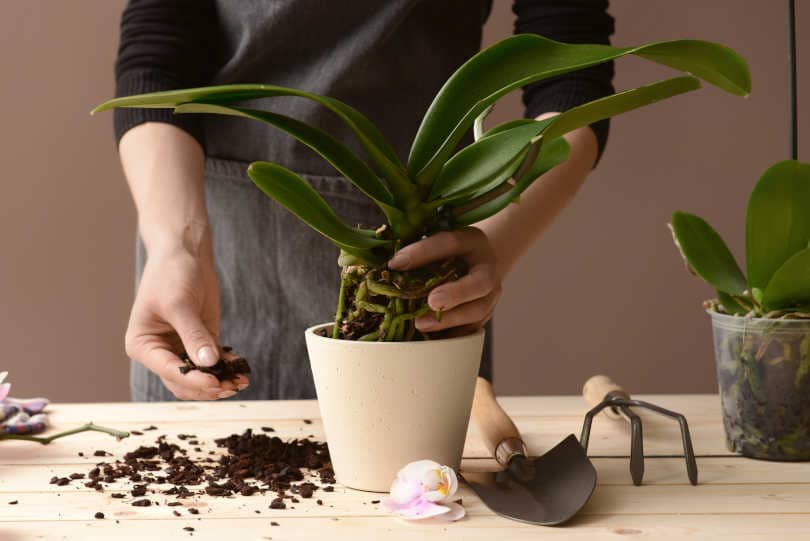 The best potting soil mixes for orchids are not made of soil but contain a mixture of different ingredients that replicate the natural environment in which orchids grow.
If this sounds too complicated, don't worry because we got you covered! To help you choose the right potting mix we prepared an extensive list of best potting mix for orchids and we're sure you'll find the right one.
Top Pick
Our top pick is the awesome PERFECT PLANTS' All Natural Orchid Potting Mix. It works perfectly with your Vandas plants, provides the needed drainage, and retains moisture.
This natural product will make your orchids thrive in no time.
When to Repot Orchids?
When it comes to repotting orchids, there are a few things that you should check and then move on to the next step.
First, if the orchid has outgrown its container, it's time to move. Usually, you can notice this if the roots are starting to grow over the stem or the container sides.
Also, don't forget that the potting mix is the source of nutrients for the orchid and if you notice it's gone bad, then you should move to repot.
It's recommended that you repot the orchid every year or every other year, however, if you notice any changes and decay earlier it's better to be safe than sorry. Moreover, if you feel an odor around your orchid it might be a sign of root rot due to improper drainage then it's time to change the potting mix.
Additionally, you should have in mind that different types of orchids can be repotted during different seasons; thus, make sure you treat them separately when it comes to repotting processes.
In most cases, you shouldn't repot orchids when flowering.
How to Re-Pot An Orchid?
When repotting an orchid, it's essential to consider a few things. First and foremost, think about the type of container you're going to use – ideally, it should be bigger in diameter than the old one, not too much but an inch or two will do the job.
Moreover, some containers are made especially for orchids and they have holes on the surface. These holes provide air to get around the roots and proper water drainage.
Orchids are very delicate flowers, so when taking it out of the container make sure you are gentle and careful and always check the roots' condition. Make sure you cut any damaged roots and then place the orchid in the potting mix and add enough soil around the roots.
What are The Different Orchid Potting Mediums?
As we mentioned in our review section and you probably know, there are different types of orchids. And while some of them can grow in soil, others require to have a different soil medium – like the ones we presented.
One of the most important features of a good potting soil mix for orchids is aeration i.e. providing enough room for the roots to breathe and develop.
Fir bark
One of the ingredients that are most commonly used in orchid potting mixes is fir bark. This ingredient can be of 3 types i.e. thick, medium and fine bark. The fine fir bark can hold moisture for longer and it works great with young orchid flowers.
The coarser the bark, the faster it can dry and allow more air to pass through. When using fir bark make sure you choose the right type depending on the orchid. For instance, bigger orchids require larger 1-inch fir bark, medium roots require ½ inch fir bark and fine bark is used for orchids for smaller roots.
Sphagnum Moss
Sphagnum moss is a good option for orchids that don't dry out fast. When using this type of potting mix, be mindful of the acidic pH since it doesn't work well with certain types of orchids.
When using sphagnum moss for repotting make sure you pot very loosely to ensure there's enough oxygen for the roots.
As mentioned before, this is a very absorbing medium that can absorb the fertilizer salts and that's why you have to repot the orchids at least once per year. If you wait too long, the leaves will turn yellow since the plant will be losing healthy fibers due to salt decrease.
Charcoal
This is another popular option that's used for orchid repotting and it's usually combined with fir bark. It's not a good absorbent of water but it can absorb the fertilizer and that's why it's best to change it every year and never re-use it.
Perlite
Perlite is usually added to fir bark and the best one for orchids should be chunky. It's lightweight and doesn't absorb water
Coconut husks & gravel
Coconut husks are similar to fir bark but provide more moisture and don't break down fast. Sponge rock provides great airflow and moisture retention.
Why is The Potting Mix Important?
Using a quality potting mix for orchids can provide great bloom and help you grow robust orchids that are a pleasure to watch.
Nevertheless, it all starts from the roots and you have to prepare a strong base to grow the best orchids. That's where the potting soil mix comes into place.
Before making a purchase, make sure you analyze the characteristics of the brand you want to use. Some of the features that you need to consider are the water retention, drainage and aeration properties of the mix.
By choosing the right product from the very start, you can avoid repotting every 6 months and see long-term results.
Potting Mix for Orchids Review
1. PERFECT PLANTS' All Natural Orchid Potting Mix
Highlighted Features
All-purpose soil mix
Promotes root expansion
Great aeration
Good drainage
Re-sealable bag
This potting mix by Perfect Plants is an all-natural mixture made with various ingredients such as charcoal, pine bark, sponge rock and coconut chips.
You can be certain that your orchid's roots will have enough room to expand and climb since this potting mix can provide them with enough room to grow to their fullest.
Furthermore, the potting soil has great aeration and it won't damage the roots by suffocation and the drainage is ideal to provide the orchids with what they need – not too much water and proper drainage.
Also, the product is sold in a 4 quarts practical and durable re-sealable bag that you can use to store the product away when not using.
Enthusiastic orchid growers confirm that this mix offers great value and encourages fast and healthy growth for your orchids to be fresher than ever.
2. Phalaenopsis Monterey Orchid Potting Mix by rePotme
Highlighted Features
Re-sealable bag
Great drainage
Protects from root rot
Great friend gift
Trusted brand
RePotme deals with manufacturing horticultural supplies for various exotic plants such as orchids, African violets, bonsai and succulents.
Their potting mixes are hand blended with high-quality ingredients and this product comes in a re-sealable bag that you can use to store the leftover potting soil.
Moreover, as we mentioned at the beginning of our review, orchids require special care and that's why you need a product especially blended for them.
RePotme's products are packaged just days or hours before delivery to provide the freshest soil for your flowers.
For the best results, make sure you also choose a pot with great drainage that can complement the soil's drainage system. Overwatering can hinder the orchid's growth and cause the roots to rot.
3. Sun Bulb Better-Gro Potting Mix
Highlighted Features
Fertile chunk peat mix
Good drainage
Proper aeration
Good for re-potting
8-quarts bag
This amazing phalaenopsis mix can do wonders for your orchids. It's a strong and fertile mix of a few key ingredients such as Canadian chunk peat, hardwood charcoal, coarse perlite and western fir bark.
It's been specially developed to provide enough moisture and fertilizer for your orchids to thrive with proper drainage, aeration and root development.
Ideally, this potting mix should be used for re-potting in the period of 12 to 18 months to support proper plant growth.
According to customer testimonials, this potting mix can help your orchids become fresher in a matter of months; you'll enjoy watching them grow new buds, spikes and leaves.
4. Orchid Bark – Classic by Besgrow
Highlighted Features
5-liter bag
Beneficial micro-organisms
100 % pure mix
pH balanced
Pathogen protection
Besgrow's Orchiata is a 100 % pure mix made from New Zealand's Pinus radiate bark which is sourced from renewable, man-made forests that take are environment-friendly.
This product comes in a 5-liter bag and can be used immediately without previous preparation and it works great for second potting.
Moreover, the balanced pH helps eliminate the acidity of the bark and provides a nurturing environment for your precious orchids. It also contains helpful micro-organisms that act as protection from different plant pathogens.
Another great thing about this potting mix is that it doesn't accumulate salts and because of the aged bark the nutrients and water can be properly retained which means the orchids will always be hydrated.
This mix lasts long and it doesn't require frequent re-potting as some other potting mixes.
5. Super Moss Potting Bark for Orchids
Highlighted Features
100 % organic
Ideal for orchids
Indoor & outdoor plants
4-quarts
Easy to use
If you're looking for a sustainable, all-natural and organic mix then Super Moss's potting bark is a great option.
The main ingredient is Douglas fir bark which provides great absorbance plus the product is not treated with heat or baked which keeps all of its beneficial features.
Furthermore, its pH value is ideal for growing orchids and it provides them with the right amount of water and oxygen.
Because of the natural contents, this product is very similar to the natural environment in which orchids thrive so you can be certain to give them your orchids the best care.
6. Sun Bulb Better GRO Potting Mix
Highlighted Features
High-quality
Maintains proper moisture
Reduces repotting shock
Endorsed by AOS
Perfect for orchids
Growing orchids is a breeze with the help of Sun Bulb's Better GRO potting mix. It's made with sphagnum moss that can help lower the levels of bacteria and to keep balanced moisture.
Proper moisture and nutrition are essential for your sprouting young or sick orchids. Since this formula was specially prepared for re-potting it can reduce transplant shock.
What's more, you're going to love the fact that the American Orchid Society has endorsed this product as one they trust. This great endorsement increases the product's value among experienced gardeners.
Your precious orchids will love this mix and you'll see them thriving in no time – don't think twice about purchasing this product since the manufacturer guarantees a good price and top quality.
7. RePotme All-Purpose Bark Potting Mix
Highlighted Features
All-purpose mix
Good drainage properties
Handcrafted & fresh
Re-sealable packaging
Trusted manufacturer
RePotme is a trusted brand that makes gardening supplies for different exotic plants such as bonsai, African violets, succulents and of course, lovely orchids.
It's a handcrafted product made with amazing ingredients such as Monterey bark from New Zealand and sponge rock.
If you've done your research about orchid potting soil, you must know that this is one of the best blends for your orchids.
It actively works on maintaining healthy root growth and provides great drainage for optimum hydration of the flowers.
As long as you combine this product with a pot with drainage holes you can expect your plants to flourish in no time plus, you won't have to deal with root rot and other plant diseases.
8. Sun Bulb Better Gro Bloom Booster
Highlighted Features
Bloom booster
High phosphorus content
No urea nitrogen
Professional formula
NPK 11-35-15
This amazing potting mix is a real bloom booster since it contains a lot of phosphorus which improves the flowering and plant color very fast.
Moreover, the product doesn't contain any urea nitrogen and it's a professional formula that can help in the upkeep of your orchids.
As soon as you start using this mix, you'll see the difference in the plants. They'll be looking fresh, more beautiful, with lasting blooms and vibrant, healthy colors.
According to experienced gardeners, this bag of bloom booster can help you extend the orchid's life, it's really easy to use and it simply works.
9. Southside Plant Organic Orchid Bark
Highlighted Features
Great for repotting
Medium size
Different types of orchids
Uniformed drying
Professional formula
If you're looking for something to improve your orchid's overall condition, then this is the potting mix for you.
The formula is sold in bark chips with sizes between 9-12 mm that is ideal for repotting different size orchids. You can see the result very soon since the product promotes healthy root growth and improves drainage.
You can be certain that your plants won't be overwatered or under-watered at any time. Also, it works great with different types of orchids such as Phalaenopsis, cattleya, vandas and cymbidium keeping them safe and strong year-round.
Thanks to New Zealand's Pinus radiata bark any moisture will be soaked up evenly and there will be no wet spots in the soil.
Professional gardeners highly recommend this mix because it helps stimulate the natural, tropic habitat of orchids.
10. Better-Gro Charcoal for Orchids 8-Quarts
Highlighted Features
Ideal for orchids
Long-lasting
Natural charcoal
Improves drainage & aeration
All-natural
This is the perfect charcoal mix for your lovely Vandas as well as other types of orchids. It's made of natural charcoal and the large chunks of bark provide the necessary drainage support and hold moisture when needed.
Proper drainage and moisture are essential in orchid upkeep since they ensure the plants don't dry out and die.
Moreover, charcoal is a great bug repellent so you can be sure it will protect your plants from bugs and upkeep a healthy root system.
The product is all-natural, doesn't contain any harmful and toxic substances and you can see the results very fast as soon as your orchids start looking fresher and more vibrant than ever.
Last but not least, Better-Gro's charcoal provides proper aeration and enough room for the orchids to thrive effortlessly.
Final Thoughts
Finally, we'd like to share a few thoughts on the best orchid potting mix. Using a good, quality brand can provide your plant with the necessary drainage and airflow as the essential factors for orchid growth.
Moreover, you have to remember that the potting mix for orchid shouldn't contain dirt. To make things easier for you we've prepared this review with some of the best potting mix for orchids.
If you want the best, then go for PERFECT PLANTS' All Natural Orchid Potting Mix. It can be used with any type of orchid and provide the needed moisture and drainage.
The main ingredient of this potting mix is charcoal which has great draining properties and it also serves as a bug repellent.
Rest assured that your plants will be thriving very fast.
Nevertheless, if you need a cheaper option, you can always check out the Better GRO Potting Mix by Sun Bulb.
We're certain you have enough information now to make the right purchase and make your orchids happy.
Happy Gardening!