Broadleaf weeds have leaves with web-like veins and their nodes usually consist of one or more leaves. Due to their specific look and growing habits, you can distinguish them easily from other types of weeds.
They can be an eyesore in your lawn or garden and that's why it's necessary to treat them with effective products and get rid of these persistent nuisances.
Before deciding on the product you want to use make sure to analyze the soil and surface where the broadleaf is growing since this can greatly influence the type of product you choose.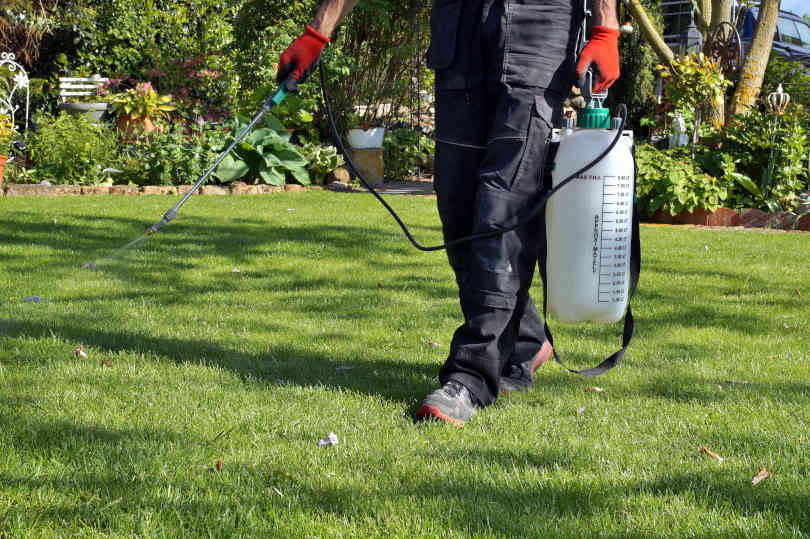 Amazon sells various types of products that can do the job – however, we've prepared a list of the best broadleaf weed killer for lawns to make your life easier.
Top Pick
Our top pick is definitely the Southern Ag Weed & Brush Killer. It can help you control various types of unwanted weeds and you can use it on non-crop areas, pastures, and rangeland.
Before applying this powerful concentration make sure to consult the instruction manual to get the proper info on the ratio you need to mix.
Plus, if you need to purchase a larger quantity the manufacturer can give you a great discount.
Budget Pick
As usual, if you're working with a limited budget and need a more affordable option, we can confidently recommend the Ortho Weed Killer.
It comes in a 32 oz. the bottle is highly concentrated and won't harm your lawn.
It can kill more than 250 registered weeds and provides results in just a few hours. For optimum results, make sure you consult the product's label.
How to Identify Broadleaf Weeds?
Broadleaf weed is not difficult to identify as soon as you understand its main characteristics.
Most weeds have flat leaves and web-like veins, others have showy flowers – however, you can easily spot them since they don't fit in.
There are different types of broadleaf weeds that need to be treated separately for successful elimination.
Annual broadleaf weeds grow from seed, they flower, grow more seeds and then die every year. Moreover, some grow in spring and die as soon as winter comes and others sprout in fall and die before summer starts.
Perennial broadleaf

weeds can live more than 2 years and unlike annuals, they don't sprout from seeds but from bulbs, tubers, rhizomes, and stolons. These are the most difficult to manage and destroy because they spread very fast.
One of the most recognizable weeds is dandelions. They're perennials that sprout in springtime; they grow yellow flowers that turn into puffy seeds which are spread all over your lawn as soon as the wind blows.
When to Apply a Broadleaf Weed Killer?
The answer to this question depends on the type of weed you need to eliminate and whether you're treating it pre or post-emergence.
Pre-emergency
As the name implies this strategy is based on prevention of weed growth. That's why you need to use an appropriate, pre-emergence product and understand the type of weed you're dealing with.
Annual weeds are best controlled with this type of herbicide because you know their growing pattern and as far as perennials go you need to understand how they grow and then apply the product.
Ideally, the weed killer should be applied before they start to germinate. If you've already seen the weeds on your lawn don't waste your time and money in applying a pre-emergent weed killer since it's not going to work.
Post-emergency
When it comes to this type of treatment, you can work on destroying already existing broadleaf weeds. In this case, you need to apply the product during active growth and make sure you identify the exact weed type in order to deal with it effectively.
This weed killer should be applied in the first months of spring and fall i.e. when the grass is most active.
As we mentioned in some of our product reviews, make sure you apply the product in cool weather since hot and drought conditions dry out the surrounding grass and make it susceptible to damage.
How to Apply Broadleaf Weed Killer?
The application of the broadleaf herbicide depends on the type of product you are using i.e. whether it's granular or liquid. Below, you can review both options.
Granular
If you require a broad application, then a granular weed killer can do the job and help you cover the entire area such as your lawn or pasture.
When applying make sure you have all the necessary equipment such as a spreader that can be hand-held if you're dealing with a small area or a bigger, commercial one for your larger affected areas.
As soon as you apply the weed killer granules, make sure you add plenty of water in order to activate the product. You can irrigate with a simple hose or a sprinkler system and if planned properly rain might come in handy as well.
Liquid
When it comes to liquid weed killers, you have to be more careful and precise when applying. There are 2 variants available – a liquid concentrate or a ready-to-use spray.
The liquid concentrate requires mixing with water and then applying it with a sprayer. For best results, make sure you follow the manufacturer's instructions and get info on the exact water-to-concentrate ratio. This depends on the type of weed and location.
The ready-to-use spray is a more convenient option which usually comes with a nozzle bottle to which you need to attach the hose and spray away.
The option you chose depends on the area the weed killer needs to be applied. If you need to cover a smaller area you can certainly use the ready-to-use spray since the hose length limits your movement and it's not ideal for big lawns.
On the other hand, if you're dealing with a larger area consider using a portable sprayer.
Why are Concentrates a Better Option?
Concentrates might be a better option since they're stronger and can kill even the most persistent weeds in your garden.
Moreover, concentrates usually provide more value in terms of money, quantity, and quality and most of the options we presented are affordable concentrates. Plus, their long shelf life allows you to use them for years if stored properly.
Whatever product you choose, make sure you follow the included instructions and understand how they work before you start applying. Protective equipment is a must so don't compromise when it comes to this.
Broadleaf Weed Killer for Lawns Reviews
1. Southern Ag 1-Quart Weed Killer
Highlighted Features
Multiple-use
Specialty herbicide
Easy application
Non-timber & non-crop use
Quality weed control
This herbicide's really effective for killing unwanted brushes and weeds and can be used on grass pastures, rangeland, and non-crop areas.
Have in mind that this product can't be used for plants, timber, and crops that are planned to be used commercially.
As far as the content goes, the main ingredients include butoxy ethyl ester, 2.4-dichlorophenoxyacetic acid, and triclopyr BEE.
Make sure you consult the label before application – it's best to dilute up to 6 fl. oz. of the product in 3 gallons of water and to apply carefully on all foliage.
Last but not least, if you're planning to buy a larger amount of this product make sure you call the manufacturer directly to get a discount.
2. Amine 24-D Weed Killer by Southern Ag
Highlighted Features
Selective weed killer
Multiple uses
Economical option
Effective
Highly concentrated
You need to be patient if you want to see the effects of this product. Make sure you spray precisely and avoid spraying on surrounding plants.
The product has an economical usage rate i.e. 1:4 pints per acre thus, it's quite affordable, but still, helps you control different types of woody plants and broadleaf weeds.
Furthermore, this product can be used in different areas such as pastures, ditch banks, rangeland, turf, and fences.
This product is made of 2, 4-D liquid concentrates equivalent to acid in the form of a low-volatile amine.
According to satisfied customers, it's the way to go – you can use it on a daily basis and it's one of the best products to destroy weeds.
A piece of advice from experienced gardeners is to add dish soap to the mix to improve the application and allow the product to stick to the evenly on the leaves.
3. Syngenta Tenacity Turf Herbicide
Highlighted Features
Selective contact herbicide
Kills various weeds
Mesotrione 40 %
Long shelf life
Pre & post-emergence
Syngenta's Tenacity herbicide can be applied pre and post-emergence to help destroy tenacious weeds found in turf grasses.
Furthermore, if used as a pre-emergent it's applied to the land, and the weed is destroyed by absorbing the product directly from the soil.
One of the benefits is that it works with different types of grass such as carpetweed, barnyard grass, chickweed, clover, crabgrass, dandelion, goosegrass, yellow nutsedge, foxtail, purslane, wild carrot, thistle, and others.
The active ingredient that targets weeds is mesotrione 40 % – it kills the enzyme 4 HPPD. Before use always consult the product's instruction manual and have in mind that the date on the packaging is not the expiration date, but the manufacturing one.
The product can be used in the next 8 years if stored properly – keep it away from extreme temperatures and sun.
4. Triple Action Weed Killer, Preventer & Fertilizer by Scotts
Highlighted Features
Triple action
4-months prevention
Easy to use
Highly effective
Covers up to 10, 000 sq. ft.
This triple-action product can feed, prevent and kill the weeds you see as well as the invisible ones. Some of these include dandelions, clover, chickweed, and common broadleaf.
Furthermore, you won't be seeing any crabgrass on your lawn in the next 4 months and your lawn will be greener than ever.
It's important to know that this product can be used on various types of grasses such as Kentucky bluegrass, tall fescue, fine fescue, and perennial ryegrass.
It's prepared with an advanced triple-action formula that kills clover and dandelion plus, if the product doesn't work as advertised you are guaranteed to have your money back.
Although it's easy to use, you have to understand the lawn size and then decide on the amount of product you'll need.
As soon as that's done, go ahead and add the product to the spreader, adjust the settings according to instructions, and start applying. For best results, apply on a wet lawn and add water 24 hours later.
5. PBI/Gordon Lawn Weed Killer
Highlighted Features
Fast results
Up to 18,000 sq. ft. coverage
Effective weed control
Works in cool weather
Doesn't harm turf grass
This is an amazing product that effectively kills broadleaf and dandelions without damaging your turfgrass. It's amazing on every level and you can see the results after 2 applications.
Those annoying dandelions, creeping charlie, wild violets, and clovers don't stand a chance against this powerful product.
What's more, this product won't harm turfgrass in the process. Make sure you apply in cold weather since high temperatures can burn the surrounding grass.
You'll be able to cover up to 18,000 sq. ft. of the lawn so it's great if you own a bigger property.
Have in mind that this product can't be delivered to a few states like AK, MA, NJ, DC, or VT.
6. B Gon Weed Killer for Lawns by Ortho
Highlighted Features
No lawn harm
Fast results
Root deep effects
Kills more than 250 weeds
Easy to use
The Ortho Weed product can help you kill any annoying lawn weeds but won't harm your lawn grass.
It can eliminate over 250 registered weeds and it's effective because it targets the root and provides fast results in just 1 hour. Moreover, if you're targeting a specific weed check out the product's label to review the full list.
Furthermore, this product's ideal for both small and large areas, and it provides great value – with only a 1-gallon product you can cover 64, 000 sq. ft. of the landscape. For optimal use, apply it with the Ortho spray.
Happy users confirm that this product can get back your lawn to a vivacious green color in just 2 weeks and all that's left will be the hole where the broadleaf root was.
7. VPG Fertilome Weed Killer
Highlighted Features
Powerful concentrate
Cold weather performance
No preparation needed
USA product
Ready to spray
Your lawn will be free of broadleaf after just one application of this product. Moreover, there's no need to prepare the product before application – just shake it well and it's ready to spray.
Make sure you point the sprayer to the weed you want to destroy and provide equal coverage for the best results.
This product contains carfentrazone and 3 other active ingredients that can kill a variety of the most difficult broadleaf weed even in post-emergence. You'll get the best performance in cool weather and always review and apply the directions written on the product's label.
As with other weed killer products, you have to be careful when applying since the harmful ingredients can be absorbed through your skin, eyes, and clothing – make sure you have protective equipment when applying.
Keep it out of reach of children, pets, and any plants you don't want to treat.
8. Weed Killer Concentrate by Roundup
Highlighted Features
Guaranteed results
Full refund available
Tank sprayer use
Rainproof after 30 min.
Fast results
The Roundup weed killer is extremely effective and can kill even the most persistent grasses and weeds to the very root – and the manufacturer guarantees this. Moreover, if you're not happy with the effects of this product, you'll receive a full refund.
Ideally, use the product with a tank sprayer and apply it around flowers, trees and shrubs. You can also use it to remove the weeds on patios, driveways and other paved areas.
Be advised that this product is not to be used around any veggies, fruits, or other edible produce. You'll be happy to hear that after 30 minutes of application, it becomes rainproof and you'll have results in the next 12 hours with the help of the Fast Act technology.
The product are sold in different packages and the 16 oz. one has a very affordable price and provides good value.
9. Bonide Weed Killer Concentrate
Highlighted Features
Lawn grass friendly
Concentrated product
Complete weed killer
Good coverage
Fast-acting
This powerful concentrate can help you get rid of the annoying weeds in your lawn but not hurt lawn grass in the process.
It's able to remove chickweed, dandelions, clover, ground ivy, wild violets, oxalis and more than 100 persistent weeds – check out the full list on the product label.
Have in mind that this product is sold in the form of a concentrate and it requires to be mixed before application.
The product is activated during night hours and after a few hours of application, it becomes rainproof and can't be washed away easily.
Moreover, the manufacturer has been in business since 1926 creating top-notch products so you can be certain to deal with real professionals.
Final Thoughts
Our piece of advice is to take your time when choosing a broadleaf herbicide for your lawn. As we explained earlier, broadleaf weed is persistent and difficult to get rid of.
Choosing the right product at the very beginning can help you save time, money and effort since you'll fix this issue immediately.
There are many different products sold on Amazon and we've compiled a list of the best broadleaf weed killer for lawns.
The Southern Ag Weed & Brush Killer is our top pick product that can help you control different types of unwanted weeds.
It's a quality product and for buying a larger quantity you can get a discount from the manufacturer.
However, if you're looking for a cheaper option you can purchase the Ortho Weed Killer that's sold in a 32 oz. bottle is highly concentrated and you can use it for a long time.
This product kills more than 250 registered weeds so make sure you consult the product's label for best results.
Happy Gardening!