Maintaining a healthy and lush lawn requires proper fertilizing. There are different variants of fertilizers sold in stores and online and one of the options we're looking at now is liquid fertilizers.
Most liquid fertilizers are sold in the form of concentrates which makes them an affordable and effective option to use.
Different lawns and grass require different nutrients and care and that's why we prepared the list below with the various lawn fertilizers.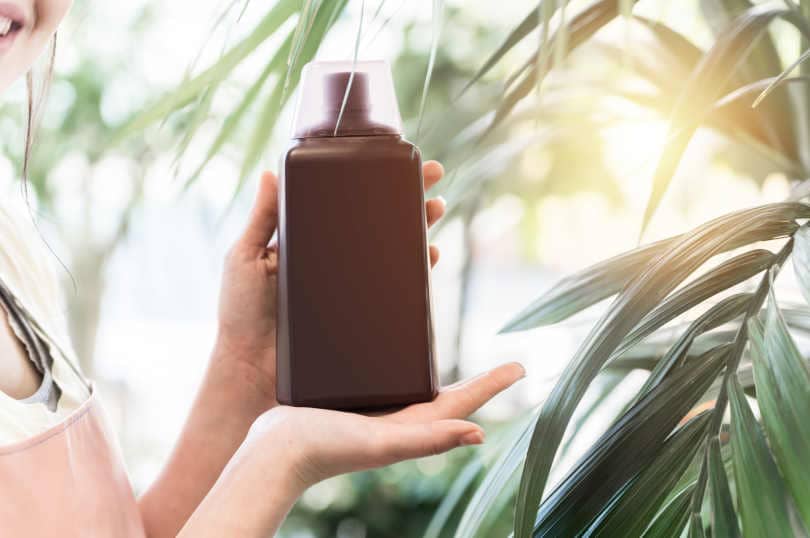 Take your time and review different options of the best liquid lawn fertilizers we presented. They vary in price, quantity and manufacturer thus, we're sure there's something for everyone.
Read on.
Top Pick
Our list features the best products and the Organic Fertilizer by Simple Lawn Solutions is one of these. It's suitable for different types of grass, veggies, plants and flowers.
The product provides fast absorption and top-notch care for your lovely lawn.
Also, the manufacturer is a USA company with years of experience in the area that cares greatly about customer satisfaction; thus, rest assured you'll be dealing with professionals in the field.
Budget Pick
If you need a more affordable option, we'd recommend the 19-0-0 fertilizer formula by American Hydro Systems.
It's easy to apply and can give you a greener lawn in a short time, plus it replaces all nutrients that are lost during mowing.
Happy customers love this product because it makes their grass lush and green.
What's a Liquid Fertilizer?
Before you go ahead and purchase fertilizer for your lawn it's good to know what you'll get. Liquid fertilizer is a highly concentrated solution that can provide instant food for your plants through the soil and foliage.
It offers immediate results that are visible in a few weeks. This is a fast-release fertilizer which means that multiple applications might be required depending on the product you use and the needs of your lawn.
Also, it's essential to test your soil to understand what type of fertilizer it needs and what the ideal NPK would be.
Our advice is to take your time and do your research before adding a product to the shopping cart. Slow and well-thought decisions can bring you fast and quality results.
What are the Benefits of Liquid Fertilizers?
Highly Concentrated Liquids
Even a small bottle of liquid fertilizer can be used multiple times due to the high concentration of the liquid.
In the long run, this can save you money and when compared to a granular fertilizer it's easier to use and carry around your yard.
Also, depending on your gardening needs you can dilute the concentrate as you wish and most of the products we presented can be used all year round regardless of the weather conditions.
Easy Application
As we mentioned previously, using a liquid fertilizer is quite easy and makes your gardening activities enjoyable. Most of the bottles can be directly connected to a hose and just sprayed on the needed surface.
Because of the spraying application, you can be certain to have an even coverage that others can't provide – all areas of your lawn will be fertilized evenly.
Fast Results
Unlike granular fertilizers, the liquid option can get deeper in the soil and reach the roots of the plants much faster which gives faster results.
How often to Apply Liquid Fertilizers?
This depends on the product you use. Some of them have specific instructions on how often to be used.
According to professionals, you can use a liquid fertilizer up to 4 times a year. Have in mind that anything over 4 times can damage your lawn and you can even lower this to 2 times a year and still get great results.
As we mentioned in our reviews, when it comes to fertilizing, more is not always better so you should be cautious about how often you use fertilizer.
When to Add Fertilizer?
Experienced gardeners explain that to get the best results you have to work with a fertilizer schedule to help you understand when's the best time to fertilize.
Don't just go with the flow and apply fertilizer whenever you find something on sale.
If you decide on fertilizing once a year then our advice would be to do it at the beginning of September when the lawn needs food the most. The grass can recover after the growing season and absorb the nutrients easily and prepare for the harsh winter.
If you want to do it twice a year then add another spraying in the middle of October to give the lawn another boost before wintertime.
Adding a third fertilizing should be in the middle of spring.
And the fourth and final should be in the middle of summer and you should do it only if you deem necessary. If you decide to apply in summer, make sure the weather is not too humid and hot since the combination can harm the grass.
What's the Needed Equipment?
The products we reviewed in our article all come in practical bottles that can be directly connected to a hose for an easy application.
However, any additional equipment you might need depends on the size of your lawn and before deciding on a liquid fertilizer you should take this into consideration.
You might end up needing more than just a spraying bottle and hose so be prepared.
Why Use Organic Fertilizers?
Natural or organic fertilizers have recently become more popular because they're eco-friendly and don't contain any dangerous ingredients that can cause harm to you, your kids and pets.
Most of the organic fertilizers are made of bone meal, blood meal, feather meal and fish meal and they usually have lower NPK levels i.e. below 10.
Our advice is to apply them in warm weather during growing months depending on the area you live in.
Organic fertilizers can help stimulate microbial soil activity that results in healthy soil and greener grass.
You might find them to be more expensive than other available options however, considering the results they provide they're well worth the investment.
Tips & tricks for Efficient Use?
There are some ground rules you have to follow when it comes to applying fertilizer – including a liquid one. Below, you can review some of our tips and tricks on how to get the best out of your liquid fertilizer:
Always test your soil and choose the fertilizer based on the results
Don't forget to measure your lawn size
Follow a smart application schedule
Use organic liquid fertilizers
Don't guess the amount of fertilizer – measure how much you need
Never apply more than 4 times a year
Don't use phosphorus if your soil isn't phosphorus-deficient
Liquid Lawn Fertilizers Review
1. Simple Lawn Solutions Advanced Fertilizer NPK 16-4-8
Highlighted Features
Organic ingredients
Easy to use & apply
USA product
16-4-8 NPK
No burn damage
The concentrated liquid lawn fertilizer by Simple Lawn Solution can keep your grass green and the soil healthy and packed with nutrients for long-term care.
Moreover, it's made of natural ingredients and the balanced NPK can help upkeep a lush green garden with little effort as long as you use it properly and provide generous watering.
It's quite practical and can be used with various types of grass such as Augustine, Centipede, Zoysia, Florida Palmetto, Zoysia, Bahia, Kentucky and Ryegrass.
If you decide to use this fertilizer have in mind that it isn't a magic potion and can't help treat a gnat infested or sick lawn. It works on preventing this from happening.
The packaging works as a dispenser and can be directly connected to the watering hose which makes it both fun and practical.
2. Simple Lawn Solutions Pure Organic Fertilizer
Highlighted Features
Chelated nutrient blend
Suitable for grass, plants & veggies
Fast absorption
USA product
Easy to use
Your lawn and plants deserve the best care and top-notch products. This fertilizer by Simple Lawn Solutions can provide you with great results fast.
It's filled with chelated micronutrients such as manganese, iron, zinc, magnesium and sulfur that are essential for optimum plant health.
It's a versatile product that can be used for your lawn grass, with different types of flowers, trees, veggies, fruits, bushes and potting soil.
As soon as you start applying, you can notice a great improvement in the taste, quality and color of your greenery.
Additionally, the manufacturer offers great customer service and a full refund if you're not satisfied with the fertilizer. They're all about satisfying their customers' needs so you can be certain you're dealing with real professionals that understand how gardening works.
3. Urban Farm Liquid Lawn Fertilizer
Highlighted Features
Handmade
Balanced NPK
Practical packaging
5,000 sq. ft. coverage
Easy to apply
The liquid fertilizer by Urban Farm is a handmade, micro-brewed blend that's perfect for various lawn and pasture soils plus, it's super concentrated and can cover up to 8 x 5,000 sq. ft. with just 1 gallon.
It's enhanced with humic acid, mycorrhizae, helpful enzymes, iron and other beneficial ingredients that provide balanced nutrition.
Moreover, by purchasing this product you'll be supporting a small business that focuses on creating quality products for the average gardener.
You can get this product at a very affordable price, but with great value for money. As soon as you start applying, you'll notice the lawn becoming greener than ever.
4. Water Soluble Fertilizer by Miracle-Gro
Highlighted Features
Instant feeding
Up to 7,200 sq. ft. coverage
5 lb. packaging
Gardener's favorite
Easy to use
A hungry lawn isn't a happy lawn and that's why you need the Miracle-Gro garden fertilizer. It offers fast results in a matter of days and can turn your lawn into the green oasis you always wanted.
It contains high levels of nitrogen and iron which is the ideal combination for turfgrass and it's safe to apply on other types of grass without causing any burn damage.
Moreover, you can get the best results by combining this product with the Miracle-Gro Garden Feeder. You have to fill up the jar with the plant food, attach the hose, turn on the water and start spraying. Plus, the convenient garden feeder allows you to modify the spraying pattern as you wish.
Happy customers confirm that they've been using the product for years and it has never failed them – give it a try and see for yourself.
5. Simple Lawn Solutions Commercial Grade Lawn Energizer
Highlighted Features
Ideal for large areas
Organic formula
All grass varieties
USA product
Healthy & lush grass
Make your gardening life easy with this concentrated fertilizer by Simple Lawn Solutions. It's ideal for commercial use and larger home lawns because the 2.5-gallon bottle can cover up to 32,000 sq. ft.
What's more, it's packed with all the necessary nutrients and vitamins to nurture a healthy and green lawn. The organic ingredients make it ideal for all types of grass and it can be used year-round regardless of the season.
It doesn't contain any toxic ingredients thus, you can use it freely around your kids and pets. As you might've heard the manufacturer is a USA company with more than 24 years of experience dedicated to creating top-notch products for garden care.
As with other fertilizers, don't expect change to happen overnight. It takes time to grow a healthy lawn and this concentration can help out and make your gardening activities easy and enjoyable.
6. The Andersons Super Juice Supplement
Highlighted Features
Improved formula
Balanced fertilizer
Dry mix supplement
No biowaste
Up to 1-acre coverage
The super juice by The Andersons can make your lawn greener than ever in just 12 days after spraying. It comes as a dry mix that has to be diluted in water and then sprayed on the lawn.
Golf courses usually apply this product as a primary fertilizer however, it can be used also as a supplement. Since it's applied through spraying, it can easily be absorbed in the grass in a few hours– this lowers the waiting time and you can see results much faster.
Besides, it doesn't make a difference if you use 1 or 3 gallons of water to spray the dry mix. Either way, the lawn will get the same amount of fertilizer.
Ideally, you can use the 14-2-4 ratio during the spring and fall months and in the summer switch to 7-1-2. Our advice is to check out the detailed instructions on the packaging to get the maximum of this formula.
7. Simple Lawn Solutions Lawn Food
Highlighted Features
No phosphorus
Enhanced with humic/fulvic acid
Organic ingredients
Quick & easy application
All types of grass
This 32-ounce liquid fertilizer by Simple Lawn Solutions is a great food supplement for your lawn. It doesn't contain any phosphorus and is specially created for nitrogen and potassium deficient soils.
Moreover, it's enhanced with humic and fulvic acid to promote greener and healthier grass and help the food transfer to the plant.
The product is made with top-quality organic ingredients that are safe for the environment, your kids and pets because it doesn't contain any dangerous chemicals. It can only improve the lawn condition.
It's sold in a practical, easy to use bottle and can be applied to different types of grass such as Bermuda, Zoysia, Centipede, St. Augustine, Palmetto and Bluegrass.
8. LawnStar 30-0-0 Liquid Fertilizer
Highlighted Features
High nitrogen levels
Premium ingredients
Quick results
Easy to use sprayer
Evergreen guarantee
This amazing liquid fertilizer by LawnStarwas created on the premise that more doesn't always mean better. It's packed with high levels of nitrogen to help the essential plant processes.
It's made of premium quality ingredients combined to fight nitrogen deficiency and help you grow a lush, dense and green lawn in no time and can be used on any grass type.
The combination of fast and slow-release sources is ideal in providing fast results. Plus, the product is sold in an easy to spray package with a hose-end sprayer attached to the bottle, so you can start the fertilizing without previous preparations.
Finally, the manufacturer offers its evergreen guarantee for a full return or refund in the first 30 days after the purchase if you're not satisfied with the results of the product.
9. American Hydro Systems 19-0-0 Fertilizer
Highlighted Features
Thicker & greener lawn
Packed with nutrients
Easy application
Natural blend
Year-round use
The GrassSoGreen liquid fertilizer is a natural mix of humates and other natural ingredients that are essential in nurturing healthy soil.
You'll be happy to hear that this product can be used all year round regardless of the weather conditions and whether it's warm or cool.
Just 1 gallon of this fertilizer can cover up to 2000 sq. ft. lawn in 1 month. As soon as you start using it, you can notice a change in your grass's appearance. The blend of nutrients works on improving the overall grass condition.
The manufacturer has vast experience in providing top quality, affordable and reliable solutions for different gardening needs, so you can be certain to get a good product made with quality ingredients.
10. HastGro 12-4-8 Fertilizer by Medina
Highlighted Features
Fast results
1-gallon bottle
Efficient absorbing
Highly concentrated liquid
High nutrient uptake
Easy to use
Happy customers approve of this product. This concentrated liquid fertilizer won't burn your grass, flowers, plants, or trees and you can see the results in a matter of weeks.
Your lawn grass will become greener and more vigorous due to the efficient absorption the fertilizer provides.
Moreover, it can be used in autumn and spring to help stimulate the growth of natural soil organisms.
Furthermore, considering the long-term effects this product has, we can say that the initial investment is not expensive at all and it's all worth it once you see the grass turn bloom in front of your eyes.
Final Thoughts
Hopefully, by now you have a better idea of liquid lawn fertilizers, how to use them and which ones are the best.
We'd like to emphasize the importance of analyzing the lawn needs before purchasing and applying any product.
First, you must understand what the soil and grass need and then act accordingly. The best way to do this is by a soil test that you can on your own.
Throughout the article, we tried to make you aware of several tips and tricks in lawn care and now you can go ahead and choose your product.
Our first recommendation is the Organic Fertilizer by Simple Lawn Solutions that provides fast results and great care for your lawn.
The manufacturer is an experienced USA company that's on the market for years, so you can be certain to deal with professionals in the field.
Nevertheless, if you're looking for a cheaper variant go with the American Hydro Systems fertilizer formula which works great with phosphorus-deficient soils.
The product comes in an easy to use bottle to provide all the needed nutrients for a greener lawn.
We hope that by now you know which of the best liquid lawn fertilizer to choose for your gardening needs.
Happy Gardening!