If you want a lawn with grass that looks perfect and it's healthy from the inside out, you need the best electric dethatcher.
Also known as a lawn scarifier, this device is the most effective way to eliminate thatch from lawns without dealing with toxic fumes, oil, or gas.
We already discussed the tow-behind dethatchers, also considered the manual type. But, there's another type too: one that's electric and eco-friendly.
It's functional, safe, effective, and potent and will help you tackle thatch easily and fast.
However, with so many different electric dethatchers available today, it can be a real challenge to find the best one for you.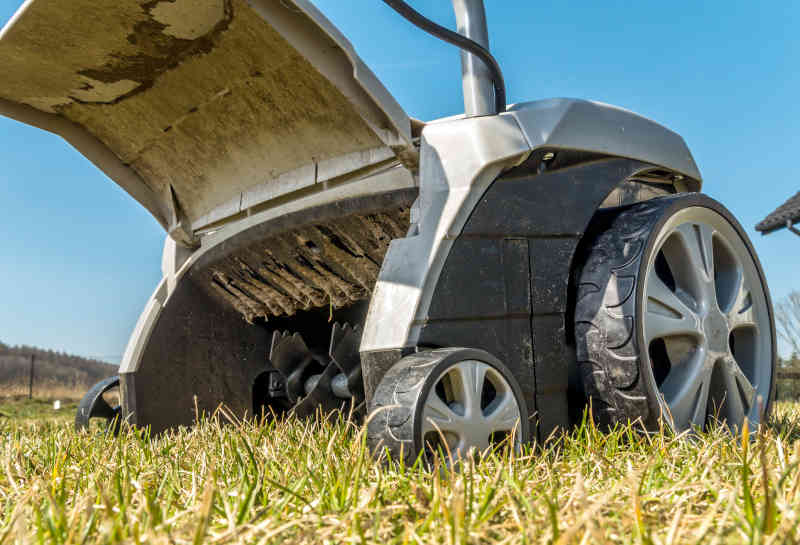 No worries-we're here to help; check out the best options currently, as well as some essential things you should consider!
Top Pick
Sun Joe's 12Amp Electric Dethatcher is our best pick because of the great customer satisfaction, but also its optimal construction, easy maneuverability, and lightweight design.
Why Do I Need An Electric Dethatcher?
The best electric dethatcher is an amazing solution for you if you're looking to remove those small pieces of debris from your lawn. Get rid of all grassroots, stems, and dead leaves easily.
By regularly removing moss and ill grass, you help improve the grass's health from within, which will also result in a better-looking glass.
Thatching is recommended at least two times every year. Learn more about the best thatching schedule here.
When the dethatcher penetrates the ground with its prongs, it surfaces out the debris. This in turn gives the grass sufficient breathing space which maximizes the growth and lushness.
Which Features To Consider Before Buying?
Before deciding that you need an electric dethatcher and scarifier, consider some of the most important features to ensure maximum performance and longevity.
These are some of them:
Electric push-behind dethatchers come with cords that need to be plugged into a power source for the motor to work.
You'll notice that most corded tools powered by a motor are measured in amps.
Amps indicate the motor's electrical current load that can be carried for an indefinite period of time, without decreasing the motor's insulation and other electrical elements.
The faster a motor spins, the more air it draws through the motor to cool it down.
Amps help you measure the maximum time you can run it without upping the temperature limits.
So, by checking the amps, you'll know how effectively the motor will cool itself.
The higher the amps, the more able the motor to run longer without heating up excessively. A 12-amp motor is considered a middle ground, while the average motor strength is between 8 and 15 amps.
Choose wisely since heat can kill a motor.
Consider that the weaker the amps, the more passes you'll need to dethatch effectively.
On the other hand, a very potent motor with a high amp may tear up the grass and thatch, so take into account the type of grass and dethatching needs as well.
Most of the dethatchers come with electric cords that are only several feet long and are connected to an extension cord.
Hence, if you have a smaller lawn, having a cord of 50-feet or shorter should be just fine. Take into account that when you opt for a longer extension cord, problems with the power may occur and lower the amount of it which it delivers to the end of the extended length of the wire (Ohms law).
In order to reach the ground surface and pull up the accumulated thatch, you need to choose a dethatcher with long enough tines.
Since every garden owner prefers grass of different lengths, find the adequate for your needs or opt with a model that provides adjustable tines.
What's more, consider the width of the tine cylinder-this will determine the tool's coverage with every pass on the grass.
Type of Material & Design
Electric dethatchers need to be made of quality and long-lasting materials and a durable casing to withstand all of the vigorous landscaping.
Thick plastic is great for the casing and it should be one that doesn't crack or fade as time goes by.
When it comes to the tines, stainless steel is the best, as well as strong welds to ensure they don't snap off when you're digging out serious thatch.
Since it's a push-behind dethatcher, it needs to offer a comfy, easy to use, and maneuverable handle.
Look for padded and wide handles that will keep your hands pressure-free and allow you to push the machine without any discomfort.
Moreover, some of these machines come with adjustable handles that can be lowered/elevated or folded to ensure different operating heights and easy storage.
These are quite useful and storage-friendly options.
To shorten your time spent dethatching and to eliminate the need for raking up after loosening the thatch, choose models that come with a debris-collection bag as part of its design or as an add-on option.
Of course, you can always collect the loosened thatch with your bagging lawnmower after dethatching.
Some users want eco-friendly machines.
This is a passion for creating a better world.
Hence, petrol dethatchers are more potent and aggressive and work optimally.
However, they're not eco-friendly and generate CO2 emissions.
And, they may also have harmful effects like acid rain or breathing issues. Eco-friendliness is ensured with an electric or manual dethatcher since they produce no emissions.
How Does An Electric Dethatcher Work?
Powered by electricity, this dethatcher features spring stainless steel tines on the front which rotate and dislodge thatch and other lawn debris, while you're maneuvering it by its handle.
In essence, using it is similar to a push lawnmower.
How to Use an Electric Dethatcher?
When the time comes (late summer or autumn) and the grass has established well and actively growing, it's time for dethatching. Do it when the grass is fully dry!
Electric-run or gas-operated models need to be started first.
You plug the cord into an electric outlet and press the start button.
If there's an add-on debris bag, set it up in advance. And, make sure you've set the tines to the desired level, as well as the handle's height.
And then you move it onto the lawn by pushing it using the handle. When the handle is long and wide and adjustable, maneuvering is easy.
When you're finished, you turn it off on the button and take out the plug. You remove the debris from the bag and put it back into its place.
Is There A Difference Between Dethatching And Scarifying?
When you use a lawn dethatcher and scarifier, the steel tines cut out the thatch and this is known as dethatching.
It's a lighter and less invasive process than scarifying. When you're done with dethatching, the lawn has a free passage to get air, nutrients, and water to its roots.
However, sometimes, when more serious action is necessary, scarifying is recommended.
This is done by lowering the machine's tines and allowing them to penetrate deeper into the soil. This opens the surface and makes it a great chance to introduce new grass seeds.
Aerating vs. Dethatching
Oftentimes, people tend to confuse dethatching with aeration. Though both of these care methods work together to maintain your lawn healthy, they're not the same.
Namely, aeration is the process of poking holes in the ground to allow the soil to breathe. This is an essential process if you have dense and compact dirt. Aerating won't remove thatch.
For this, you need to dethatch after the aerating. This is essential if you want the grass to be able to get the needed nutrients and oxygen.
Can I Seed After Dethatching?
Sure thing. After you've dethatched and removed the thatch, do the seeding with high-quality seeds. If you live where it's sunny, opt for grass seeds like Galaxy Kentucky Bluegrass Blend.
Moreover, it's recommendable to apply compost to every 1000 square feet.
This will keep the seeds moist and provide the needed nutrients for germination. Use a roller if you want to push the seeds deeper down.
After seeding, don't forget about proper watering!
The Best Electric Dethatcher
1. Sun Joe 12 Amp Lawn Dethatcher & Scarifier
Product Information
| | |
| --- | --- |
| Package Dimensions | 24 x 20 x 12.5 inches |
| Item Weight | 27 pounds |
| Material | Steel |
| Color | Green |
| Manufacturer | Snow Joe |
Highlighted Features
Lightweight
Easy to assemble
Good maneuverability
Reduced noise level
Versatile
If you have a small or medium lawn, this is the ideal electric dethatcher to revitalize it. It can also be used as a scarifier.
It's powered by a strong 12-amp motor and rakes in a 12.6-inch wide path in a single pass.
Moreover, it features the AirBoost tech that maximizes thatch pickup thanks to the spring steel tines which remain sharp long and offer reliable performance.
When you scarify lawns regularly, you encourage healthier growth. The handle is wide and enables easy maneuvering. To start it, you just push the button near the handle.
Thanks to the safety switch, accidental starting is prevented. Customers who purchased it loved it the most for being lightweight, easy to assemble, and offering good maneuverability.
2. Greenworks 10-Amp Corded Electric Dethatcher
Product Information
| | |
| --- | --- |
| Package Dimensions | 37.8 x 22.83 x 44.09 inches |
| Item Weight | 25.9 pounds |
| Material | Stainless steel |
| Color | Green |
| Manufacturer | GreenWorks |
Highlighted Features
Sturdy construction
Long-lasting tines
Lightweight
Comfy handle
Easy to use
This is a robust corded dethatcher with a strong 10 amp motor. It boasts an ergonomic and padded handle which optimizes comfort.
Moreover, since it's easily adjustable, it will enable maximum user satisfaction and easy maneuverability.  The 14-inch wide dethatching path will help you tackle the task fast and effortlessly.
You can easily turn it on by pushing the start button near the handle.
Thanks to the 3-position tine depth adjustment, you'll feel in control and easily eliminate matted lawyers and enjoy a healthier lawn.
The stainless steel tines are durable and long-lasting and will penetrate the grass optimally.
They will maintain their sharpness for long and ensure reliability at all times.
3. Von Haus 12.5-Amp Corded Electric Dethatcher
Product Information
| | |
| --- | --- |
| Package Dimensions | 23.2 x 18.4 x 13.8 inches |
| Item Weight | 30.9 pounds |
| Manufacturer | DOMU Brands LLC |
Highlighted Features
Sturdy design
Easy to use& assemble
Comfy & adjustable handle
Sturdy tines
Maneuverable
This 2-in-1 electric dethatcher with aerator drums is a multifunctional tool that you can use to dethatch your lawn.
It's powered by a potent 12.5 amp motor and it will lift debris from the lawn and penetrate the soil for a healthy growth boost.
The 15-inch working width is suitable for small to medium-sized lawns. It boasts a thermal cut-out and a two-stage safety start for easy and safe operation.
The lever is adjustable and you can actually pick between 5 heights, depending on your needs.
The collection box is 45 liters so you needn't manually rack-just attach it onto the machine and all debris will go there.
Storage is easy with this one- the folding soft-grip handle and removable collection box are ideal! The dethatching blades are sturdy and long-lasting, ensuring maximum sharpness at all times.
4. Worx WG850 12-Amp Corded Electric Dethatcher
Product Information
| | |
| --- | --- |
| Package Dimensions | 39 x 22.88 x 43.25 inches |
| Item Weight | 32.2 pounds |
| Manufacturer | WORX |
Highlighted Features
Adjustable dethatching height
Adjustable handle
Easy to use& store
Made with the newest tech
Whether you need to dethatch your lawn on a deeper level or just maintain it, this electric dethatcher has your back. You can set it up to -9mm, -3 mm, and +3mm.
The foldable and padded handle enables comfy to use and easy maneuvers. Plus, it eases storage a lot.
Thanks to the lock-off switch, you can turn it in any moment you want. This will maximize safety and save power.
The collection bag on the back will collect all debris in one place.
Engineered with the newest tech and highest standards, this is a cost-effective tool made to last. It's powered by a potent 12-amp motor and comes with 14-inch wide dethatching stainless steel tines that are sharp and durable.
Customers liked it the most for being easy to assemble, offering good maneuverability, and its sturdiness.
5. Go Plus 2-in-1 13-Amp Corded Lawn Dethatcher
Product Information
| | |
| --- | --- |
| Cutting Width | 15 Inches |
| Color | Green |
| Manufacturer | Superbuy |
Highlighted Features
Dethatches & scarifies
Adjustable handle
Great maneuverability
Comfy handle
Long-lasting wheels
Whether to dethatch or scarify your lawn, this is a great electric dethatcher to use. Backed up by a potent and trusted 13 amp motor, it can rack a 15-inch path fast.
It offers height adjustability, i.e. four positions for different grass heights and types. Thanks to the four wheels, the machine provides optimal maneuvers and balance.
It also has a zero level for effortless transportation.
The bag on the back can collect 50 liters of debris, maintaining the yard clean.
What's more, the grip is comfy thanks to the rounded and padded handle. It enables easy control and maximum safety and comfort.
The double-safety switch ensures a safe start; set the cylinder and depth-first and then press this button and pull the lever against the handlebar.
The handle's foldable design eases storage a lot.
6. Sun Joe 13 Amp Electric Dethatcher
Product Information
| | |
| --- | --- |
| Package Dimensions | 24.4 x 19.3 x 12.2 inches |
| Item Weight | 28 pounds |
| Manufacturer | Snow Joe |
Highlighted Features
Lightweight design
Easy to assemble
Easy to maintain
Comfy handle
Strong tines
If you have a small to medium-sized lawn that needs dethatching, scarifying, and revitalization, this is a great machine to have.
Thanks to its potent 13 amp motor, it will help you get the job done fast and easily. It rakes in a 15-inch width and improves the grass's thickness and nourishes it back to health.
Maneuvers are comfy and easy because of the padded and wide handle.
Moreover, the AirBoost technology includes spring steel tines that are durable, strong, and enable maximum thatching. The machine is also adjustable: you have 5 height options to choose from!
As it requires no tune-ups, gas, or oil, maintenance is pretty easy with this machine. The disposal of the debris is made effortless thanks to the collecting bag on the back which is removable.
With a full 2-year warranty, it seems this machine has it all!
7. Go Plus 2-in-1 Electric Dethatcher
Product Information
| | |
| --- | --- |
| Power Source | Corded Electric |
| Cutting Width | 13 Inches |
| Manufacturer | Superbuy |
Highlighted Features
Sturdy construction of solid metal
Easy to use and clean
Optimized safety
Easy to assemble
Whether to scarify or dethatch your lawn, this potent machine powered up by a 12-amp motor is there for you.
It dethatches in a 13-inch width. The debris bag on the back saves time and energy.
This corded model comes with 3 depth positions to choose from, as well as a level 4 for transportation.
The lever is adjustable to ensure comfy scarifying and dethatching and lower the risk of soil compaction and proper removal of debris.
Safety with this one is ensured-it features a safety lock-off design. The dual switch optimizes safety during usage.
Thanks to the comfy, padded handle and ergonomic design, any tiredness in the hands are brought to a minimum.
The large-diameter front wheels turn at will and are long-lasting and flexible and the potent motor and refined cylinders ensure a satisfying experience.
8. Hattomen Electric Lawn Dethatcher (11Amp)
Product Information
| | |
| --- | --- |
| Package Dimensions | 21.7 x 17 x 10.1 inches |
| Item Weight | 22.4 pounds |
| Manufacturer | Hattomen |
Highlighted Features
Comfy handle
Optimized safety
Easy to assemble
Lightweight
Optimal maneuvers
Backed up by an 11amp motor and 12-inch tines, this machine will ensure efficient dethatching and scarifying.
All of the debris will go directly into the 8-gallon capacity debris box and then you can easily dispose of it.
Equipped with a central height adjustment system, it offers 4 working depths to adapt to different height lawns.
What's more, we like the attention to safety; the double safety switch ensures a safe start. Comfort is increased thanks to the padded and ergonomic handle that's wide enough for effortless maneuvers.
Made from durable and strong plastic, it's lightweight and easy to transport. The four wheels ensure maximum balance.
9. Greenworks 10Amp Corded Electric Dethatcher
Product Information
| | |
| --- | --- |
| Cutting Width | 14 Inches |
| Material | Stainless steel |
| Manufacturer | Greenworks |
Highlighted Features
Potent motor
Comes with a vinyl extension cord
Comfy handle
Made of strong materials
Featuring a robust 10amp motor and ergonomic and adjustable handle, this machine offers optimal performance and user comfort.
It dethatches in a 14-inch dethatching path and allows you to finish the dethatching effortlessly and fast.
The 3-position tine depth adjustment ensures maximum user control and removal of matted layers for healthier grass. The tines are sharp, long-lasting, and sturdy thanks to the use of stainless steel.
The handle is comfy, padded, and allows effortless maneuvers.
This electric dethatcher comes with a 16-gauge, 3-wire outdoor extension cord, entirely made of copper. It features a high visibility orange color and a 3-prong grounded plug for extra safety.
It's been covered with vinyl to protect it from abrasion, moisture, and sunlight.
Final Thoughts
Even though not every lawn needs to be dethatched, when it does, knowing how to do it properly is pivotal for its future and health.
A thick, lush grass is just a step away from you if you invest in the best electric dethatcher.
This machine dethatches and scarifies effortlessly thanks to its powerful motor and sharp tines.
Their handles are ergonomic and often adjustable to ensure maximum user comfort and satisfaction, as well as easy storage.
Restore your grass's glory with our best pick if you don't have a budget limit-it offers optimal performance, strong construction, and sharp, fast-working tines.
However, if you have a limited budget, but still looking for a quality electric dethatcher, our budget pick won't disappoint you! It's affordable, easy to use, and long-lasting!