Plant labels or plant tags are the ideal solutions for gardeners who enjoy an organized garden. At the beginning of a planting season, it can be easy for you to recall what you planted in a certain area of your garden.
However, as time goes by and you add more plants and veggies it can become too difficult to remember everything.
Obviously, you need to work with reliable and durable plant labels to create a long-lasting organization system.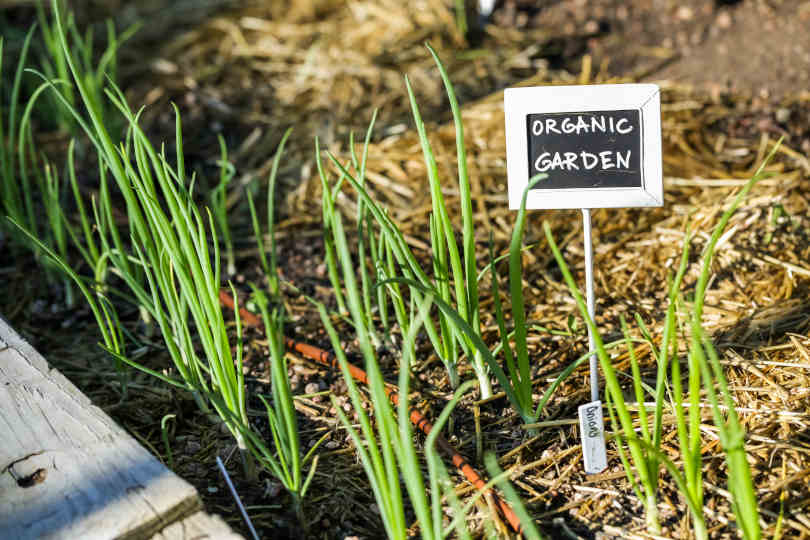 Moreover, having an order in your garden can provide a lot of benefits. You'll always know where your plants are, how old they are, or what their nutritional needs are.
There are many label options available on Amazon however, we've prepared a list with the best plant labels that are loved and used by amateur and experienced gardeners.
Below, you can check out our favorites and ease up your gardening activities with just a few tweaks.
Top Pick
Without a doubt, our favorite plant labels are GardenMate's 25-piece pack. They're made of galvanized, durable steel to last long and withstand any outside conditions.
They have an ideal height of 10 inches and are visible even when used with more bushy plants and flowers.
For best results and long-lasting text use a permanent marker or spray them with a protective liquid.
Budget Pick
Our budget pick is certainly the 50-pack plant label by Luster Leaf. They come in exclusively white color and can be used with any type of marker or pencil.
Although smaller, you can easily insert them in the soil and fit enough text for your organization system.
The plastic material is durable and can be used for many seasons and the price is a real bargain.
What are the Labels Made of?
Garden labels are an essential and invaluable part of a well-organized and nurtured garden. As you've seen in our review, there are different types of garden labels, with different shapes and made of different materials.
One of the most important features to look for in a plant label is the resistance to UV, water, and eco-friendliness.
To keep them around for longer, make sure the labels are waterproof since they'll be in contact with water daily. If not, they can be damaged, rot and consequently destroy your lovely plants.
UV resistance is also important because it protects the label from fading and losing its color and any written text – you never want this to happen.
And last but not least, always use products that are

eco-friendly

and sustainable. As with other gardening products, this is an important feature because your garden is the place where you get your food from and any dangerous materials can transmit their toxicity to your

veggies

and hinder their growth.
When it comes to the materials, take a look below at some of the most commonly used by gardeners.
Plastic garden labels are one of the most popular among gardeners. They're made of recyclable polypropylene material and are easy to push into the ground without danger of breaking. They can be easily applied, are secure, and provide enough space to write on.
Bamboo garden labels are often handmade which gives them even more value. Bamboo's a durable material and the labels are made with smooth edges and can be written on with different types of pens. Plus, they're eco-friendly and won't harm the environment or your plants.
Metal tags are also a good option since they're durable and will last for years to come. Their surface is specially treated so you can easily write on it with any pen. They can be made of aluminum, copper, or steel.
What about Size, Color & Texture?
Size
Next, you have to think about the size of the plant labels you're going to purchase. This depends on what you need them for i.e. whether you plan to use them for the small cacti plant or your lemon tree.
Obviously, the label you use for the lemon tree has to be big enough not to get lost in the plants' leaves while the cacti label can be smaller.
Furthermore, size also depends on what you want to write on the label. Is it just a few details, or a longer description of the type of fertilizer you used – whatever the text is think about it before making a purchase.
Color
The color you want to use comes down to your preference. The options we presented here are diverse. You can choose a single color such as black or white, or mix and match different rainbow colors.
It all depends on how you want to decorate and arrange your garden.
Texture
The texture of the label is important so you can easily write on it and the writing will stick. For example, plant labels with a rough surface texture are easier to write on.
How about the Marker Pen?
A specialized marker pen is a good option to use when it comes to writing on your plant labels. It can help you do your job easily without worrying that the text can be erased. In the products, we reviewed you can find some options that include pencils.
Otherwise, you can use a permanent marker to write on the label or use a safety spray to keep the writing for longer.
What to Write on Plant Labels?
There are multiple ways to use the plant labels and it all depends on whether you use them in your home garden or you have a plant shop and you need to keep track of all the plants.
If you need plant labels for your home garden, the most basic things you can write on them is the name of the plant, the age, watering and fertilizing schedule and other important guidelines.
However, if you need the plant labels to organize the plants in your shop you need to think about making the content information for your customers.
In this instance, you can include information such as the name, genus, type of soil, planting months and other details that can be useful for your customers when purchasing certain plants.
Having an organized store will be nicely received by your customers since you'll put them one step ahead in their gardening game.
Best Plant Labels Review
1. 25-pack Plant Labels by GardenMate
Highlighted Features
25 metal labels
Sturdy galvanized steel
10-inches high
Easy to use
Resistant to weather conditions
The GardenMate plant labels are an elegant solution for your garden. They're made of galvanized steel that's resistant to different weather conditions and increases their durability, so you can use them in your garden for years to come.
Moreover, you'll receive a pack of 25 metal labels that are easy to insert in the ground and to move around your garden if needed.
Their size is enough for you to write anything and the 10-inches height makes them easily visible in your garden even among higher plants.
A piece of advice from our side is to use a permanent marker for writing on the label to protect the text from being washed away by rainfall. Because of their durability, they can be used without a problem in outdoor gardens, raised beds, and plant containers.
2. KINGLAKE 100 Pcs Multicolor Plant Labels
Highlighted Features
5 different colors
Waterproof
Durable plastic
Reusable
Smooth edges
The Kinglake multicolor plant labels come in 5 different colors i.e. pink, yellow, red, white and blue. They'll brighten up your garden like never before.
They have a sleek design with smooth edges that won't hurt your plants or hands during use plus, the plastic material is resistant to rust, so you can be confident while using them both outdoors and indoors.
Moreover, the bright colors make them stand out anywhere in your garden, so you or your kids won't ever trip on them and you can easily locate them at any time.
Additionally, they can be cleaned with a household cleaner and reused many times plus, you can use them as a great birthday present for your friends with a green thumb.
3. HOMENOTE Bamboo Plant Labels
Highlighted Features
Marking pen included
Eco-friendly
100 % natural bamboo
Easy to clean
Ideal size
Purchasing this pack of 60 bamboo plant labels is one of the best decisions you can make when it comes to organizing your garden.
They include a bonus marker pen that works great when combined with the bamboo surface. Furthermore, the labels are made of 100 % eco-friendly bamboo that's renewable and not harmful to the environment.
What's more, anything you write on them will last long since it can't be washed away by rain or to fade away in the sunshine.
Your garden can shine with an improved charm and the labels can help you personalize the flowers and plants in your garden.
Last but not least, your family and friends will love them as a fun gift.
4. Delatanus White Plant Labels
Highlighted Features
200 pcs.
Thick & sturdy
Easy to write
Classic white design
180-days full refund
Satisfied customers recommend these tags because you receive 200 pieces for an affordable price.
There's enough room to write plenty of info and details about your plants such as the species, genus and common name.
What's more, they're made of sturdy, durable and thick plastic that can be used in your outside garden without you worrying about damage. Plus, they're strong enough not to break when pushed in the soil.
They'll hold up to any intense weather conditions such as sun and rain, so you can use them for more than one season.
One side of the label is textured – which makes it easy for writing with a permanent marker or pencil.
5. Mziart 4-Inch Plastic Plant Labels
Highlighted Features
6 colors
Smooth edge
Sturdy plastic
Easy to clean
Reusable
These multicolor plant labels can make your garden shine and stand out. You'll receive 120 pieces of different colors i.e. 20 of each. You can easily categorize and arrange your plants and create a perfect labeling system for your garden.
Use them in your outdoor garden or balcony and don't worry about any sun damage because they're UV resistant and their smooth edges allow easy use and application.
You can clean them with just a household cleaner and reuse them again for your next gardening project.
They're rather small and can be used in a humidity dome or a mini greenhouse and the manufacturer offers a full refund or product replacement with no questions asked so you can be certain they're worth it.
6. Planters' Choice Bamboo Plant Labels
Highlighted Features
Ideal shape & size
Eco-friendly
50 pcs.
Great design
Perfect gift
These plant labels can help you keep track of all the flowers, herbs and other plants in your garden. They're designed with stylish, eco-friendly bamboo that can fit right in your garden, balcony or plant potter.
Moreover, 100% thick bamboo is a great choice for any household since it doesn't harm the environment and is a renewable material.
They're shaped in the form of the letter T with an ideal size to mark the name of the plant and the date with normal-sized and spaced writing.
The package contains 50 pieces that are perfectly packed in a lovely box that can be a great gift for your friend's birthday.
7. 50 Pack Luster Leaf Plant Labels
Highlighted Features
Classic white design
Durable plastic
Standard small size
Easy to use
50 pcs.
These white plant labels are easy to use, durable, and rather cheap compared to the number of pieces you get. If you have a big garden, with different types of plants these tags can help to distinguish between your herbs, plants, and flowers.
They're made of durable, white plastic that can endure different weather conditions during rainy and sunny days.
Furthermore, although they're a bit on the smaller end, with only 6 inches in size, you can write enough information and still be able to read it.
Lastly, one of the downsides of these labels is again their size since plants can overgrow them in some time so you won't be able to see them and they'll become redundant in your garden.
8. Whaline Plastic Plant Labels & Marker Pen
Highlighted Features
Smart T design
Quality PP material
100 pcs.
Non-toxic
Multiple-use
The Whaline plastic plant labels can help you manage and organize your garden just the way you want. You'll be able to write the name, date and other details about the plant without cramming the text since there's enough space for everything.
Moreover, they come in sets of black, white and multicolored packs so you can choose whichever suits your garden best.
The manufacturer uses a quality PP material that is much better than regular plastic, UV resistant, non-toxic, durable, and waterproof.
What's more, they have the ideal size to fit in a small greenhouse or small container on your balcony or they can be used for your fruit trees, greenhouse, or nursery stock.
Satisfied gardeners confirm that these have worked great for them and are a good, affordable option they'd purchase again.
9. Prudance T Plant Eco-friendly Labels
Highlighted Features
Premium material
Waterproof
Durable design
Easy to use
Eco-friendly
If you're looking for quality and a good price, this is the right product for you. The Prudance plant labels are stylish, easy to use and made of premium, durable materials.
They can be used for the plants on your balcony, home gardens or professional nurseries. Furthermore, the frosted surface is easy to write on with any type of marker or pencil.
If you want to reuse them, just use alcohol to wipe the text and then write whatever you need again.
These T-shaped labels are eco-friendly and made of a material that's UV resistant and waterproof; thus, they can be used all year round without any damage.
Have in mind, that nothing lasts forever and the typical wear and tear can affect these labels after years of use.
10. HOMENOTE Bamboo PlantLabels
Highlighted Features
Eco-friendly material
100 % natural bamboo
Easy writing surface
Great size & design
Cool gift
These cute, little bamboo plant labels can be a great addition to your garden. They are great for organizing and managing your plants plus, they fit in any décor and environment.
Further, they're made of 100% bamboo that's eco-friendly and won't harm the environment or compromise your produce.
Because of the smooth surface, you can write easily all them and not worry that the ink can be erased when it rains. To be on the safe side, try using a narrow tipped pen to help keep the writing for longer.
Moreover, if you want to use them for a longer period think about using weatherproof spray paint. This can help you keep the natural look and avoid any mold or other water damage.
Final Thoughts
As we mentioned in the beginning, using a plant label can be quite useful in arranging your garden plants and always be on top of your plant's watering or fertilizing schedule.
They're especially handy if you have a big garden with different types of greenery – it can help you distinguish between different types of herbs, salads and veggies.
Even the most experienced gardeners can't remember everything they have in their garden plus, we believe the key to good gardening is not remembering things by heart, but having an organized way of working and that's where the labels can help out a lot.
If you're struggling to choose the right option for you, we'd recommend GardenMate'soption. These labels are made of durable and stylish steel and can withstand different weather conditions.
You'll be happy to see them in your garden and always have the needed info on display.
Nevertheless, if you're looking for a less expensive, but quality option, we'd recommend our budget pick from Luster Leaf.
You'll receive great value for money from a respected manufacturer.
Finally, we're certain that our detailed list can give you enough info for you to make an informed decision and find a practical and good looking product for your garden.
Labeling and organizing don't have to be boring and we're sure you'll enjoy it even more with the help of the best plant labels.
Keep calm & happy organizing!