If you're regularly reading our blog, we probably have a shared hobby of gardening.
And, if you love it as much as we do, you're certainly spending a lot of time kneeling. Indeed, kneeling can cause a lot of discomfort, especially if you spend several hours in this pose.
Besides going sore, your knees can also be painful and you'll have trouble finishing your daily chores. Luckily, there's an easy solution to this problem-the best garden kneeling pad.
This accessory is designed to prevent sore knees in gardeners and keep your clothes clean.
When you have it at your hand's reach, bending over to sow something or to pluck weeds will no longer be a tiring and painful task.
Nowadays, kneeling mats come in a lot of types and shapes.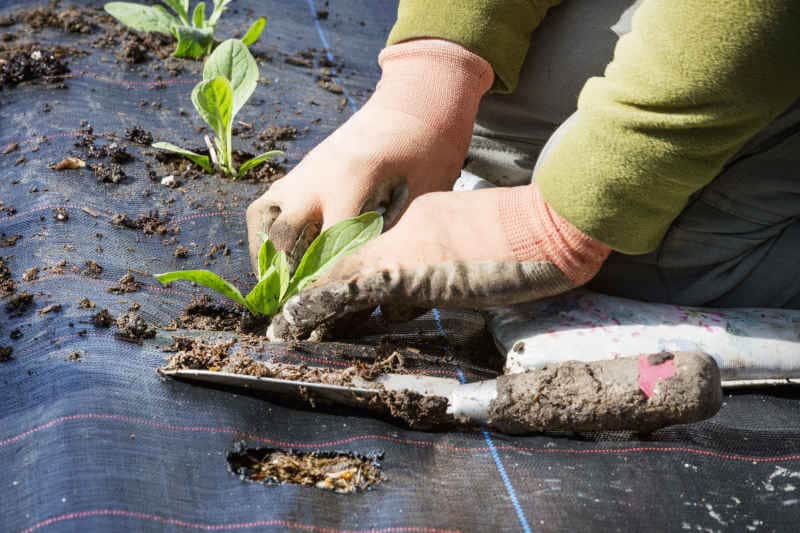 You have ones made from memory foam to DIY ones sown from soft fabrics. We'll show you the trending models on Amazon currently and why they're a great pick!
Top Pick
Gorilla Grip's Foam Mat is our best pick because of the high customer satisfaction, but also because of its premium design, extra durability, awesome thickness, and versatility.
Why Do I Need A Garden Kneeling Pad?
It's all fun and games in the garden until you begin to feel cramps in your knees from all the kneeling. But, it doesn't have to be like this if you have proper cushioning.
Once you realize how versatile and practical garden kneeling pads are, you'll definitely use them for a long list of activities besides gardening.
This pad, which can be made of different materials, but most often from foam or gel, is intended to protect the knees while kneeling, as well as your clothes.
It's designed to help distribute your weight evenly and allow you to do your gardening without pain.
It offers balance and comfort and makes the best companion while doing some plumbing, bathing children, cleaning, etc.
It comes in handy in a lot of situations-it's there for you when you're sitting or kneeling on harsh surfaces and keeps you comfy.
Types Of Garden Kneeling Pads
Nowadays, you can easily find the best gardening kneeling pad for you because there are numerous types to suit everyone's needs and preferences.
Generally speaking, they're designed in one of these three types:
Pad-like Kneeling Pad
These pads resemble football shin pads-they sit over the knees while the hands are free for you to carry gardening tools and do your gardening while keeping the knees protected.
Pillow-like Kneeling Pad
These lightweight padded kneeling mats usually feature one handle or hanging hole on the sides or the top of the mat.
This ensures easy transportation and storage.
They can have one or several layers and different textures.
They're usually made using memory foam, but can also be padded with other materials. They're one of the most popular concerning their lightweight, compactness, and versatility.
Stool Type Kneeling Pad
One of the models we've presented is a 2-in-1 gardening pad, that is, it's a stool and a kneeling pad. This is a pillow attached to a frame.
When turned on one side, the frame acts as a handle to support those with a problem getting up from kneeling or to simply help you get up faster or hang your tools on its sides.
When turned onto the other side, it's a stool that you can sit on and helps you tend to plants located higher.
Which Factors to Consider Before Buying?
As with any other product you're considering buying, it's essential to conclude if it meets the most important criteria or not.
If you're on the lookout for the best garden kneeling pad, these are the factors you should take into account:
Material of the Kneeling Pad
When choosing a mat to protect your knees and optimize your comfort, make sure the material used for it is the best one out there.
This ensures the pad lasts longer and it does what it's supposed to: protect.
The best choices, in this case, would be high-density foam and pads with water-resistant features that will allow you to use them in different garden conditions without worrying about getting wet or the pad getting damaged.
Thickness Level of the Kneeling Pad
Since it's designed to provide cushioning, the padding needs to be thick enough. Although a 1-inch thickness may offer sufficient support, the ones that offer higher thickness are even better at cushioning the knees and prolonging your comfort.
Still, there may be a price difference here so consider what's the most suitable for you.
Waterproof or Not?
Gardening can get messy and oftentimes, you're doing it near mud or water.
Therefore, it's important for your kneeling mat to be made of waterproof materials or to at least have a waterproof cover that will prevent you from getting wet and for the mat itself to not get soaked and damaged.
The versatility of the Kneeling Pad
If you want to get the most from your investment, in this case, a garden kneeling pad, make sure it's designed to be multipurpose.
That is, to be used outdoors for gardening and many other tasks throughout the household, involving maintenance and cleaning.
They can also protect your knees during yoga or meditation or while praying. And, they can be the perfect camping companions.
Price of the Kneeling Pad
In a range of $15 to $40, garden kneeling pads are considered affordable.
If you see them with a price that goes higher than this range, it's probably because of the added features or higher-quality materials.
However, this doesn't mean that you need to choose them-if the cheaper versions fit your needs, and they are great!
But, for people with more sensitive knees, a higher price may be reasonable considering the mat provides a higher level of comfort (more thickness, extra padding, etc.)
How to Use a Garden Kneeling Pad Correctly?
Using a kneeling pad is the pretty intuitive-the name itself reveals its purpose; it's a support for our knees during kneeling.
So, before you go down on your knees for gardening, plumbing, or cleaning, you put it in front of you and then set in your knees on top of it. This is it; it's pretty straightforward.
In case you have the 2-in-1 model (chair & pad), to use it as a chair, the frame is placed on the floor and you sit down on the padded part to do your chores.
If you want to use it as a pad for kneeling, you turn it upside down and voila you have a mat to support your knees or buttocks. Depending on the situation you need to tackle and what's the comfiest for you!
How to Clean My Garden Kneeling Pad?
This is considered to be the easiest part with kneeling pads-but, first, it's essential to consider the material it's made of.
Is it made using only high-density foam without any additional covers or is it covered in fabric for extra protection?
The former would do just fine with a rinse of water after use, especially around a lot of dirt.
If you have the latter type with a fabric cover, which usually comes with a zipper, unzip it and wash it in the machine. Once it's ready, put it back on. Your mat will be as good as new!
Best Garden Kneeling Pad on Amazon
1. Gorilla Grip Premium & Thick Garden Kneeling Pad
Highlighted Features
Made of sturdy high-density foam
Awesome thickness
Versatile
Lightweight
Once you try it out, you won't believe you were doing gardening without it.
Made using sturdy and durable high-density foam, this 1.5-inch thick pad offers maximum support and lowers knee pain and discomfort.
As the materials have been carefully chosen, you needn't worry about it cracking or getting damaged-it's designed to withstand rocks, moisture, and rubble.
Being lightweight, it's easy to carry around. Its transportation from one place to another is further eased with the handle hole in the middle.
It's perfect for tasks in the garden that require kneeling, but also for yoga and other workouts when bathing your children while doing some plumbing or painting, and more.
Its 17.5×11-inch size makes it wider than other models.
2. Toua Extra Large Garden Kneeling Pad
Highlighted Features
Sturdy material
Versatile
Lightweight
12-month warranty
If you want optimal comfort while kneeling, this is the ideal pad. It comes in several color options and has a 1-1/2-inch thickness, offering maximum knee protection.
It won't crowd your knees thanks to its wider surface. Constructed using long-lasting high-density foam, it's a great toxin-free material that provides great comfort for the knees.
Being lightweight and with a handle on top, it's easy to transport from one area to another.
It also makes a great choice for cleaning, exercising, praying, bathing, and more.
The pad is easy to clean-it just needs a rinse of water and it's good to go.
We love that it comes with a 12-month warranty and an option to get your money back after 90 days in case of dissatisfaction.
3. Red Home Club Kneeling Pad for Gardening
Highlighted Features
Extra-thick
Extra large
Lightweight
Versatile
Helps you do your gardening without any pain and discomfort in the knees-it doesn't just offer thick support, but balance and comfort. It keeps you steady while protecting your knees and clothes.
Made using high-density foam, it will withstand impact without getting damage. And, since it doesn't absorb water, you can easily clean it with water and it will dry very quickly.
The 1-1/2 thickness is great and thanks to the 18 by 11 inches size, it accommodates the knees perfectly.
It's a multipurpose accessory-besides being awesome for gardening, it's also great for bathing babies, doing sports, repairing things in your home, doing some plumbing, etc.
And, let's not forget the 1-year-warranty- an awesome way to be at peace while shopping!
4. In Sassy Garden Kneeling Pad
Highlighted Features
Thick & comfy
Reduces discomfort
3 size options
Versatile
Made using high-density, nontoxic foam, this kneeling pad is strong enough to support you, but also soft enough to minimize discomfort.
Suitable for indoor and outdoor use, it's been made to withstand stones and rocks without getting damaged.
And, transporting it from one place to another has never been easier; thanks to the built-in handle hole on the top.
We love its versatility; it's not just the perfect pick for gardening, but for bathing, yoga, prayer, plumbing or mechanic work, and so much more.
You can choose between three different sizes- pretty great and practical (large, extra-large, and largest). To clean it, rinse it with water and it will dry fast.
5. Black Duck Set of 3 Kneeling Pads
Highlighted Features
Value for money
Perfect for larger families
Comfy & soft
Easy to clean
For an affordable price, you get these three kneeling pads in three different colors-purple, blue, and teal. It's an ideal accessory to keep your knees protected and comfy while working.
Long hours in the garden will no longer be tiring thanks to these pads. Since you get three in a set, it's great to use with family and friends.
They're made using foam and therefore, provide quality support and sufficient softness for optimal comfort.
The size of each pad is 15 by 7 inches. Moreover, we love easy maintenance- a rinse with water is all it needs.
Customers who bought it gave the set the most kudos for being lightweight, sturdy, and thick.
6. Pep Step Garden Kneeling Pad
Highlighted Features
Made of thick material
Easy to use
Easy to transport
Comfy
This kneeling mat looks extra comfy and it will be of aid in reducing pressure in the knees.
Suitable for the garden, but also around your home and yard, it's a great way to keep your knees and clothes protected.
Since it's 18 by 11 inches large, it's great to keep a natural and wide posture while kneeling-the knees have sufficient space and the balance is awesome.
Plus, the high-density foam and 1.5-inch thickness additionally relieve pressure.
Made according to standards, it's a worthy investment. Plus, it's so easy to transport and care for. The handle hole on the top and the non-absorbing material ensure this.
Customers who purchased it praised it the most for its thickness, lightweight, and comfort.
7. Ohuhu Premium Garden Kneeling Pad
Highlighted Features
Sturdy
Versatile & durable
2 types of surfaces
Easy to clean
Without spending a small fortune, you can have this sturdy and long-lasting pad with 2 different surfaces.
It's really multipurpose- it doesn't just make the ideal knee protector during gardening, but also during cleaning, bathing children, doing repairs, etc.
Made of dense EVA material, it provides comfort and stability for worry-free gardening. It won't mind the harsh elements and it will last long without compressing or breaking down.
One side is smooth when you need to go easy on the knees while the other has a textured surface that's best to be used when you don't want to slip and it will keep the knees steady (perfect for rougher surfaces).
Lightweight and with a built-in handle, it's also easy to transport too. And, it cleans pretty easy-rinse it off with water and it's ready for next use.
8. Happy Picnic Large Gardening Pad
Highlighted Features
Sturdy handles
Machine-washable cover
Comfy
Wide
Whether it's for gardening, praying, or cleaning, having this kneeling pad by your side is a great decision. Featuring a large 17×9-inch size and 1.5-inch thickness, it protects both your knees and clothes.
Made using 600D durable polyester and filled with high-density foam, it will provide the right support and comfort and will last for a long time.
We love that the cover is removable and machine-washable.
You can zip it off and clean it for your next use.
The sides come with soft and sturdy handles which help you transport it easily without worry. Customers who bought it loved it the most for being lightweight, sturdy, and thick.
9. Pep Step's Extra Thick Garden Kneeling Pad
Highlighted Features
Long-lasting
Easy to transport
Extra-padded
Super comfy
If you put comfort and protection first, this is an awesome kneeling pad for you.
Its design is very interesting, i.e. it's folded and reminds of a small briefcase and when opened, it reveals soft and comfy pads for your knees.
The cushions will ensure steady and pleasant work, without any dirty clothes and painful knees. When closed, the handles which come on top help you transport it easily wherever you want.
Made using high-density foam, the 2-inch thickness won't compress as time goes by or absorb water-this makes it ideal for outdoor activities.
In a way, the padding 'hugs' the knees, ensuring you feel comfy, without any pressure.
The customers who bought it praised it the most for its lightweight, comfort, and longevity.
10. Sunix Folding Gardening Seat & Kneeling Pad
Highlighted Features
2-in-1 design
Versatile
Extra comfy
Easy to pack
This 2-in-1 gardening accessory can be used as a kneeler or a seat-it brings comfort to the next level and helps you finish chores with pleasure.
With the handles on the floor, it's the ideal seat-turn it over, and you have the best kneeling pad. It keeps your knees protected and your clothes clean.
Made of premium quality steel tubing, the handles are sturdy and long-lasting. The pad is made using comfy EVA foam. The external fabric of the pad is made with high-density polyester fabric.
We love that it comes with 2 tool bags that can be attached to the sides with Velcro-there, you can keep all of your gardening tools in one place and have them nearby.
It also packs up in a blink; you fold it and store it or transport it.
Final Thoughts
Gardening is one of the most rewarding tasks in the world, without a doubt.
But, the long hours we spend kneeling can have a negative impact on our comfort. This can make us think twice the next time we have to finish a gardening chore.
However, this can be fixed with a small accessory like the best garden kneeling pad.
It comes to the rescue at the right time –it will bring positive change in how you were doing gardening until now, and other household chores too.
They offer stability and comfort so gardening for several hours on rocks and dirt will no longer be problematic.
If you want nothing but the best, we recommend our best pick-it's long-lasting and made from premium materials.
Still, if you want to spend less and still provide knee comfort, you'll love our budget pick. It has all a kneeling pad should have!